Inventing Toys: Kids Having Fun Learning Science
Having diabetes shouldn't prevent a child from having fun during special occasions. A little planning and a question or two allows kids with diabetes to participate in just about everything.
On special occasions, such as sporting events, pizza days at school or birthday parties, contact the organizer to find out what food will be served and when, and what physical activities are planned.  Meals or snacks can be split as needed to allow your child to eat with the other children. Your diabetes educator can give you some good ideas about how to handle this.
For holidays and celebrations, it's important to keep as many traditions as possible, but you may need to modify those that involve food. Consider creating new traditions that put the focus on fun and activity, not food.
For more great Health and Nutrition Tips refer to the website positivehealthwellness.com.
Holidays
At certain times of the year everyone needs time to rest and relax such as the summer holidays.
Myself and my twin sister Joan and my brother Jamieson enjoyed going to Ireland every year to visit my maternal grandmother Hannah McCarthy in Knocknaseed,Rathmore,County Kerry.
She was my mother Mary's mother and she was a lovely women who every morning fed her hens and gathered fresh eggs for our breakfast and she loved us with her whole heart!
She also gave us money for sweets and we enjoyed walking to our local sweet shop called Keatings shop well that's what we called the shop I cant remember the real name of the shop as we were only small children at the time.
We also loved going fishing with our father Jed Hughes,it was a scream we never caught any fish but we enjoyed trying!
Our mother Mary was a good cook and she made lovely apple and blackberry tarts.We the children picked the blackberries in my grandmother's next door neighbour's field called The Hickey's well that's what I remember,being quite small it's hard to remember all the details!
Our grandmother also had another daughter called Sheila,the three of us called her Aunty sheila all the time we still do instead of Sheila even though now we are grown women and man.
We looked forward every summer to seeing our cousins and Aunty Sheila and her husband Uncle Paddy.
The summer's flew by and the three of us never forgot those wonderful childhood memories!
Aunty Sheila and Uncle Paddy spoilt us all especially the three of us!
They were and still are a lovely family especially my Aunty Sheila she is a very kind women!
How about you do you have any lovely childhood memories you would like to share if so please leave them in the comment section below!
During the holiday's emphasize the non-food-related aspects of Holidays, such as costume preparation and having fun.
A small-size sugar treat, which contains between eight and 15 grams of carbohydrates, is a better choice than a big bag of chips, which is chock full of fat and calories.
Leftover treats can be traded with brothers or sisters, given to less fortunate kids, or 'sold' to parents in exchange for non-food-related treats, such as a new toy or book.
Consider tucking one or two of your child's least-favourite jelly sweets in his schoolbag to treat hypoglycemia (low blood glucose levels). Don't give a child a jelly sweet he /she really likes for this, since he/she may find it hard to resist and won't save it for a low.
Christmas
Moderation and balance are the keys to a healthy holiday at christmas. Be sure to include fun physical activities, such as skating, tobogganing or a winter walk.
Spread treats, such as gingerbread and dark chocolate, over the holiday season rather than offering them all at once.
Make sure nutritious snacks are always available.
Have  stuff stockings with non-food items, such as jigsaw puzzles, stickers, colouring books, movie tickets, etc.
Myself and Brendan my husband enjoy doing jigsaw puzzles together so why dont you consider doing a jigsaw with your family and friends to see who is best and quickest at completing the puzzle.
Brendan is better than me we started one a good while ago but still havent completed it yet because I dont have the patience and Brendan has lost interest.Its still on our dining room table waiting to be completed.
See below for the picture I hope you do better than us that wouldn't be hard!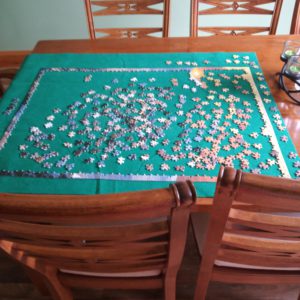 Physical Activity
Encourage your child to get involved in physical activities. Taking part in activities can help a child to make friends, feel good, and achieve and maintain a healthy body weight.
Activity can have an impact on a child's blood glucose levels, especially if he/ she is taking insulin, so he/she will need to have her blood glucose tested before, during and after activities. He/She may need to adjust her insulin dose or eat an extra snack to prevent low blood glucose. Talk to your healthcare provider for guidance.
If your child takes insulin, exercise – especially activity that lasts more than 30 minutes – can cause blood glucose to drop too low (below 4mmol/L(72mg/dl)). Make sure your child always has a fast-acting carbohydrate, such as jelly sweets or a orange juice box on hand.
Be aware that blood glucose levels can drop long after the activity is finished. Its important to monitor your blood sugar levels regularly and take a slow acting carbohydrate such as two digestive biscuits or two hobnob biscuits if needed.
Whatever the occasion, kids with diabetes should be encouraged to be involved. By knowing what has been planned in advance your child will be prepared to participate and have fun.
If you have any information,questions, or feedback you would like to include in this webpage.

Please email momo19@diabetessupportsite.com or leave your comments below.