http://Diabetic Cookbook – 60 Easy and Mouth Watering Diabetic Friendly Lunch & Dinner Recipes that Even Your Family Love – VOL 1 (Diabetic Cookbook Series)
These diabetes-friendly  recipes offer a wide range of healthy lunch and dinner options for any occasion—and full nutritional benefits for diabetics.
Put these quick and nutritious lunch ideas on your diabetes menu to fill you up and keep your blood sugar in check.
Salads
http://Eco-Products EP-SB32 Plant-Based Plastic Renewable and Compostable Salad Bowl with Lid, 32oz Capacity (6 Packs of 25)
Salad should be a part of your lunch menu if you have diabetes. You can create a different salad every day of the week by varying your toppings. Try grilled chicken, shrimp, or fish, but avoid heaping on a lot of fattening ingredients, such as bacon bits and heavy cheeses.
Salads with lots of raw vegetables are best, including carrots, cucumbers, radishes, celery, and spinach. Sprinkle nuts or seeds on top, add a few dried cranberries, and garnish with some avocado chunks to give it zip. Always choose low-fat or fat-free salad dressings or, for a change, flavored vinegars.
Diabetic Friendly Salad Recipes: Diabetic salads are perfect, and salads don't have to be boring.
Preparation time: 20 minutes. Chilling time: 1 hour.
 Ingredients
1 can (6 ounces) tuna in water, drained well
5 tablespoons fat-free mayonnaise
1 tablespoon finely minced onion
1/4 cup finely chopped celery
1 tablespoon sweet pickle relish
1 hard-boiled egg, chopped
1 teaspoon lemon pepper seasoning
Preparation
Place tuna in a medium bowl and flake with a fork. Add remaining ingredients and stir well to combine. Cover and refrigerate at least 1 hour to allow flavors to blend.
Yield: 1 1/4 cups. Serving size: 1/4 cup.
Nutrition Facts Per Serving:
Calories: 65, Carbohydrates: 4 g, Protein: 10 g, Fat: 1 g, Saturated Fat: <1 g, Sodium: 494 mg, Fiber: <1 g
Exchanges per serving: 1 1/2 very lean meat.
  Sandwiches
http://Hamilton Beach 25460A Panini Press Gourmet Sandwich Maker
As with salads, there are many ways to spice up a sandwich. Start with whole-grain bread or a whole-wheat tortilla.
Add sardines,mackerel or fresh fish such as cod,trout or herring, layer on your choice of veggies, add mustard, low-fat mayo, or hummus to the mix and you have a filling and tasty lunch.
Stay away from greasy chips, French fries, and other fattening sides. Instead choose fruit, a few pretzels, or carrot and celery sticks to complement your meal.
For more great Health and Nutrition Tips refer to the website positivehealthwellness.com.
Tuna Salad Panini Sandwiches
Vegan Recipes – 25 Delicious Vegan Sandwich Recipes, Raw Food Cookbook, Sugar Free Recipes, Clean Eating, Heart Healthy Cookbook, Sugar Free Cookbook, … and Easy Recipes (Recipe Junkies Cookbooks)
Ingredients
1/4 cup light mayonnaise

1 tablespoon balsamic vinegar

2 cloves garlic, minced

1 tin of Tuna
1/3 cup finely chopped fennel

8 slices very thinly sliced whole wheat bread

3/4 cup arugula or spinach leaves

3/4 cup bottled roasted red peppers, drained and cut into thin strips

Olive oil nonstick cooking spray

1.In a medium bowl combine mayonnaise, vinegar, and garlic. Add tuna and fennel and stir until well combined.
2.Spoon tuna mixture evenly atop 4 of the bread slices, spreading to an even layer atop the bread. Top with arugula and pepper strips, . Top with remaining bread slices.
3.Lightly coat an unheated panini griddle, covered indoor electric grill, or large nonstick skillet with nonstick cooking spray. Preheat over medium heat or heat according to manufacturer's directions.
4.Place assembled sandwiches on griddle, grill, or skillet, adding in batches if necessary. If using griddle or grill, close lid and grill for 2 to 3 minutes or until bread is toasted. (If using skillet, place a heavy saucepan or skillet on top of sandwiches. Cook for 1 to 2 minutes or until bottoms are toasted. Carefully remove saucepan or top skillet (it may be hot). Turn sandwiches; top again with the saucepan or skillet. Cook for 1 to 2 minutes more or until bread is toasted.)
5.Cut sandwiches in half and serve warm.
Courgette Fritters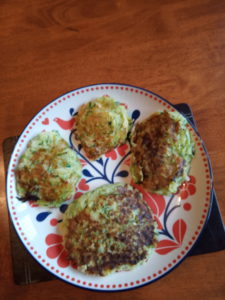 I like courgettes but I was getting fed up of having them in salads only so I looked up recipes online and I found a recipe for courgette fritters!
I hope you like this recipe!
Ingredients
Two medium sized courgettes
Two tablespoons of selfraising flour
One tablespoon of Olive Oil
Herbs and Spices
Preparation
1.Grate the two courgettes and put them in a mixing bowl.
2.Add the two tablespoons of self-raising flour and one tablespoon of olive oil.
3.Add Herbs and Spices.
4.Place small rounded balls of the mix onto a hot frying pan.Allow to sizzle and brown.Then turn over.
 

Hearty Soups
http://Zero Weight Watchers Points Plus Zero Calorie Super Healthy, Super Delicious Savory Soup Recipes Cookbook
Soup can be a good option for lunch, with many healthy choices to consider. Vegetarian noodle, mushroom, and tomato (made without cream) are all good soup choices. Others include butternut squash, gazpacho and other chunky vegetable varieties, miso, and pasta and bean soups. Avoid cream-based soups . Remember, soup freezes well. You can make a large batch and freeze it in individual containers; with a microwave you have a nearly instant lunch.
Ingredients
 1 teaspoon salt-free seasoning blend, divided
3/4 teaspoon pepper, divided
2 tablespoons olive oil, divided
4 large carrots, sliced
1 large onion, chopped
1 medium sweet red pepper, chopped
1 medium green pepper, chopped
2 garlic cloves, minced
1 can (14-1/2 ounces) diced tomatoes, undrained
2 tablespoons tomato paste
2 tablespoons Worcestershire sauce
1 bay leaf
4 medium sweet potatoes (about 2 pounds), cut into 1/2-inch cubes
1.In a pan, heat oil over medium heat. Add carrots, onion and peppers; cook and stir until carrots are crisp and tender. Add garlic, cook 1 minute longer.
2.. Stir tomatoes, tomato paste, Worcestershire sauce, bay leaf and remaining seasonings. Bring to the boil. Reduce heat, simmer and cover for two hours.
Mediterranean Shrimp and Pasta
Pasta Recipes For Diabetics: Collection of Low Carb Pasta recipes for Diabetics.
Ingredients
8 ounces fresh or frozen medium shrimp

Nonstick cooking spray

1 14 1/2 – ounce can no-salt-added diced tomatoes, drained

1 cup sliced zucchini

1 large red sweet pepper, chopped (1 cup)

2 cloves garlic, minced

8 pitted Kalamata olives, coarsely chopped

1/4 cup chopped fresh basil

1 tablespoon olive oil

1 1/2 teaspoons chopped fresh rosemary or 1/2 teaspoon dried rosemary, crushed

1/4 teaspoon salt

4 ounces dried acini di pepe or whole wheat acini di pepe, cooked according to package directions

Preparation
1.Thaw shrimp, if frozen. Peel and divide shrimp, cover and chill until ready to use. Lightly coat an unheated  slow cooker with cooking spray. In the slow cooker combine tomatoes, zucchini, sweet pepper, wine, and garlic.
2.Cover and cook on low-heat setting for 4 hours or high-heat setting for 2 hours. (If no heat setting is available, cook for 3 hours.) Stir in the shrimp. If using low-heat setting, turn to high-heat setting. Cover and cook for 30 minutes more.
3.Stir in olives, basil, olive oil, rosemary, and salt. Place cooked pasta in a serving bowl and top with shrimp mixture. 
Nutrition Facts Per Serving:
Servings Per Recipe: 4
PER SERVING: 302 cal., 8 g total fat (2 g sat. fat), 90 mg chol., 572 mg sodium, 32 g carb. (4 g fiber, 6 g sugars), 20 g pro.
Diabetic Exchanges
Starch (d.e): 1.5; Vegetables (d.e): 2; Lean Meat (d.e): 2; Fat (d.e): 1
 Pizza
http://Presto 03430 Pizzazz Plus Rotating Oven
Pizza can be a good choice in moderation. Choose a thin-crust variety, ask for light cheese, and include vegetables as the topping instead of fatty meats like pepperoni.
Mushroom Pizza
PIZZA RECIPES FOR DIABETICS: Quick, Healthy & Diabetes Friendly Pizza Recipes
Ingredients
1 12-inch whole wheat Italian bread shell (Boboli®)

Reserved no-salt-added tomato paste

1 cup sliced fresh mushrooms

1/2 cup chopped green sweet pepper

3/4 cup shredded reduced-fat mozzarella cheese (3 ounces)

Preparation
1.Preheat oven to 425 degrees F. Place bread shell on a large pizza pan or baking sheet', set aside. 
2.Spread tomato paste mixture over bread shell. Top with mushrooms, sweet pepper, and cheeses. Bake 12 to 15 minutes or until heated through and cheese is melted. Cut into 6 wedges to serve.
When you make these protein-based mixes, you can control the mayonnaise and the good-health factor. Choose low-fat mayonnaise, and not too much of it. Add fiber and bulk with chopped celery, diced bell pepper, and chopped onions to taste. Serve on whole-grain bread or scoop onto a bed of lettuce.
 

Veggie Stir-Fry
For a more exotic lunch, go for a bowl of vegetable stir-fry and brown rice. Avoid the fast-food version, which can be high in fat and sodium, and make it yourself by sautéing the vegetables with a healthy cooking spray and soy sauce. Prepare it the night before for dinner, making enough to bring leftovers for lunch.
Cajun Beetroot Burgers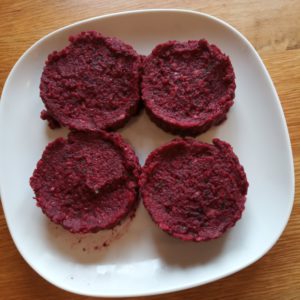 Brendan my husband made me a lovely meal last Sunday using our homegrown beetroot!
I never had beetroot burgers before so he decided to make them for me!
See the recipe below!
1.Combine and blend four beetroot with two carrots,three small slices of courgette and two sticks of celery.
2.Add a sprinkle of black pepper,one teaspoon of basil and two teaspoons of cajun !It is very important to not forget the cajun otherwise the burgers would taste too bland!
3.Remember to use a very sharp scone cutter for the burgers otherwise they will fall apart before you even cook them!
4.Cook them on a baking tray in the oven for thirty five minutes at 425 degrees F.
I had them with fresh carrots,parsnips,sweetcorn and Trout.See below!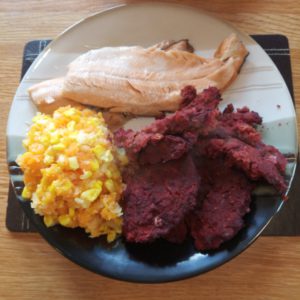 Healthy Lunch And Dinner Tips for Diabetes
1.Choose low-fat or fat-free salad dressings and watch how much you use.
2.Pick whole-grain bread over white bread.
3.Practice portion control.
4.Follow the diabetes food pyramid: Eat more grains, beans, and starchy vegetables and less fats, sweets, and alcohol.
5.Choose lean protein sources such as fish.
6.Avoid fried foods.
7.Stay away from fatty chips and mayonnaise-based salads, like potato salad. Complement your meal with sliced carrots and celery or fruit salad.
8.If you are craving a sweet after lunch and fresh fruit just won't do, reach for sugar-free, fat-free frozen yogurt. Be careful of sorbets and sherbets that are loaded with sugar.
7.Avoid sugary beverages, drink water and green tea instead.
For more great Health and Nutrition Tips refer to the websitePositivehealthwellness.com
If you have any favourite Diabetic recipes you would like to share please post them in the comment section below or email them to momo19@diabetessupportsite.com