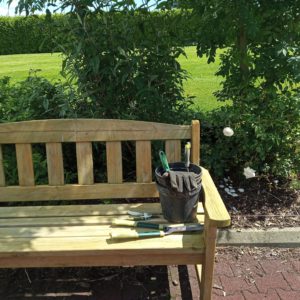 Gardening has been a great pasttime for my husband and myself we have spend many happy hours enjoying our garden and spending time with our two dogs Hachi and Bruno.
Gardening has amazing health benefits for diabetics.Whether your garden is a small patio planter, a backyard vegetable garden or a large garden like ours.
It's no coincidence that gardens aimed at interactive health and healing have been popping up in prisons, hospitals, nursing homes, and in community centers for homeless populations and at-risk youth.
Gardening is a way to achieve your target 2.5 hours of moderate-intensity exercise each week .
Brendan my husband spends many days in the Autumn leaf blowing as the leaves in our garden accumulate a lot during this season.He bought a leaf blower which makes the job a lot easier and it gets done in half the time.
See below a picture of his leaf blower in our lovely garden.
VonHaus 3 in 1 Leaf Blower – 3000W Garden Vacuum & Mulcher – 35 Litre Collection Bag, 10:1 Shredding Ratio, Automatic Mulching Compacts Leaves in Bag with 10m Cable
A large Stockholm study showed that regular gardening cuts stroke and heart attack risk by up to 30% for those over 60.Try thirty minutes of gardening a day if you are over sixty or try a quick fifteen minutes in the morning and another fifteen minutes in the evening.
As we age, diminishing dexterity and strength in the hands can gradually narrow the range of activities that are possible or pleasurable. Gardening keeps those hand muscles vigorous and agile .
Researchers found daily gardening to represent the single biggest risk reduction for dementia, reducing incidence by 36%.
Gardening involves so many of our critical functions, including strength, endurance, handiness, learning, problem solving, and sensory awareness, that its benefits represent a variety of different aspects.
When you get into the groove of growing your own flowers, vegetables and trees, you start to live more in sync with  nature.You may find yourself sleeping better and not struggling to wake up every morning
Gardening builds strength. It takes a lot of work to till, hoe, weed and shovel, which burns calories and builds muscle.. You'll also sweat more, which is the best way to rid your body of toxins and unneeded chemicals.
When you garden you  grow your own fruits, vegetables, herbs and even edible flowers. You  grow everything organically if you want, with no pesticides or herbicides, which is much healthier for you.
Studies have shown that gardeners eat more fruits and vegetables than other people. Brendan and myself have the freshest food as we grow our own, and when you have access to a garden filled with fruits and vegetables like ours, you're able to eat some of the healthiest food you can get!
A European study investigating the links between diet and disease has found that people who consume more fruit and vegetables have a lower risk of dying from  heart disease.
You'll always have something available to eat, from springtime to autumn and you can send your dinner guests home with a bag of your garden's bounty–a perfect dinner party goody bag. Plus, you'll have fresh flowers available to decorate the table.
Kids Gardening Tool Set – Blue
If you have children in your life, whether your kids, grandkids,nieces ,nephews or students in the classroom, gardening is an ideal way to teach them about the earth. Kids can read all they want about things in books, but when they see and experience them in real life, the lessons tend to stick better.
When you include kids in all the benefits of gardening they learn healthy habits before bad ones, which gets them off to a good start in life. Even if you don't have a big plot of land, a row of herbs on the windowsill or a vine of tomatoes on the deck can teach children about the art and science of gardening.
Gardening has also emerged in recent years as a scientifically proven stress reliever. Stress can cause irritability, headaches, stomach aches, heart attacks and worsen pre-existing conditions in the body.
Researchers compared gardening to reading as a stress-relieving activity; gardeners experienced a more significant decrease in stress when compared to people who have no garden .
Researchers often find in their studies that subjects who participate in gardening have a positive mental outlook.
People who feel a connection to Nature are often happier
Gardening connects you with people and community gardens provide an ideal opportunity for people to interact with each other. Research indicates that local gardening brings about a better sense of community .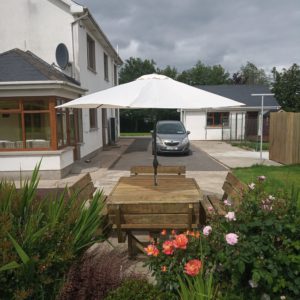 A sedentary lifestyle is directly related to a higher risk for obesity and Type 2 Diabetes.  Even moderate exercise like DIY around the house will begin to increase your body's ability to effectively use the insulin that the pancreas produces.
Exercise will also begin to burn excess body fat, which will decrease body weight and increase your body's sensitivity to insulin.  Other benefits of regular exercise such as DIY include lower blood pressure, increased energy, improved circulation (reducing risk for heart disease,) reduced stress, and increased relaxation.
Brendan is a great  DIY  man which gives him an opportunity to use his hands and brain.   The sense of reward he gets from making something with his hands can't be earned any other way. It's obvious that he learns faster from "hands-on" experience than by watching someone else do something.
DIY also gives him a connection to other people such as our two neighbours David and Correl.  They are happy to share ideas and advice with each other  and help each other out
DIY is a great friendship builder.Correl is fairly new to the area,a very nice man from Czechoslovakia who has made many new friends around our neighbourhood because of his DIY skills.
Even if you have no desire to become a full-time DIY maker, DIY can provide a certain degree of freedom from depending on others for everything you need.
The evidence is clear DIY and gardening are excellent for your health!
My favourite garden centre is the Arboretum Garden Centre in Carlow!
It is a beautiful garden centre with a lovely restaurant,showcase gardens,a horticultural shop and loads of flowers,shrubs,trees,pots and water features!
I went there on Bank Holiday Monday and it was very busy with loads of people going into the Arboretum!
See below a picture of the Arboretum with people going into the main horticultural area!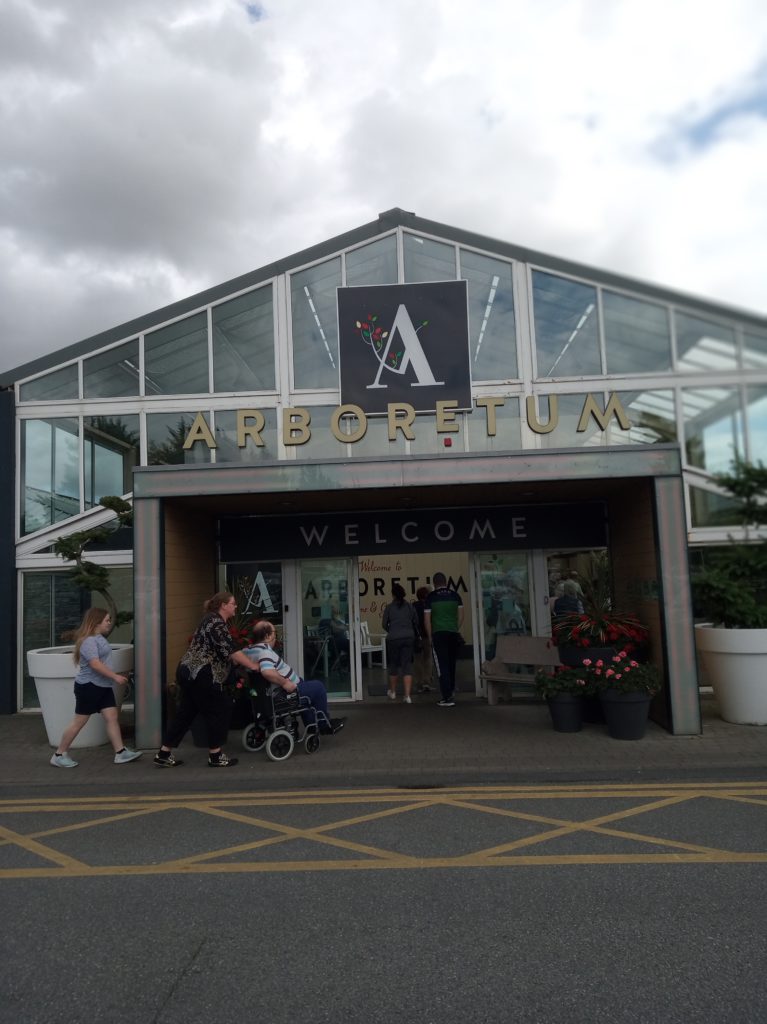 After entering the garden centre we passed Blarney Woollen Mills where there was a sale on!
See below a picture of their shop!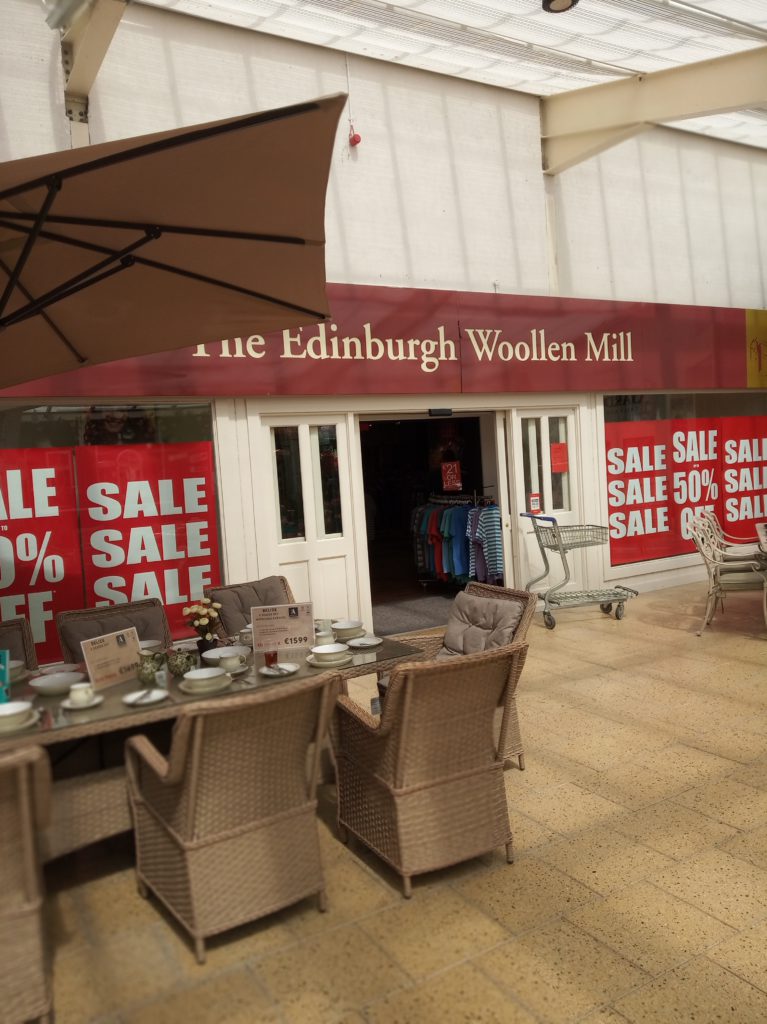 We were both hungry and decided to go straight to the restaurant!
I ordered the poached salmon and Brendan got the beef!
The food was really lovely spot on!
See below a picture of the poached salmon lunch!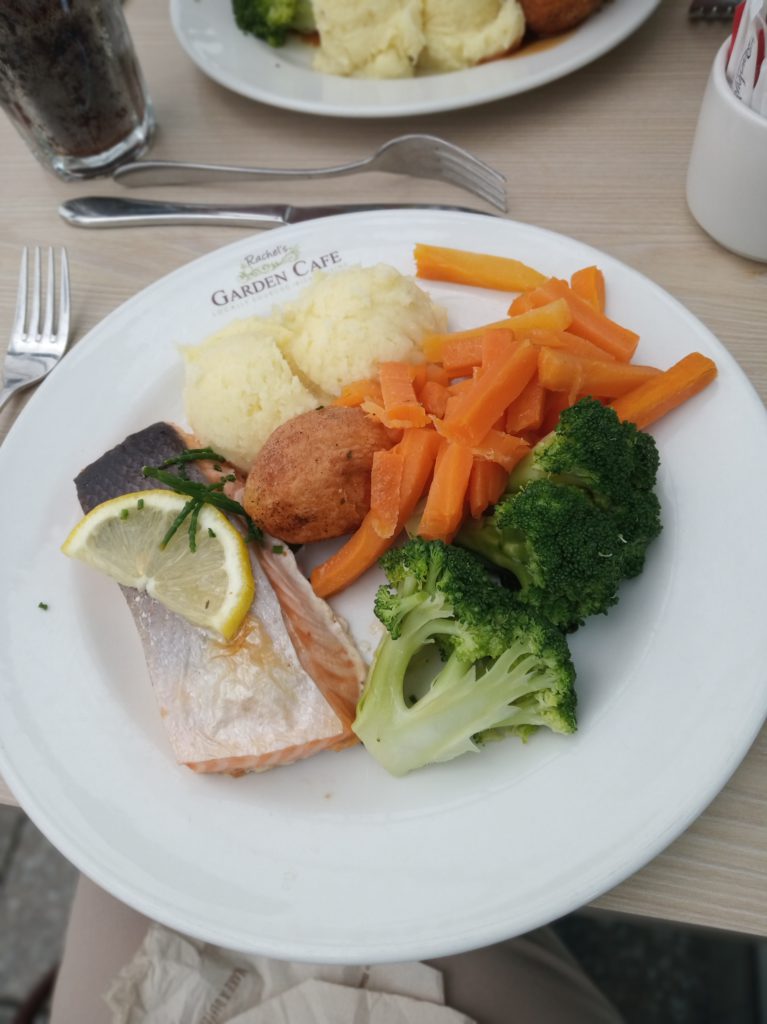 The salmon melted in my mouth,the roast potatoe had a lovely flavour and the broccoli was fresh and the carrots were lovely and sweet!
I went into the ladies after my meal to do my insulin injection and took four units of novorapid two units for the creamy mashed potatoes and two units for the crispy roast potatoe!
In the ladies they had lovely porcelain flower wash bowls!
I took a picture what do you think?
As we left the restaurant I stopped at their Tikki Bar and took a photo!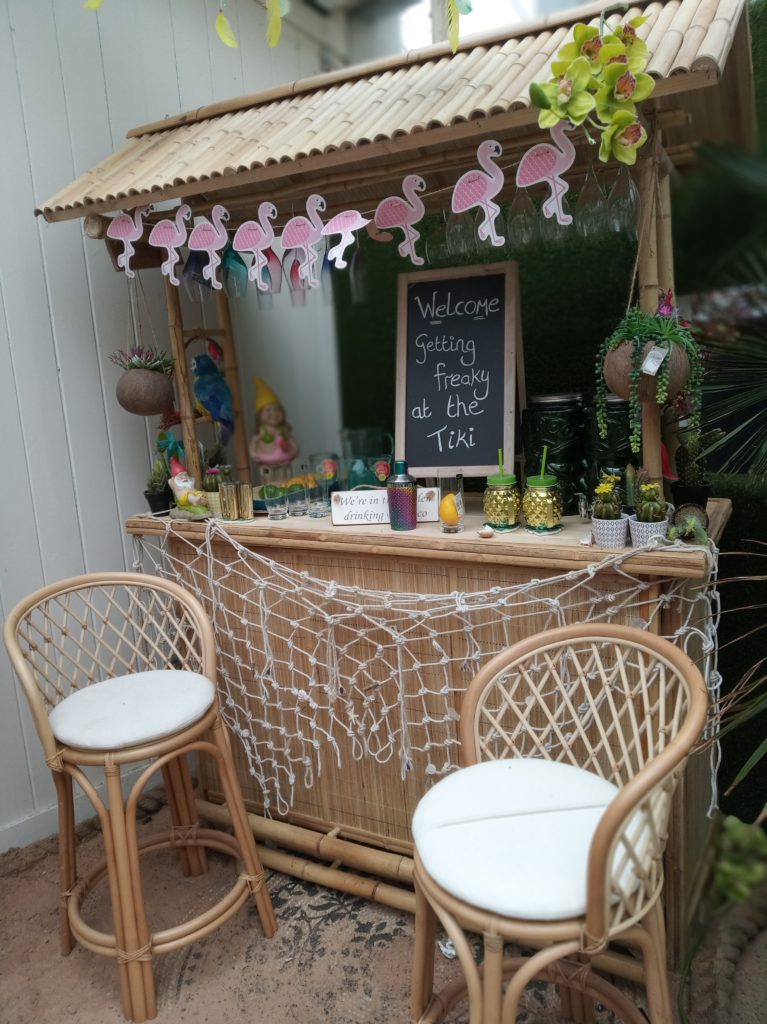 Then we passed a selection of gorgeous water features!
After that we went to the main horticultural area where I took a few photos of their main entrance area!
See below a selection of photos!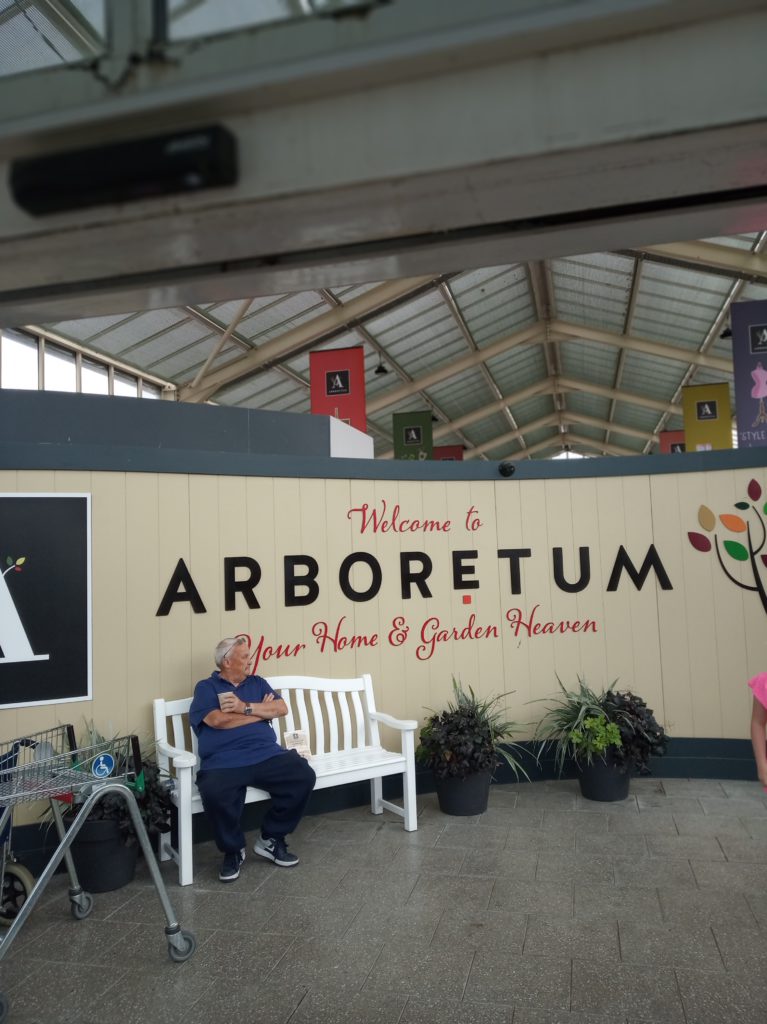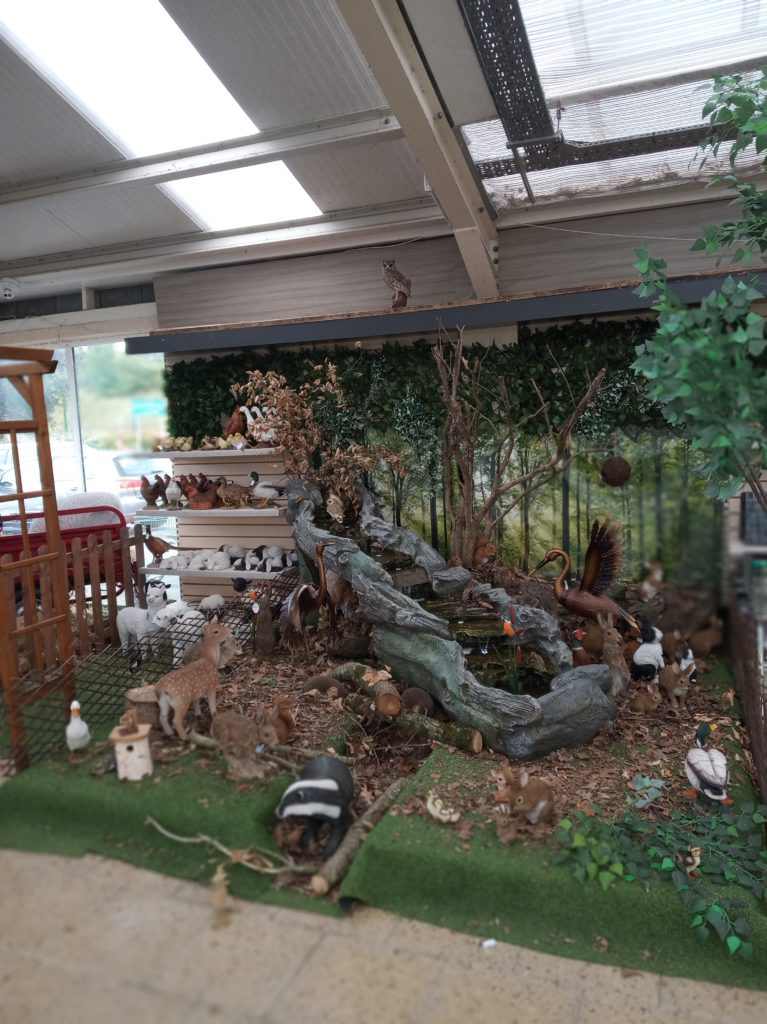 This is a gorgeous picture of their farmyard area full of wooden animals such as deer,storks,hens,badgers,ducks etc.
A family with three children were admiring the farmyard,the little boy liked the tractor,sheep and cows!
See the picture below!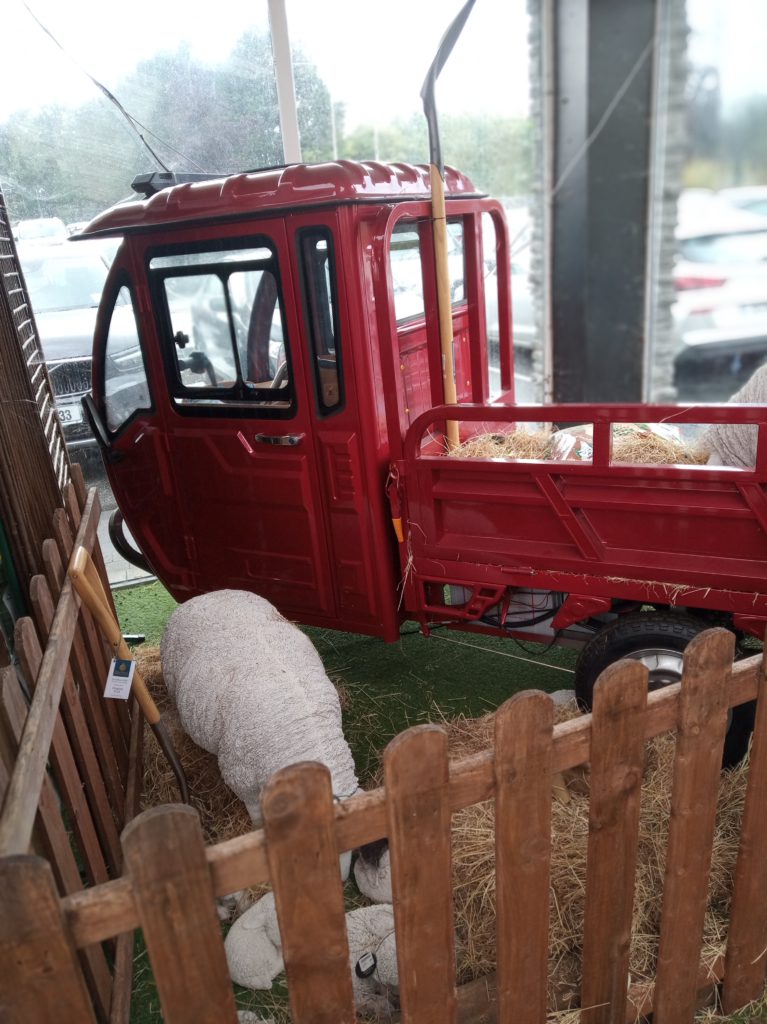 The little girl had one of the baby rabbits in her hand admiring it!
In their main entrance hall is a selection of roses,shrubs,trees and pots!
See below a selection of pictures!
This is a beautiful archway what do you think?
They have a great selection of trees!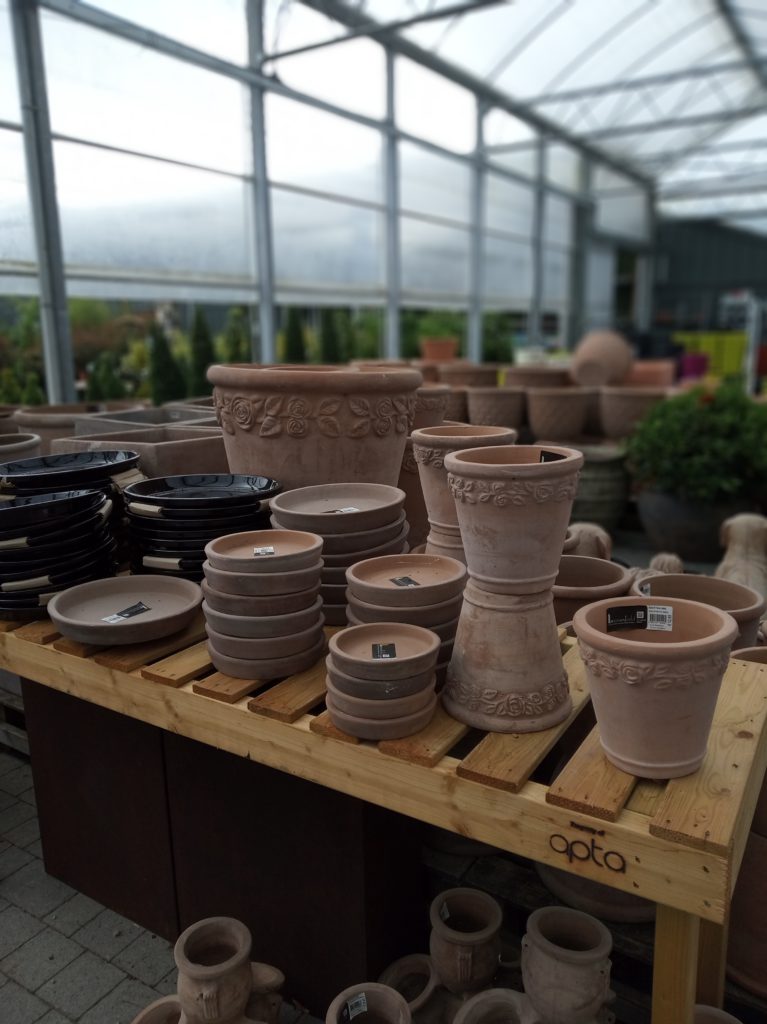 They have a great variety of pots!What kind of garden pots do you like?It would be great if you would leave a picture below or send me an email!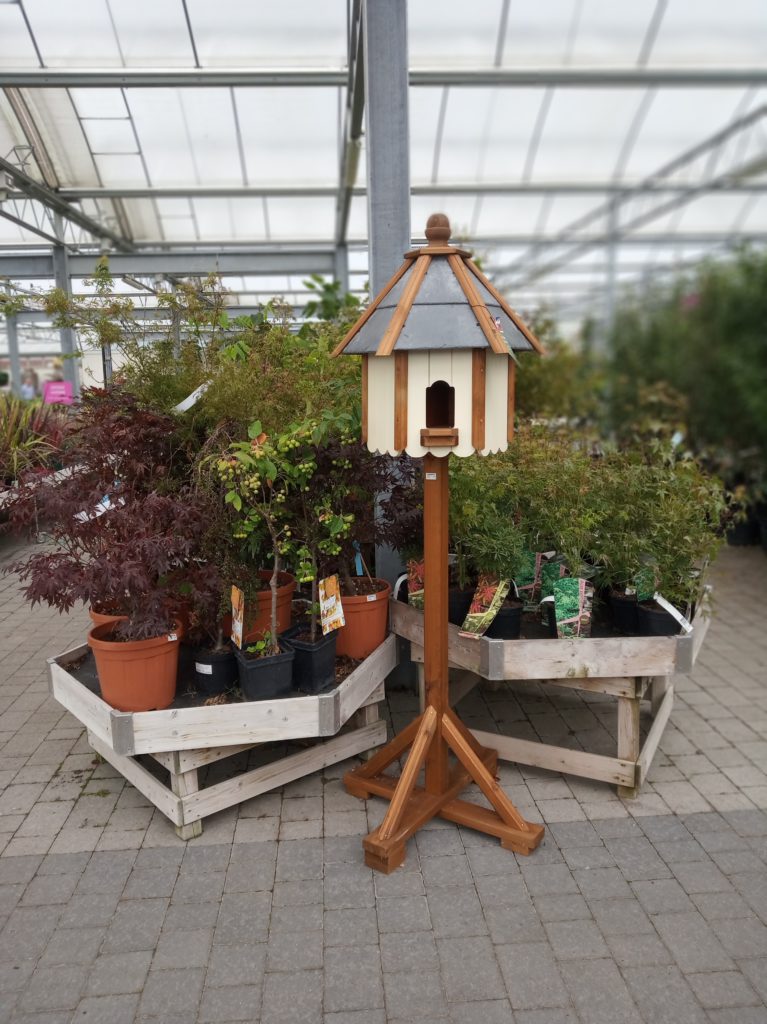 This is a lovely birdcage surrounded by beautiful shrubs!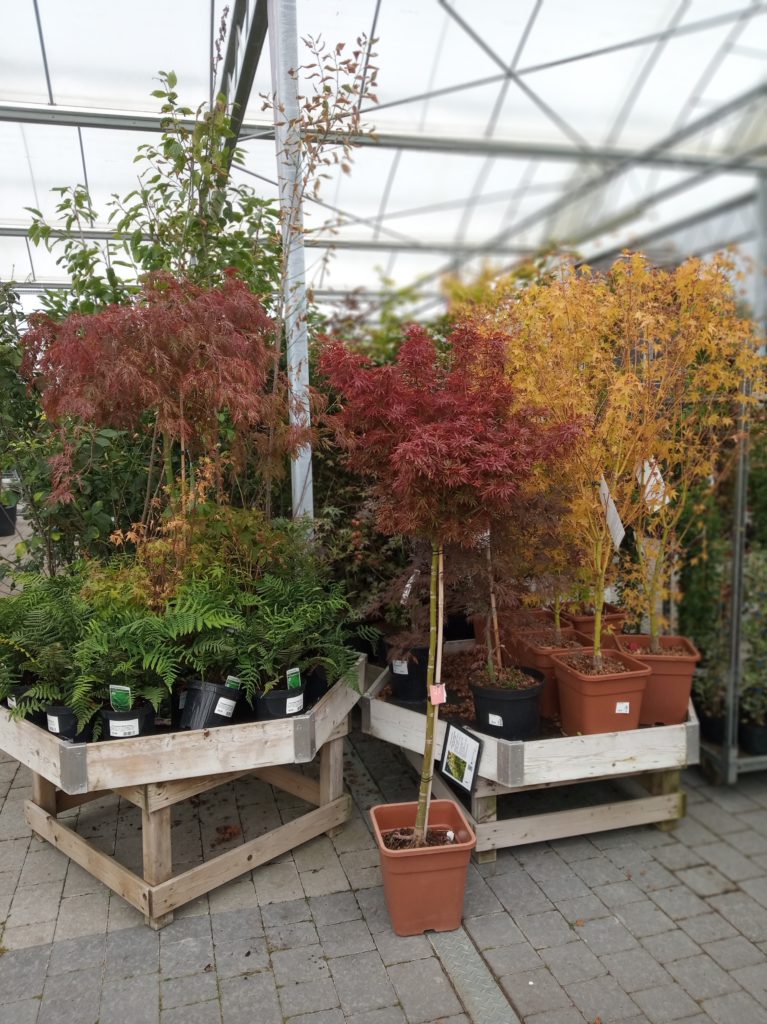 A beautiful selection of trees in different autumn colours!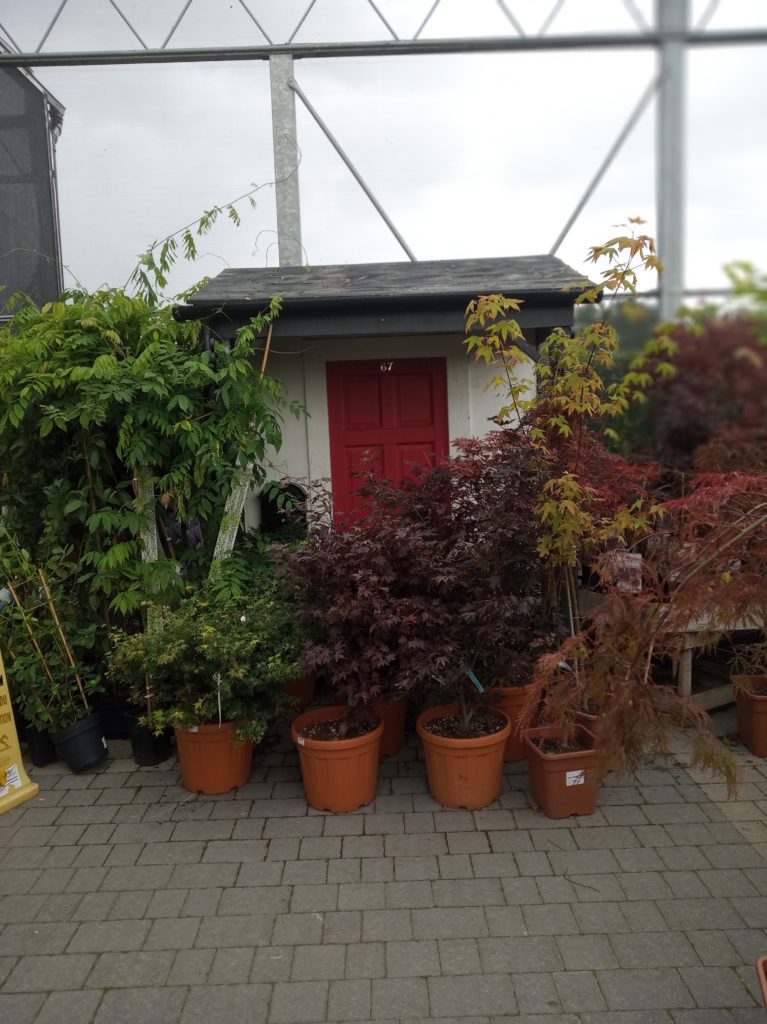 I saw a lovely red door surrounded by lushous pots in different seasonal colours!
Next I passed a bright and airy conservatory where there was two statues at either end!
I really enjoyed myself while I was taking the photos!
It was raining but I didnt mind as I was wearing a raincoat with a hood that kept me nice and dry!
I passed many statues along the Arboretum's showcase gardens!
See below a selection of the statues!
This is a statue of David!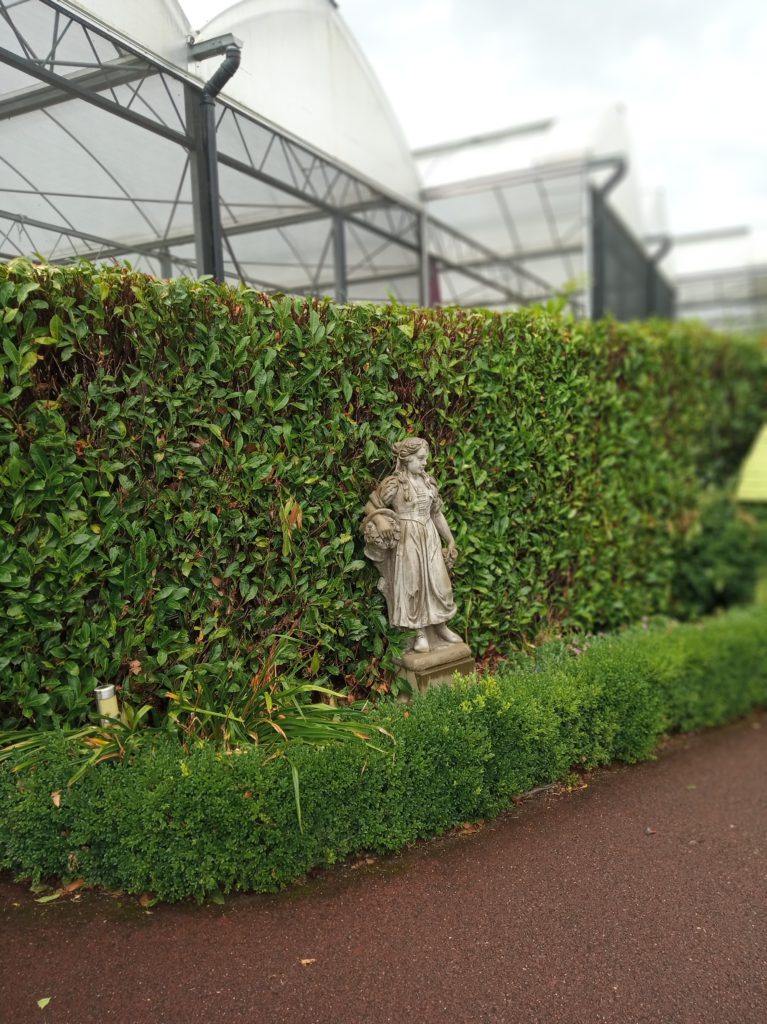 This is a lovely statue of a little girl holding a basket!
This is a young women holding some flowers!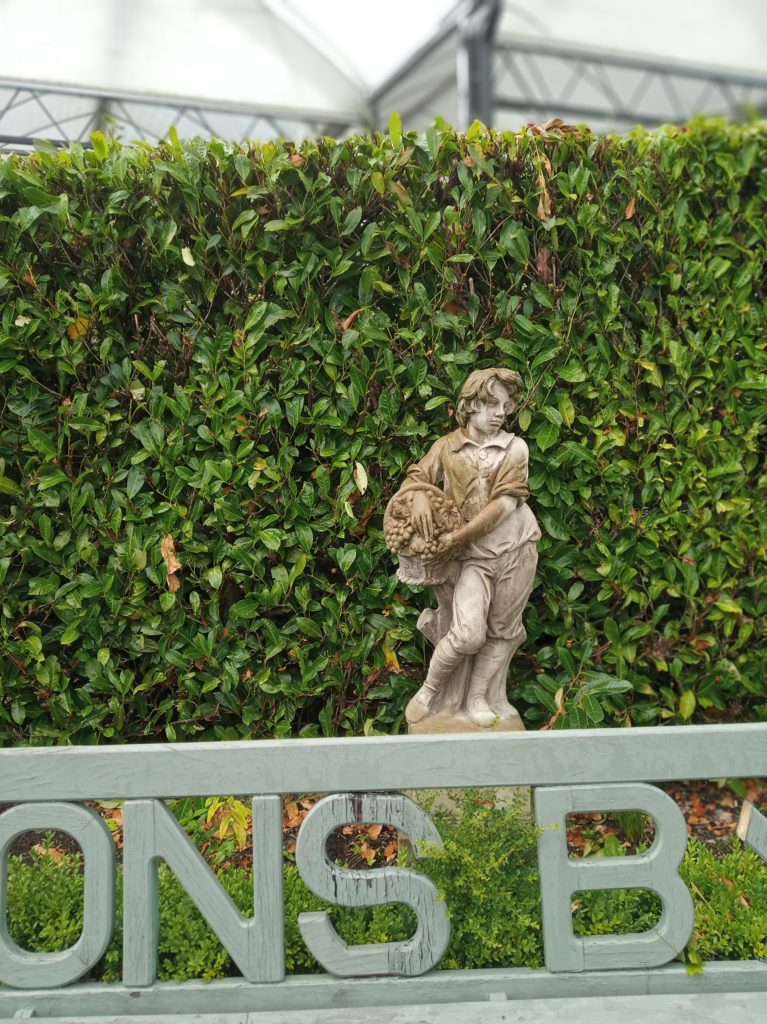 This is a young man holding a basket of grapes!
There is a variety of inspirational gardens see below a selection!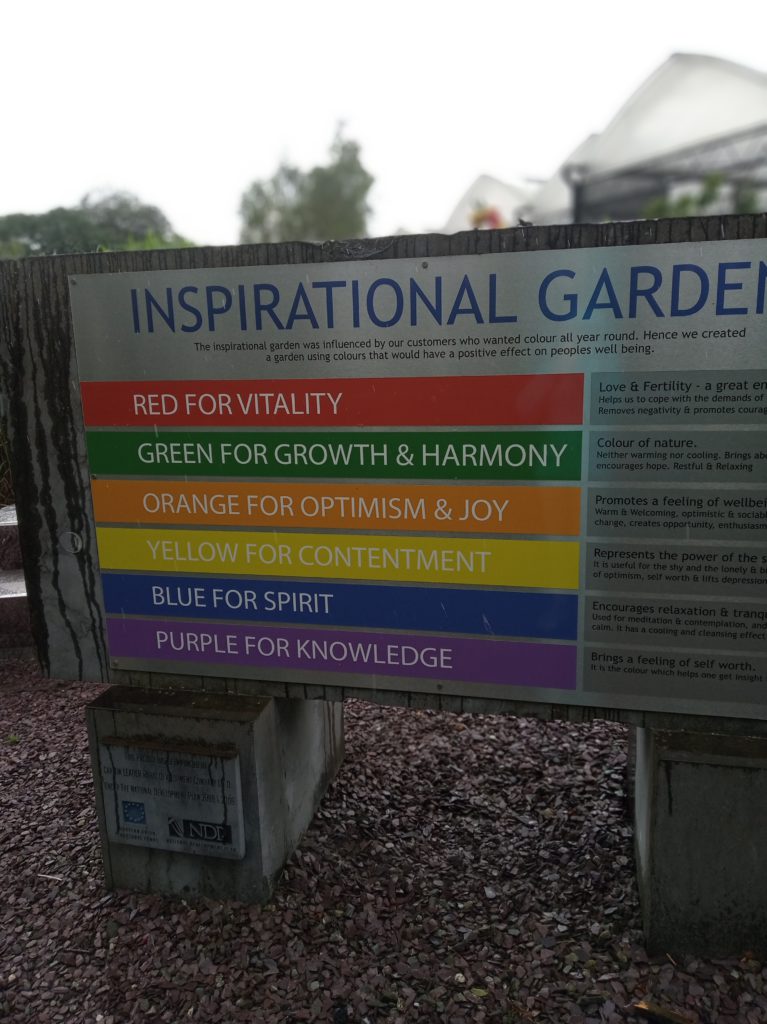 Their inspirational gardens have a variety of colour,plant selections,animal art design,a tropical area , a variety of different roses and a pond with a variety of water features!
A lovely water feature at the beginning of the Inspirational gardens!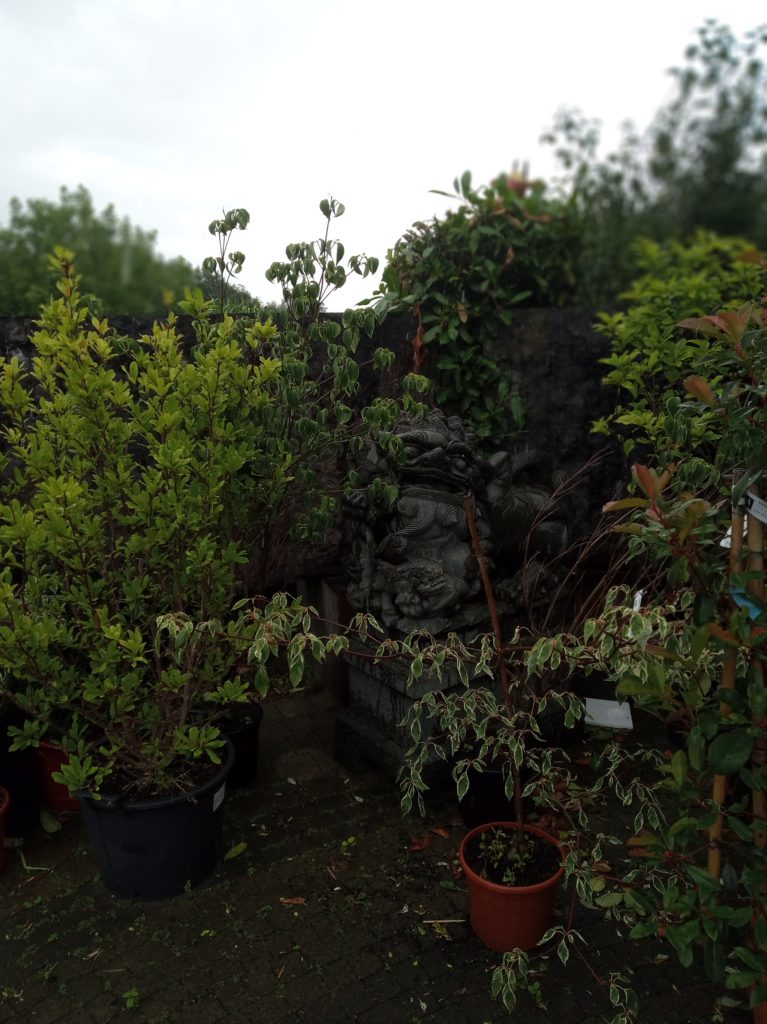 An owl hidden by a variety of different seasonal shrubs!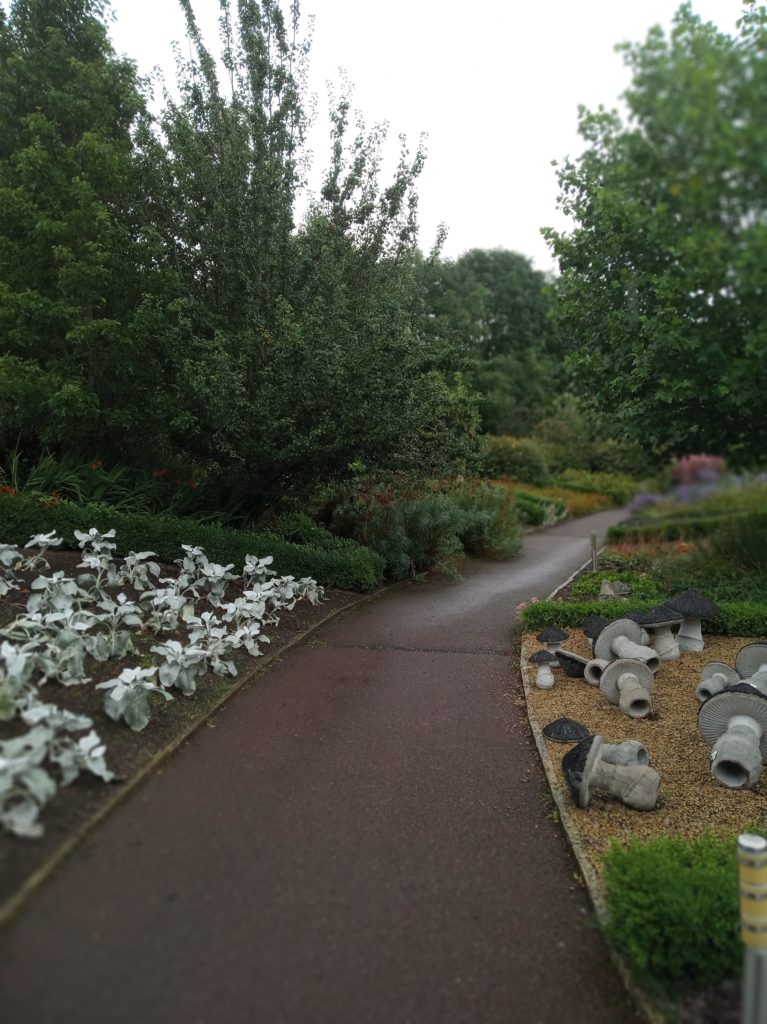 A beautiful pathway with stone features,trees,shrubs and colourful flowers!
The most beautiful section of the inspirational gardens!
Another colourful area!
A beautiful picture of lavender and orange blossom!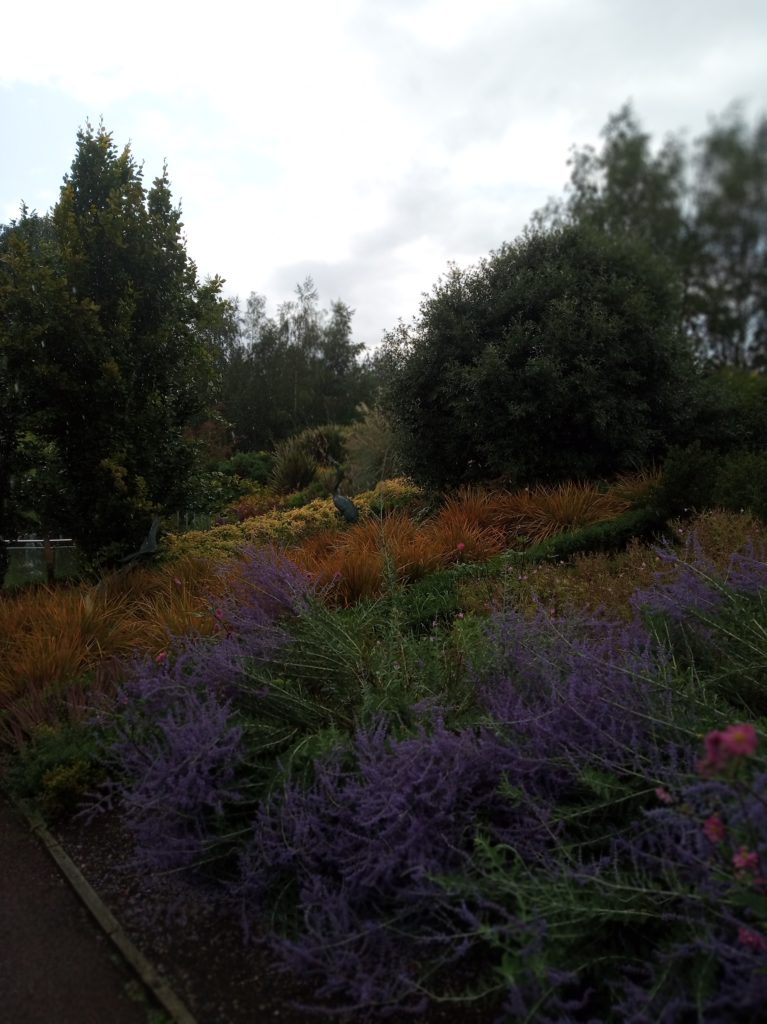 Another closeup shot of the lavendar and orange blossom!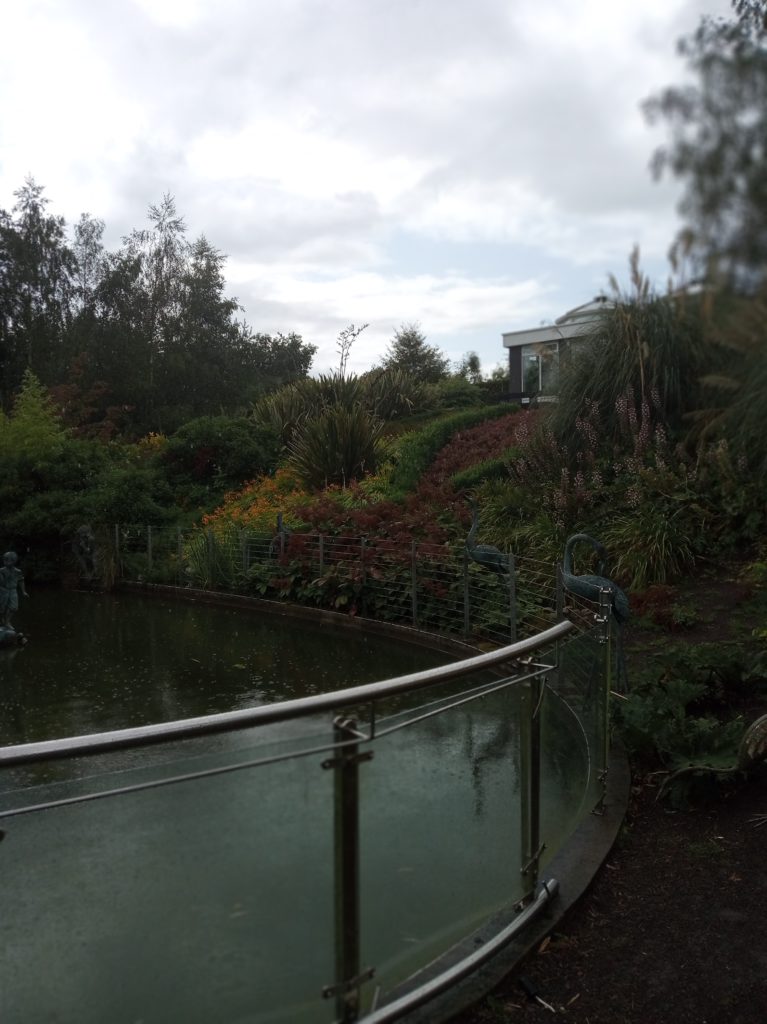 The pond with swan water features!
An art design crocodile isnt it great!What do you think?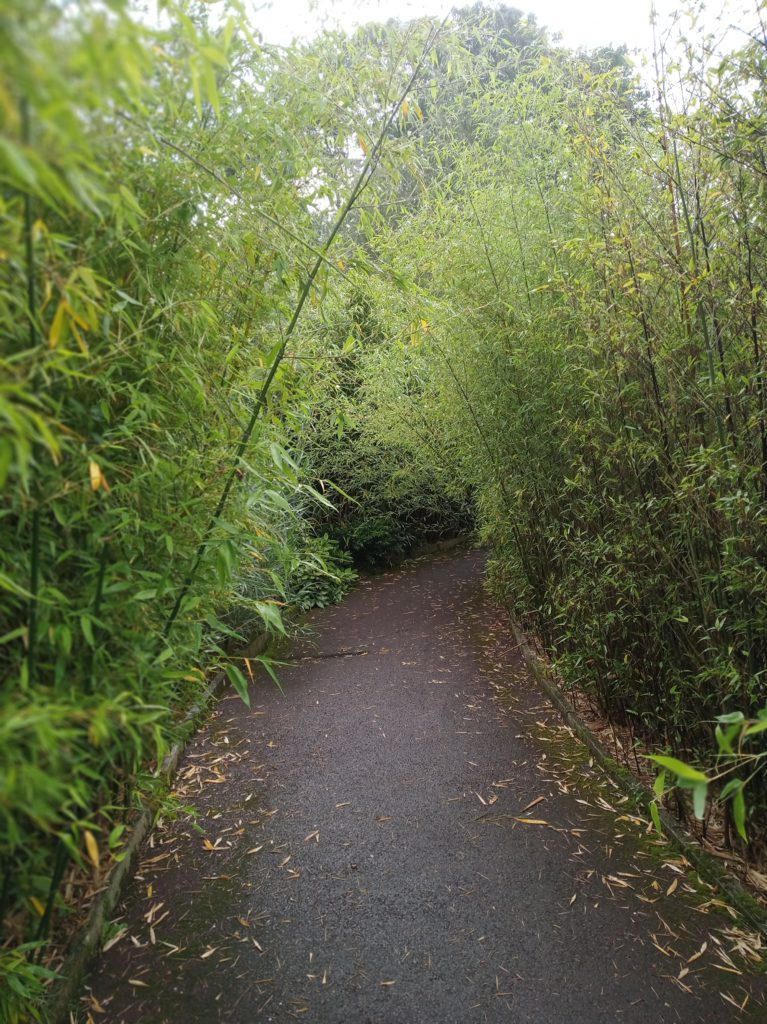 The tropical area with overhanging branches!
A sleeping Art Design Hippopotamus!
A lovely picture of luscious foliage !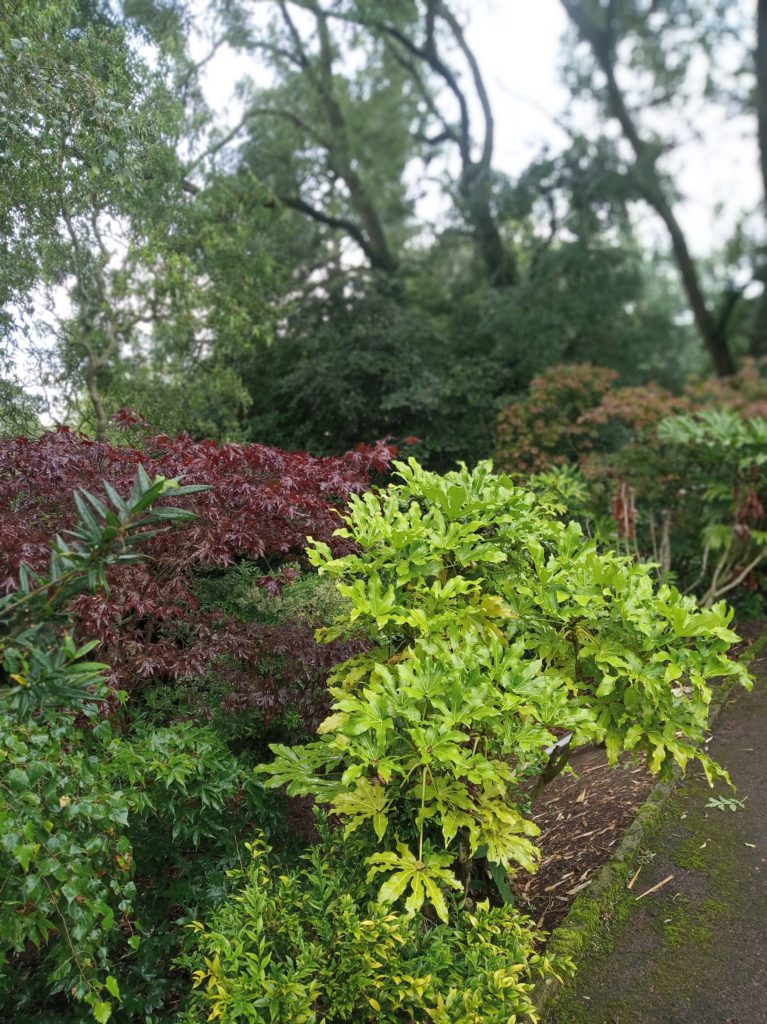 Attractive burnt red shrubs and a variety of green shrubs!
A great little place to relax and unwind!
A young women enjoying the gardens!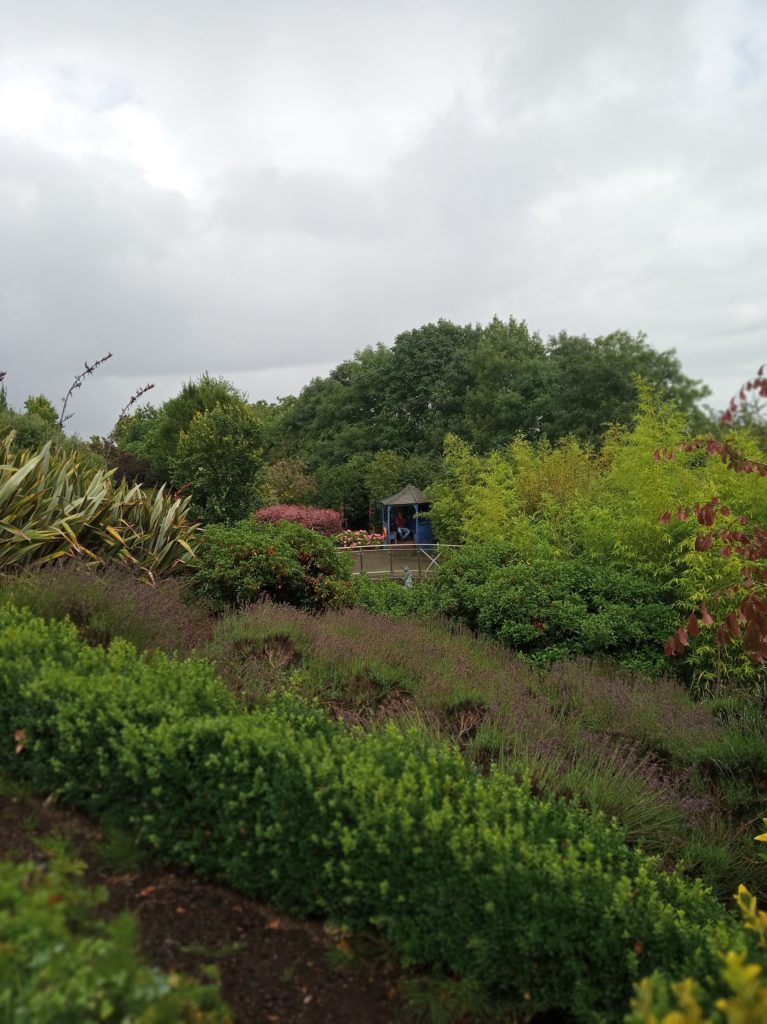 A beautiful view of the inspirational gardens!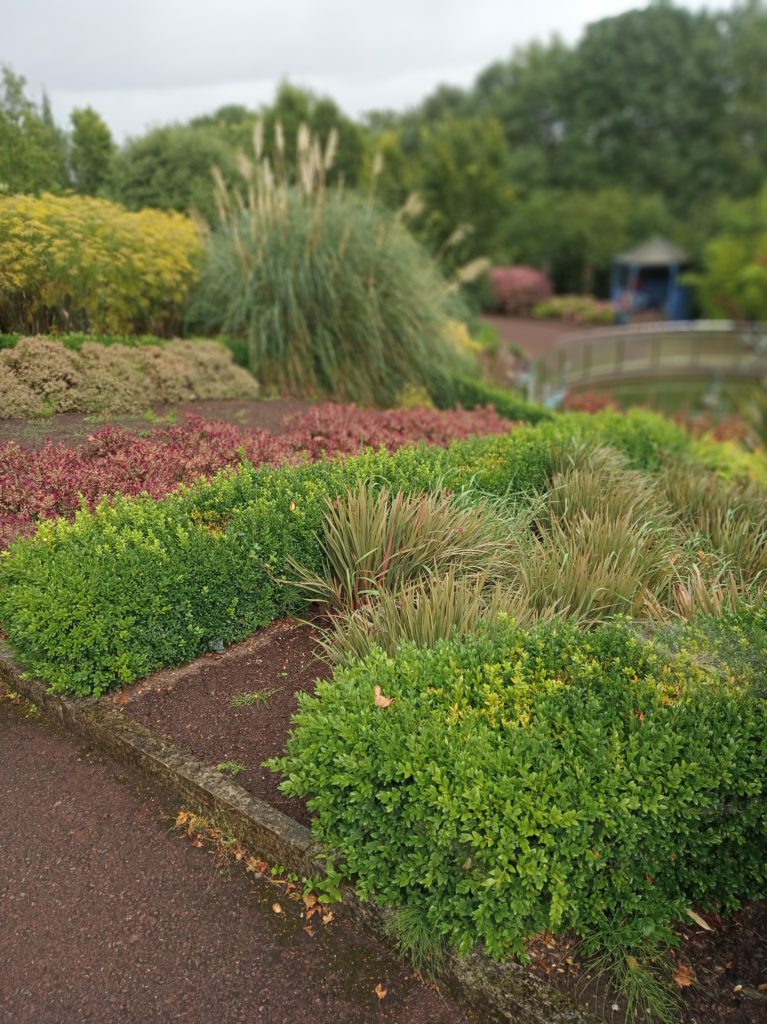 A variety of different foliage!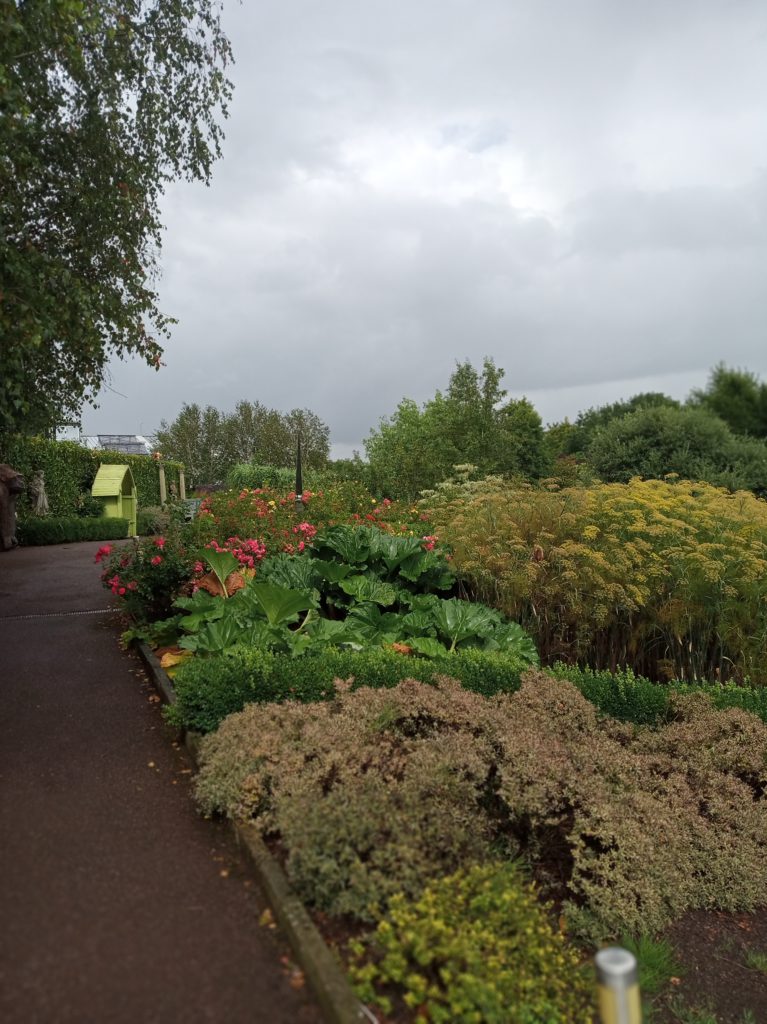 A beautiful picture near the top of the inspirational gardens!
This is the Arboretum Garden Centre's Map!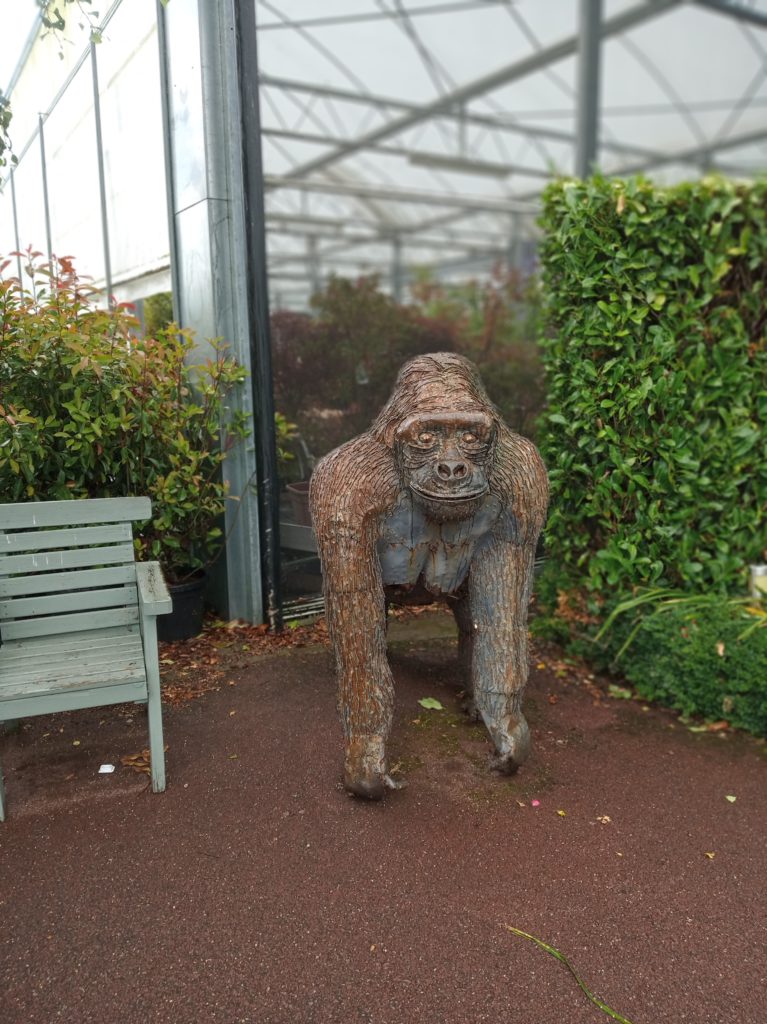 Art Design Gorilla! Do you think he looks great? I do!
A spiral feature surrounded by beautiful red roses!
Galloping Deer!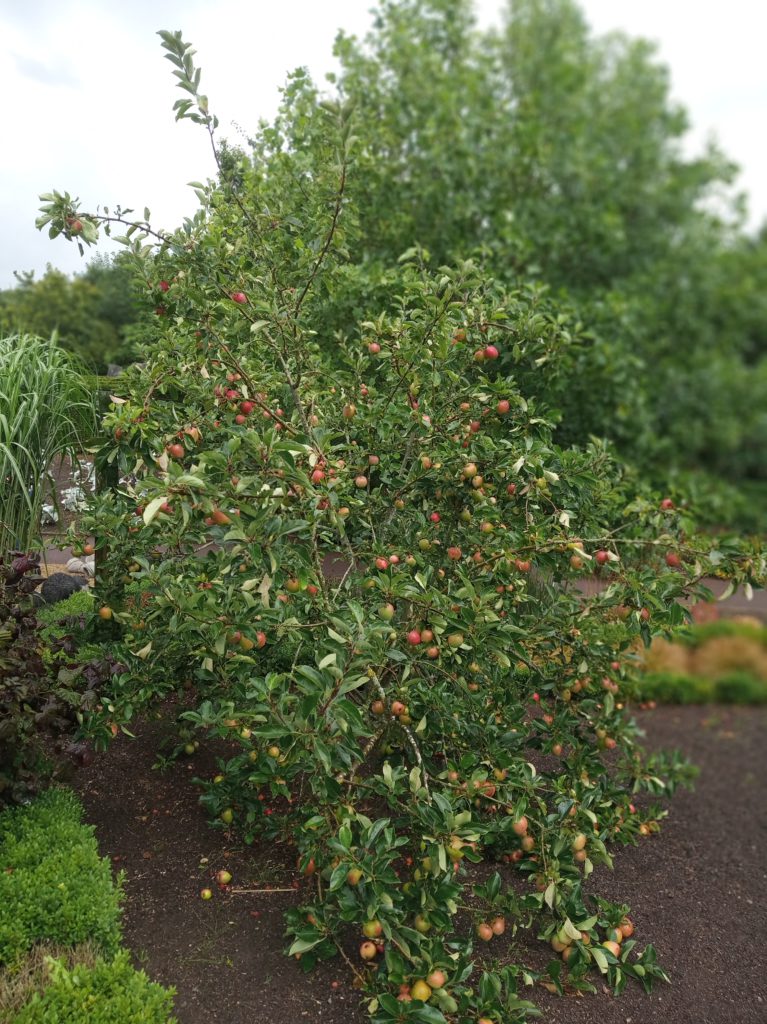 A tree full of apples!
Pretty pink bluebells!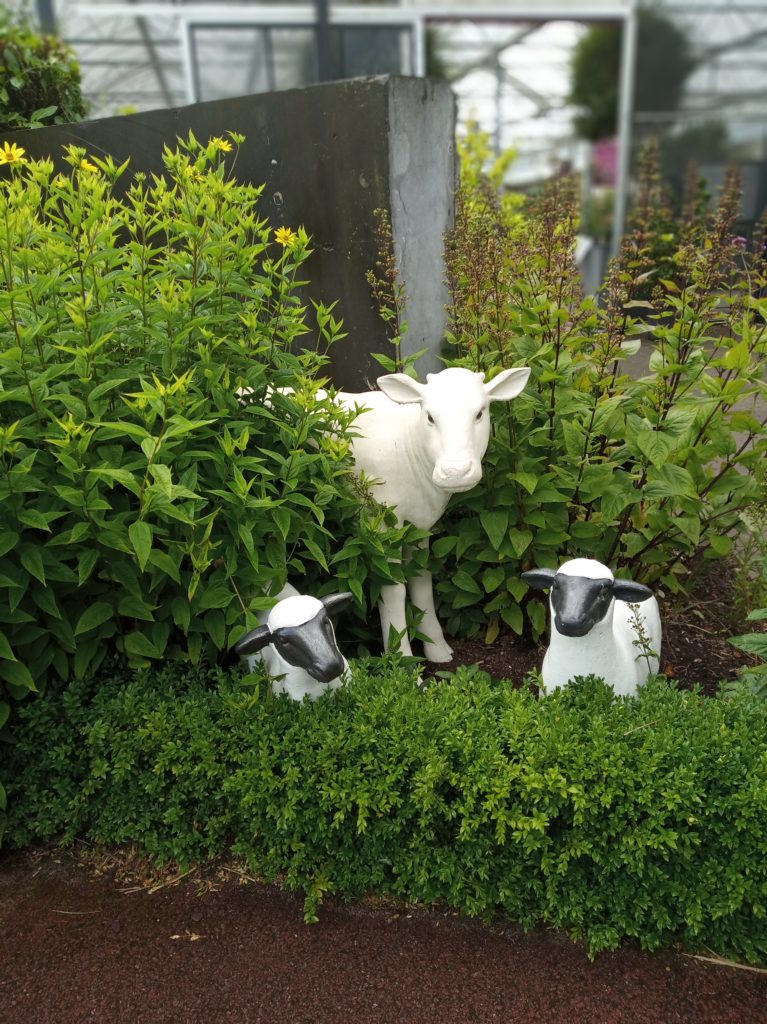 Livestock hiding in the shrubs!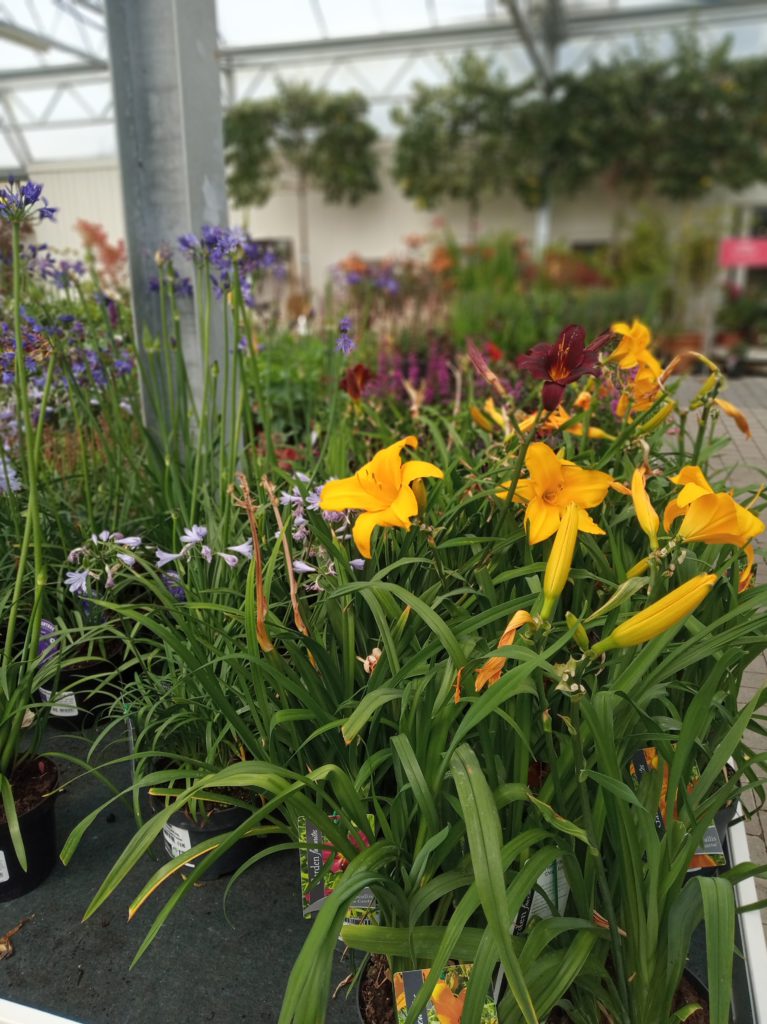 A selection of beautiful flowers!
A variety of different shrubs and flowers!
A selection of Fat Face Soap!
Irish Botanicals Range!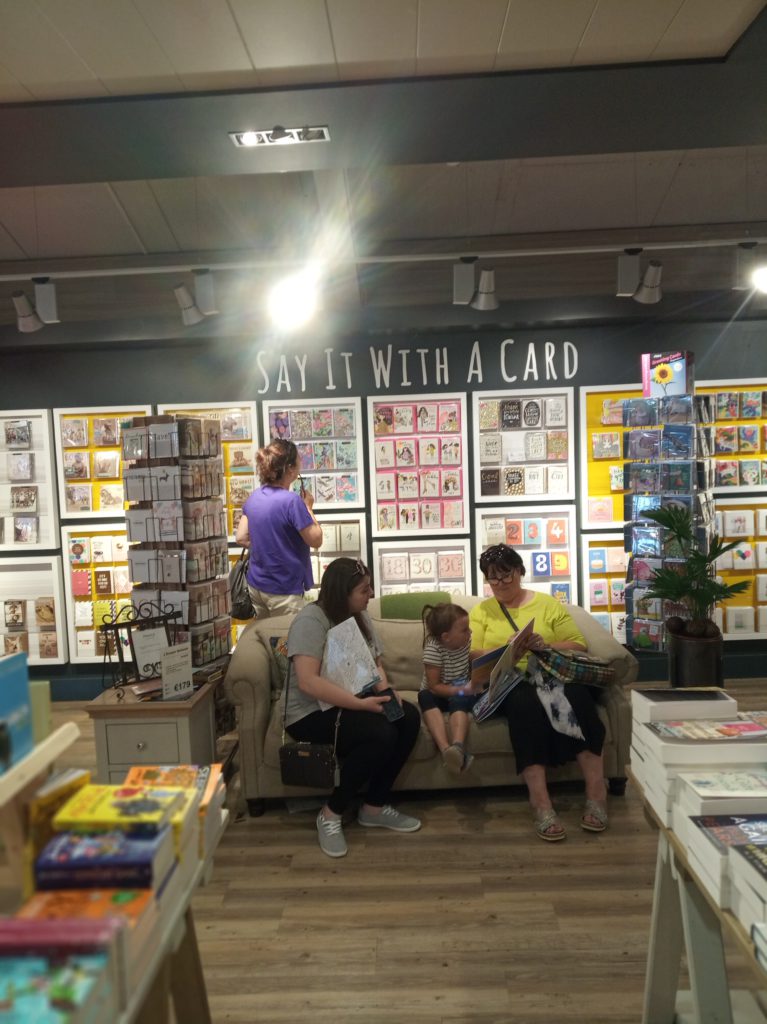 This is a great shot of the card section in the Arboretum shop!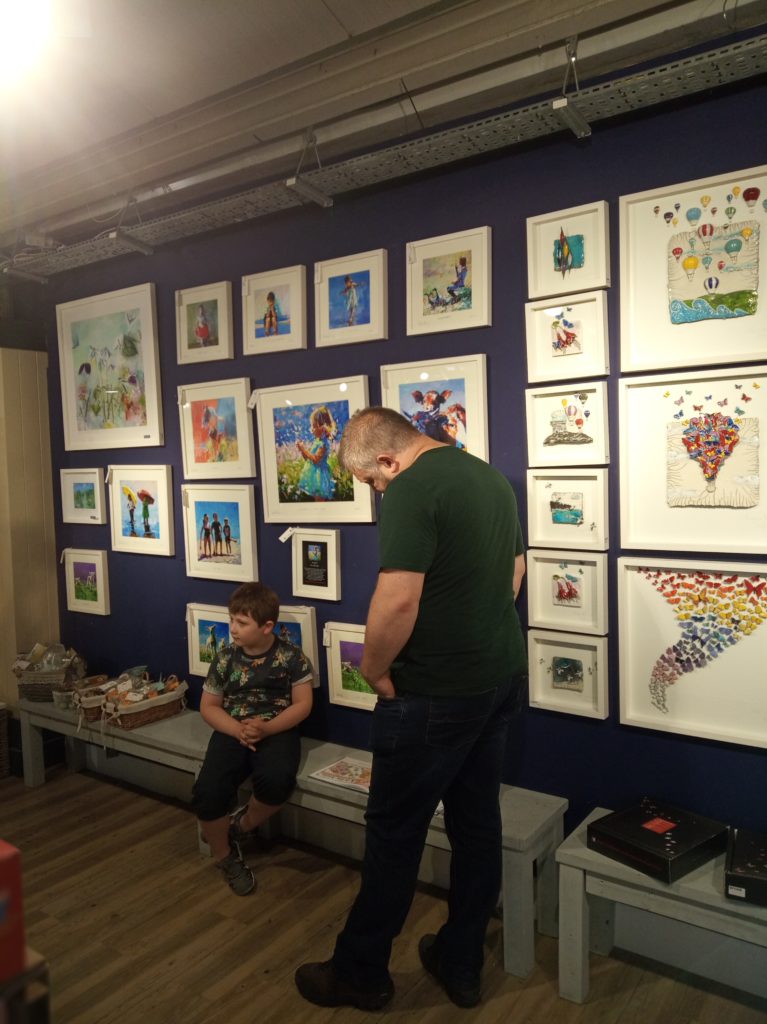 Father and Son looking at pictures in the picture section!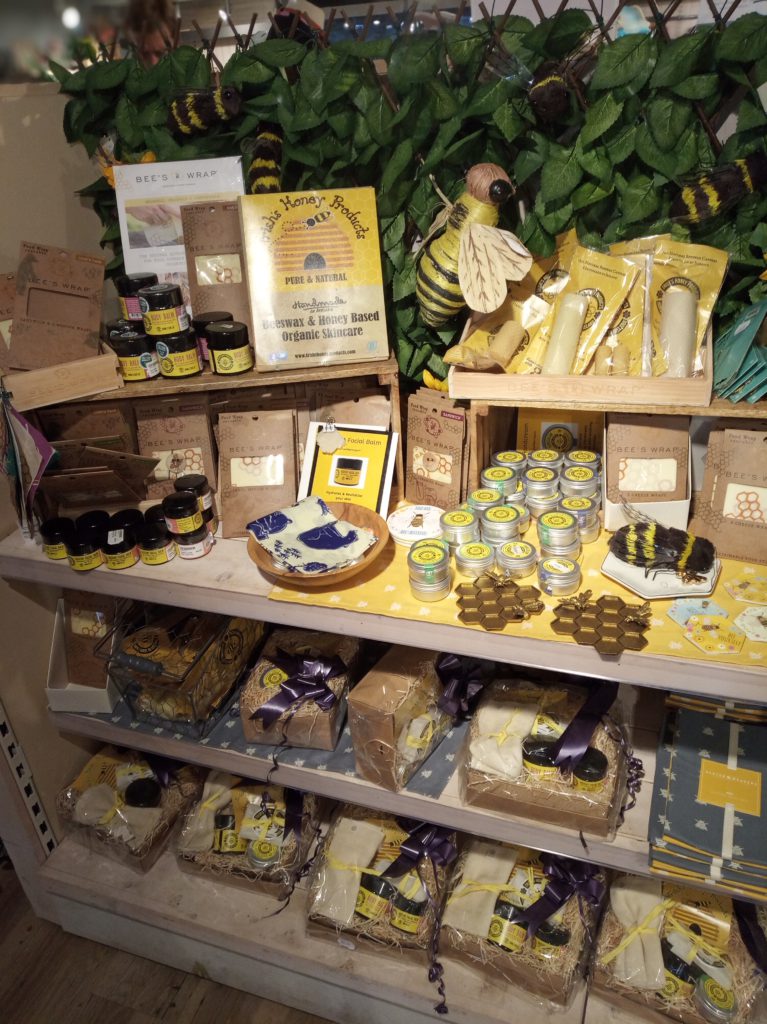 Natural honey selection!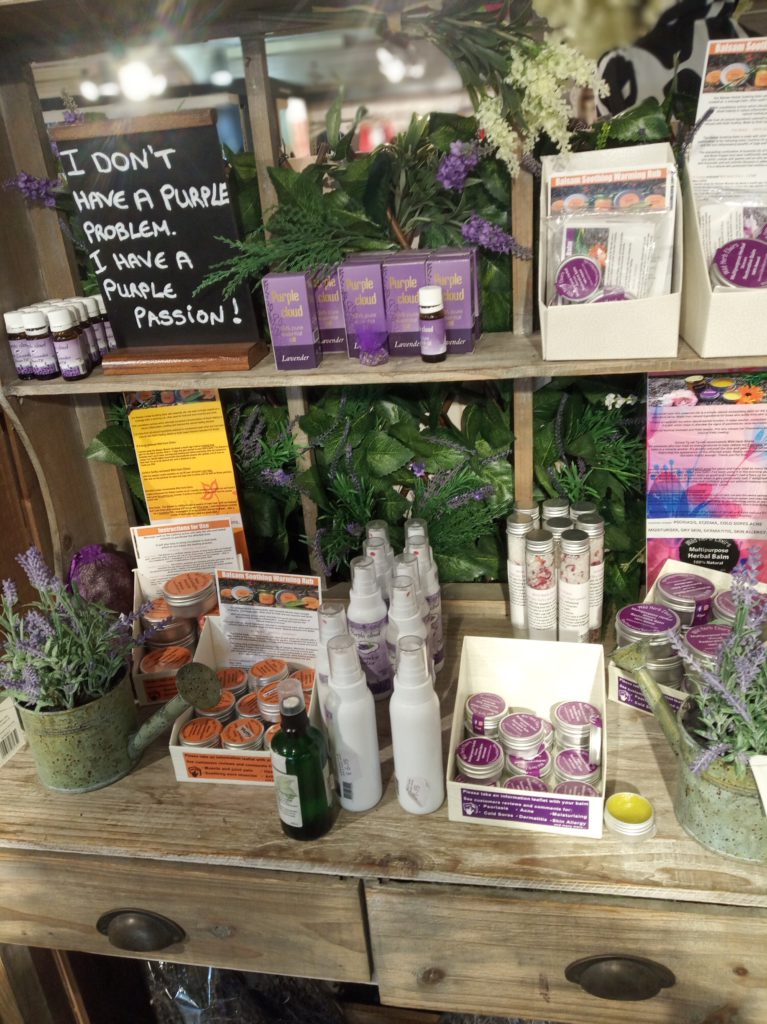 The lavender section!
The barbecue section!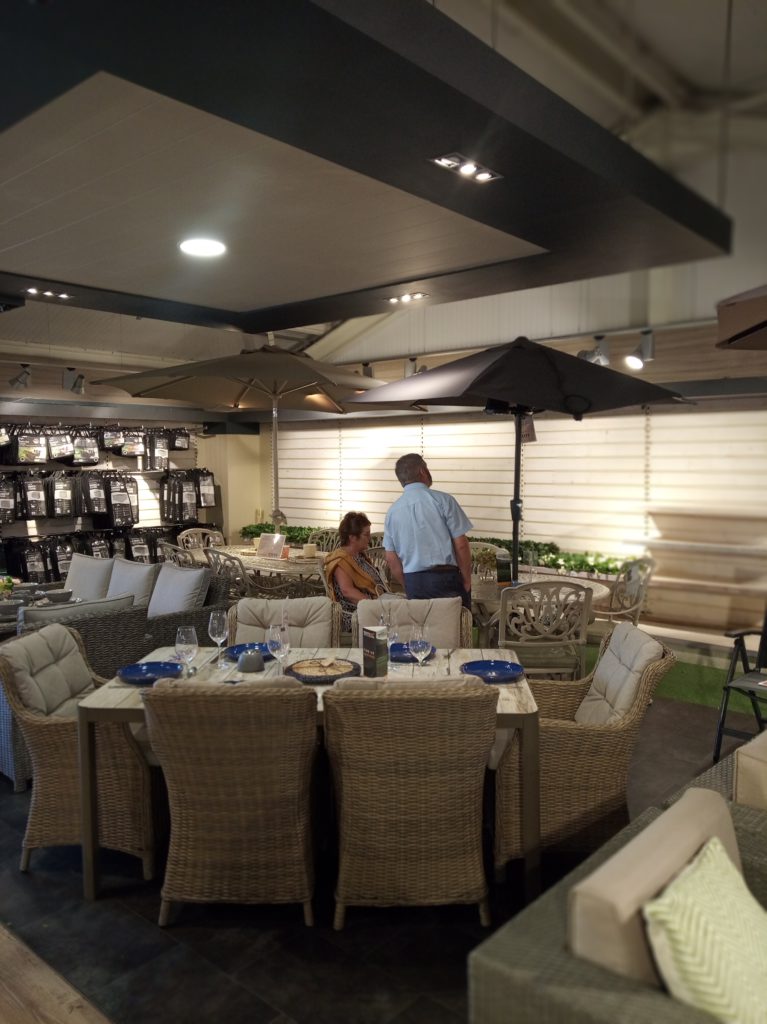 Beautiful Patio Furniture!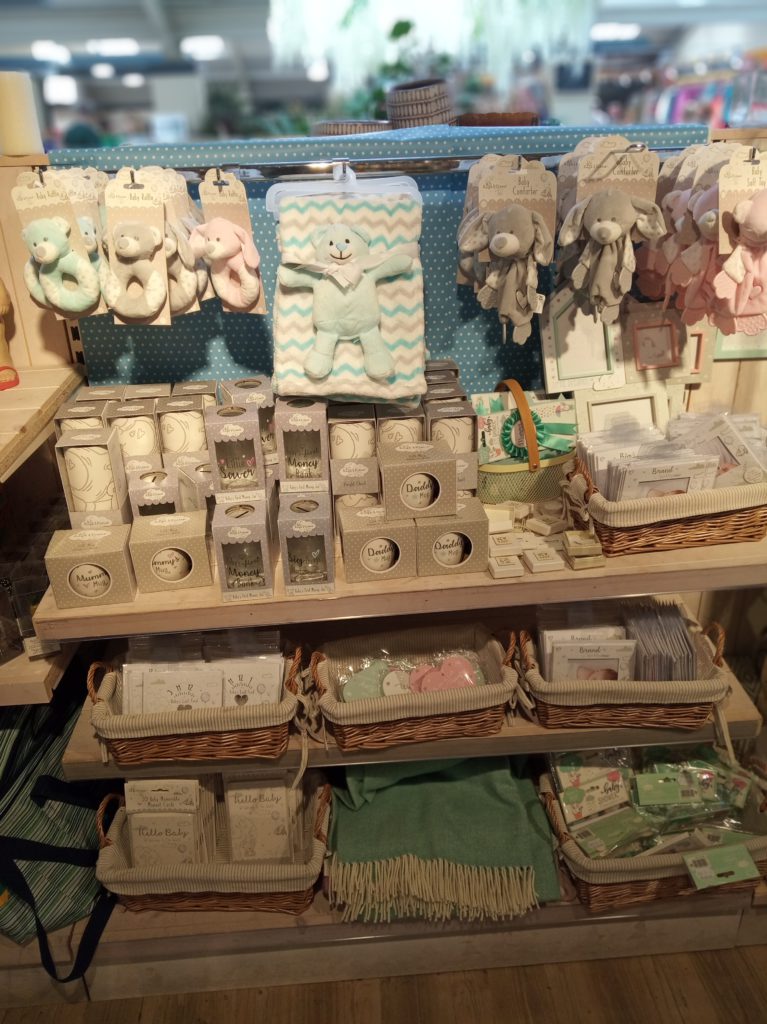 Baby Shower Section!
Baby shower gifts!What is your favourite baby shower gift?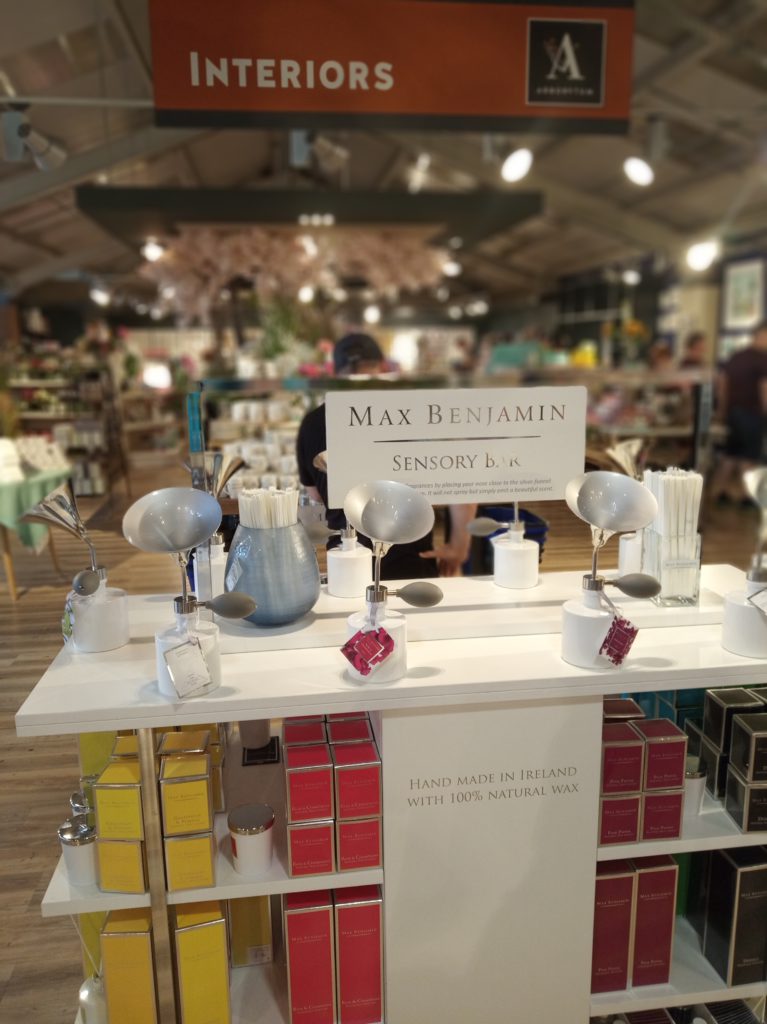 The Sensory Bar!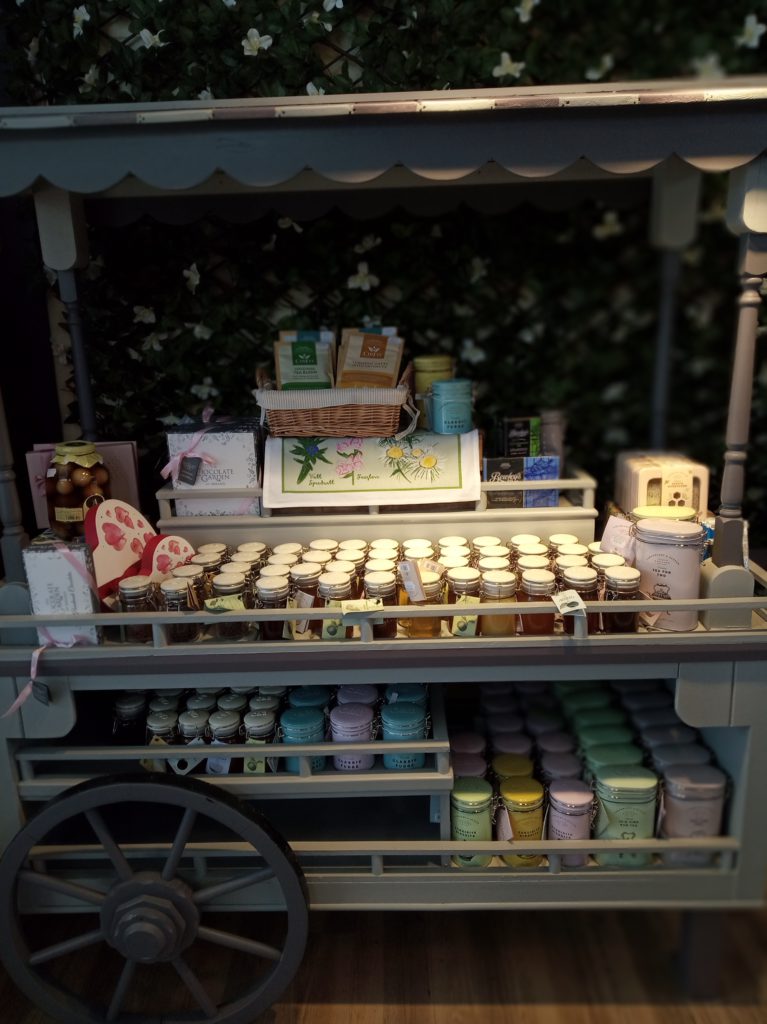 The Preservative Section!
As you see from the photos above the Arboretum is an excellent place to spend the day!
I really enjoyed Bank Holiday Monday in the Arboretum even though it was raining and a bit cold!
Have you been to the Arboretum in Carlow if you have did you enjoy it and what sections did you like best?
Do you have any photos of the Arboretum if you do please leave them in the comment section below or email me,that would be great!
If you have any suggestions on how to improve this post or any information or questions or comments you would like to make on the topics discussed in this post.
Please send an email to momo19@diabetessupportsite.com or leave your comments below.