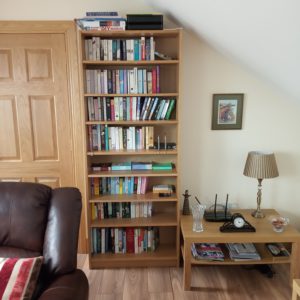 My main interest is reading I have always liked reading since I was a child.I  always liked to daydream and imagine I was the heroine in the book I was reading especially when it was a romantic novel.
I am very sentimental about everything especially a good story for example a romantic story,an emotional story,a true story and a love story!
A good comedy makes me laugh and anything emotional makes me cry!
I like many things but most of all I like reading especially at night before I go to bed.
I also use to read the bible every night before I went to sleep.However I got tired of that so I decided to to join a Christian group instead!
I am very glad I did as I have met some lovely people there!The name of the Christian Church I go to is Calvary Waterford!
It has a lovely Worship Service which I enjoy immensely!
See below a picture of the Christian Church I attend!
I like all kinds of books especially women's fiction as you can see from the picture of my attic conversion and I like many kinds of people especially kind people!
For example a lovely women from a website called Positivehealthwellness.com asked me to partner with her website which I was delighted with especially as it has fabulous infographics on it!
As you can see from our diabetes site I use them a lot!
I hope you dont mind me telling you this but I need to get this out as people dont realise how much work is involved in creating a health website like Positivehealthwellness.com and Diabetessupportsite.com.
I think that a lot of people think that it is just a few hours a week and it doesn't involve a lot of work but it does especially if you are very slow at typing like me!
I have been working on this website for nearly six years and have still a lot more work to do on it!You would not believe how many hours a day I work on it!
I am not very good at expressing my feelings that often but I would like everyone to know how important it is that people who read articles on websites and enjoy them should pay a compliment to the writer or send an email or write a comment in the comment section!
I want to tell you a story and it is a true story about me and this website!
I got a lovely email from a woman called Mary at a time when I was feeling very downheartened about this website!She raised my spirits when she told me that because of Diabetes Support Site she went to the doctor and was diagnosed with Type 2 diabetes!
She said if it wasn't for our diabetes site things could have been a lot worse so she was very grateful for all the work I had put into this site!
I was delighted she sent me this email as I was about to give up on this site but her words of praise gave me the incentive to continue working on this website!
Her words of kindness helped me so much and because of her kindness I want to help as many people as possible!
I so hope I can help millions of people through this website!
It is only through helping people is life worth living!Without help no one can achieve anything in this world!
People think that working on the internet must be very easy and not time consuming at all but this is totally false it is very hard work and involves a lot of patience!
It is very time consuming and you have to be very dedicated and very persistent.Also you cant expect to earn a lot of money from it!
I haven't earned much it is hardly worth talking about and it can get you down sometimes and then other times I dont mind as long as I know that I am helping people!
The worst part of it is getting no feedback.I am on my own staring at a computer screen with no one to talk to or no one to help not really anyway!
The only people I have helping me is two men who setup a training website for people like me who wanted to create their own websites.
The name of this website is Wealthy Affiliate and I would be lost without them.Their names are Carson and Kyle!
They are two nice guys who wanted to help people and that is what they did help people!Without them I wouldn't have had the skills or knowledge to create this website!
I hope you access the above banner as these guys are great and could help you setup your own online website but I warn you it isn't easy and you have to be prepared for a long hard road ahead with very little income!
I dont want you to think that this is some sort of sob story it's not I just want people to know the truth!
I didn't realise when I first started that this would involve so much work I thought that it would be a nice little earner involving very little work!
I would just like to say one more thing I dont like to brag but I think I have learned more in the past six years working on this website than I have in the many years I worked in Teva Pharmaceuticals as a Research and Development Analyst.
I think people think that working on a health website must be very boring but I dont think so I enjoy it especially when I get feedback so please I beg you send me an email or write a comment in the comment section,I would be so grateful!
I would be very sad if I never got any feedback after all the time and effort I have put into this diabetes site!
Please realise that working on a health site can be exciting but it can also be boring especially when you get no feedback!
I had to do a lot of reading and researching for good information which was accurate and true!
This can get quite boring at times,sometimes I enjoyed it,sometimes not so much,it depended on my mood and what topic I was researching!
When I get feedback it gives me ideas about researching other areas and other illnesses!Also another kind lady Karen asked me about the Ketogenic Diet and Type 2 diabetes she was very excited to learn about Keto testing so I decided to research more into the ketogenic diet!I hope Karen found it helpful!
I think the more information a person has about diabetes the better!The major thing  that all diabetics need to read is their blood glucose monitor without it you dont know wether your blood sugar level is high,low or normal.
The other major things that diabetics need to be able to read is their prescriptions and long term illness book that you bring in to the chemist as well as the number of units of insulin you need to inject using a syringe or an insulin pen!
It is also very important to be able to read food labels for carbohydrate counting,this is essential for a diabetic!Also it is important to be able to read recipes especially healthy diabetic recipes!
The other things people with diabetes need to read about is a healthy lifestyle and exercise routines!
So the most important thing that diabetics need to do is to gain knowledge about their illness through good health sites like Positivehealthwellness.com and Diabetessupportsite.com.
This website was created by me,Maureen Coughlan to help people I so hope it helps everyone!
I was in Carrick on Suir today for a walk around the town and I parked my car near Morris Oil garage!
I then walked further on and came across a number of attractive houses in the town!
See below a selection of houses and gardens in Carrick!
I then came across Carrick Swan Built where a man was cutting the grass in the Hurling and Football field!
I then passed a children's play area which was quiet but a lot of children would be at school as it was Tuesday afternoon around 12am!
I then looked across the road and saw a Primary school with a variety of coloured flags!
I continued down the road and came across another section of the children's playground!
Then I decided to go across the road to take more pictures of the Primary School!
See a selection of pictures of Carrick's Primary School!
Then I met a nice man while I was taking the photos,I went into the school to take the photos and he seemed concerned!
He told me he was the principal of the Primary School!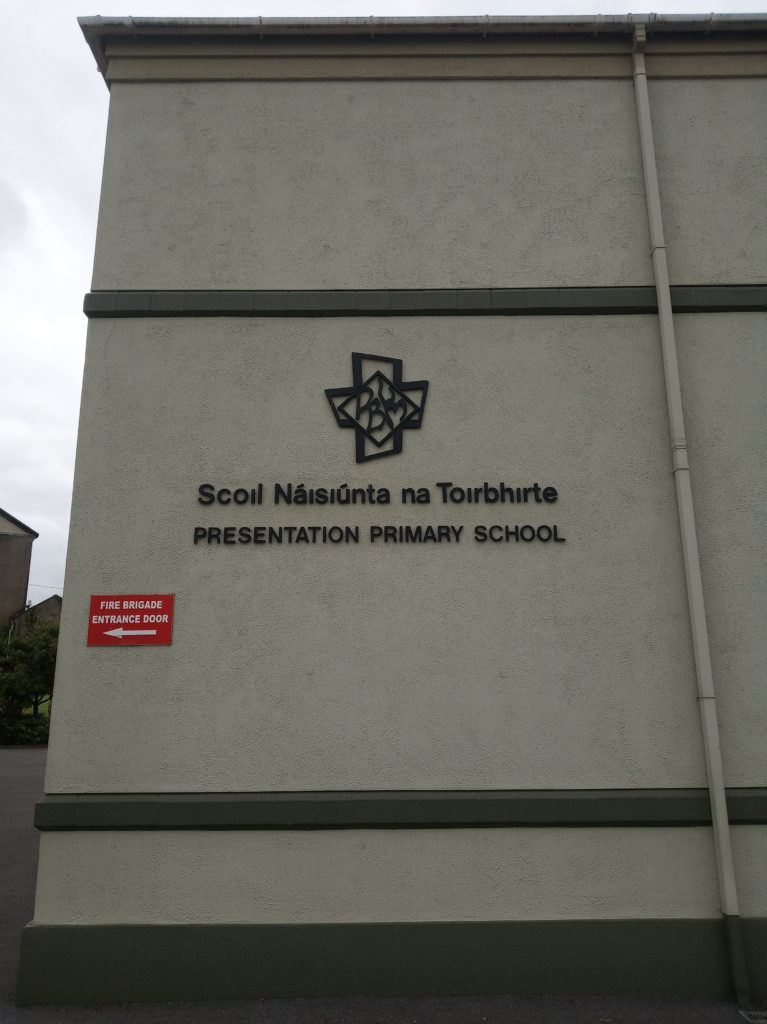 I explained about this website and how I wanted to promote the town of Carrick on it!
I showed him this website on my mobile phone and how you can access it under Diabetes Support!
He was concerned that visitors would come into the Primary School and I explained they would only look through the gates or across the road as the school is not covered by insurance!
I think that if people want to view the lovely Celtic features below they should not enter the school as I dont want to be responsible for any damage or disruption to this lovely school!
Please dont enter the school unless you are a parent or carer of one of the children attending the school!
I then crossed the road and came across the Carrick Gardai Station!
I then came across a sign for Ormonde Castle,I think I will visit that tomorrow!
Are there any lovely castles near you that you have visited or would like to visit!
If so would you leave a comment on the comment section below!
I then came across a very nice community park in Carrick!
There was a lovely statue of Our Lady as we entered the park!
The name of this lovely community park is Fair Green!
There is another sign for South Leinster Way!
I then entered the Fair Green Park ,see below a selection of  very attractive pictures of the park!
Then I saw three ladies at a distance having a chat at the far wall of the Fair Green Park!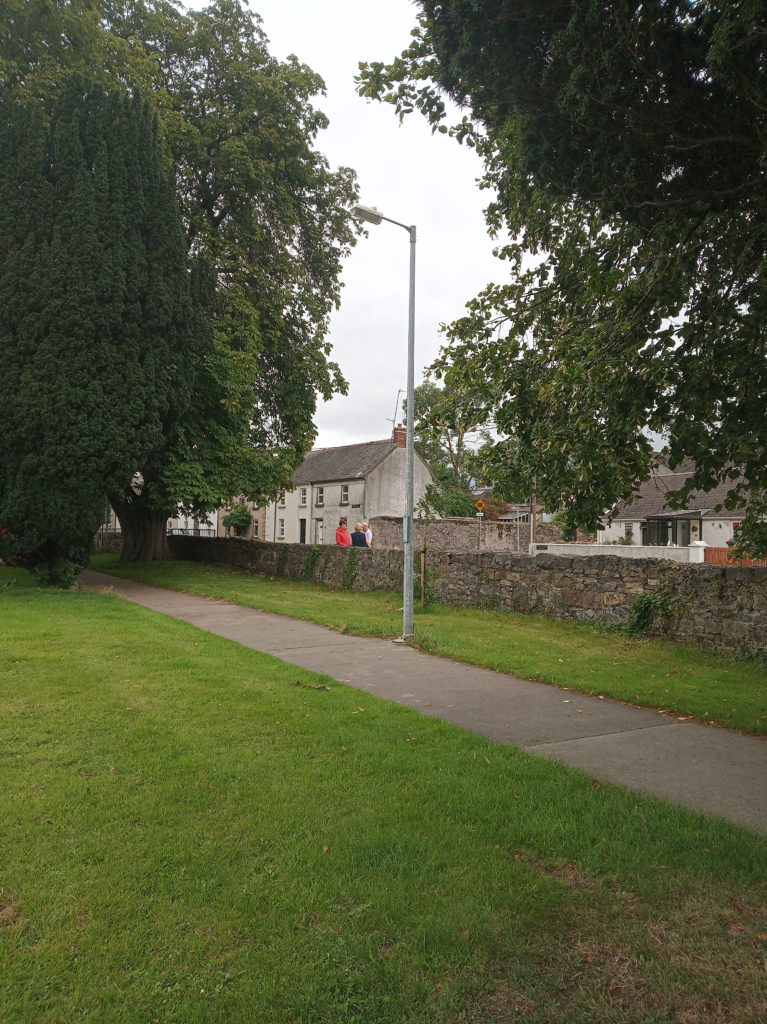 Then I passed a house with green ivory on the walls!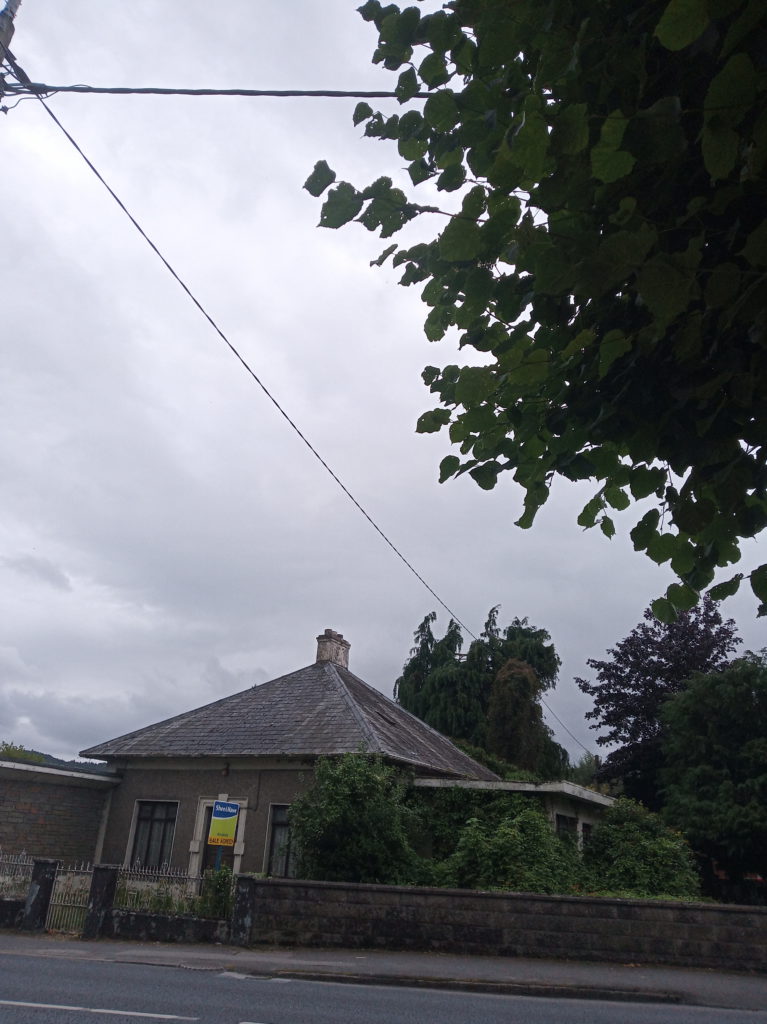 Across the road from this nice community park is a selection of attractive houses and gardens!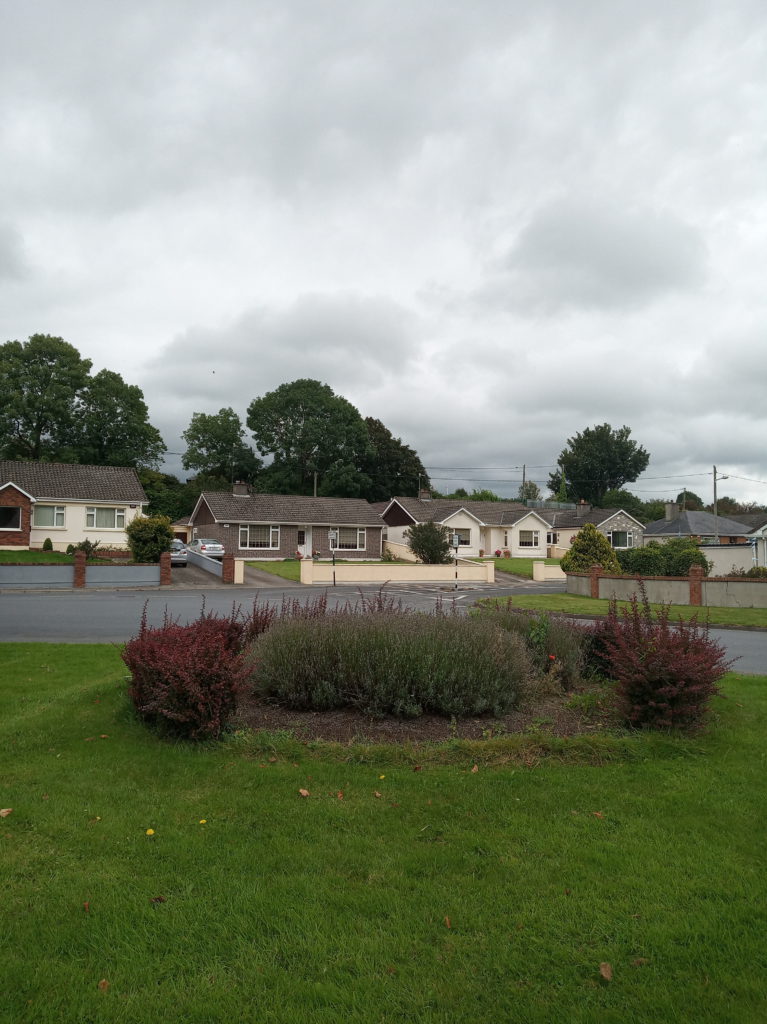 I then went back into the park and saw a lovely tree with an exposed trunk!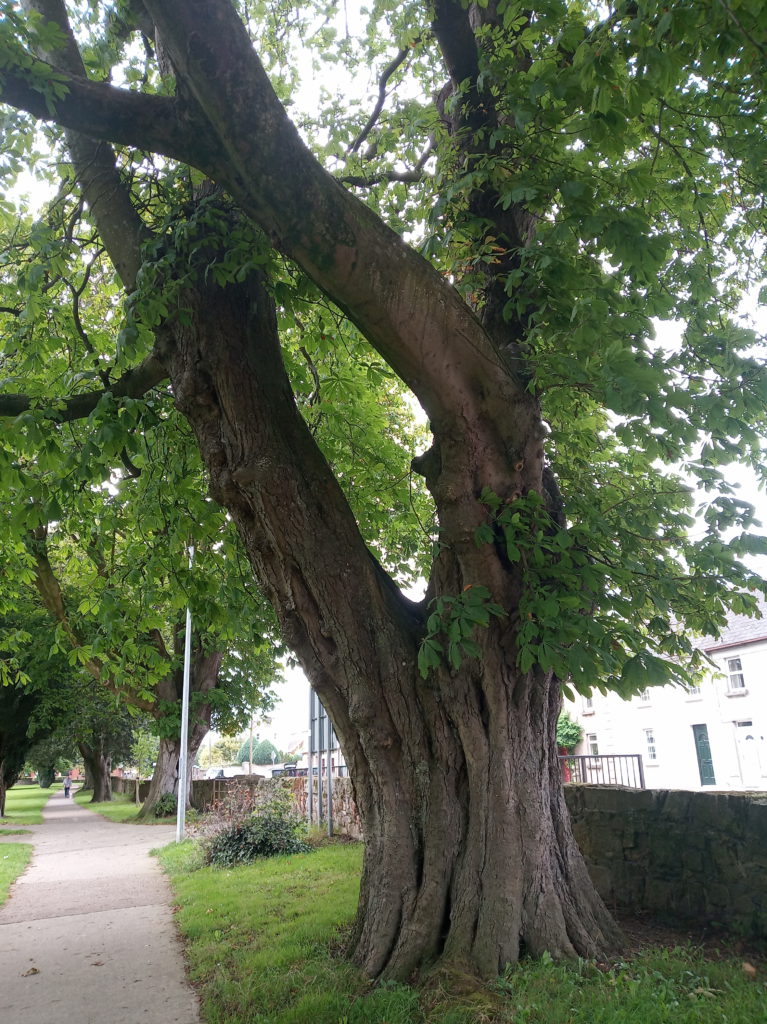 What do you think of this tree,I think it is very attractive!
I then went out of the park and then took a photo of a row of fine houses at the side of the community park!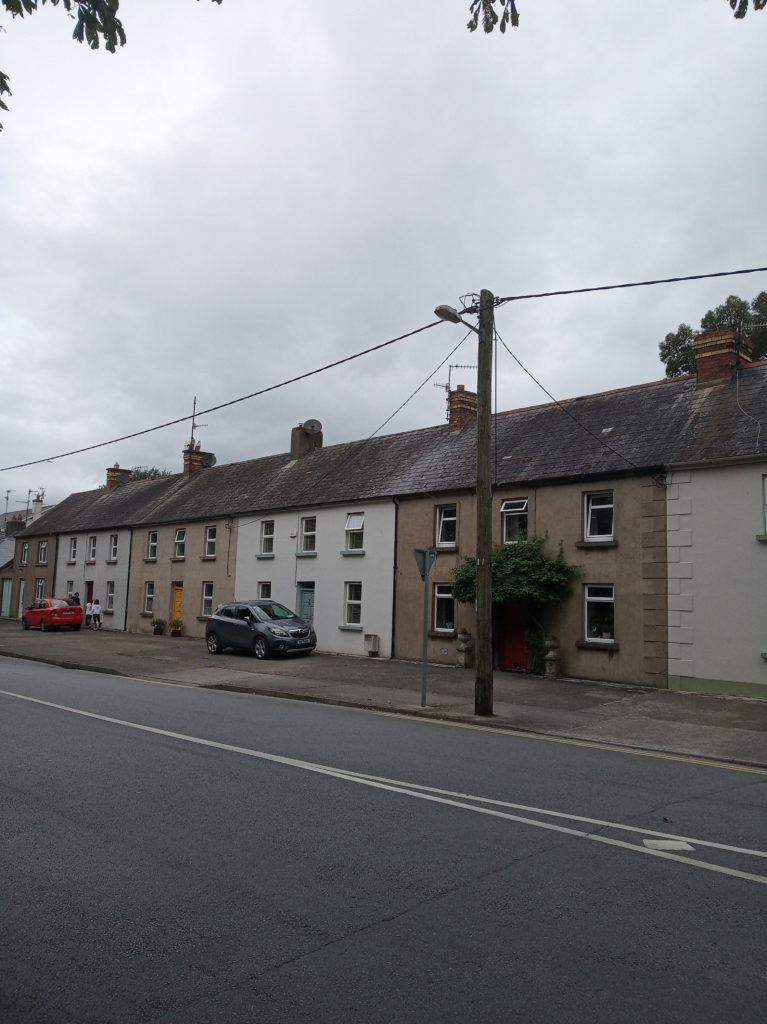 As I entered the park again I came across a man with a hat on walking his dog!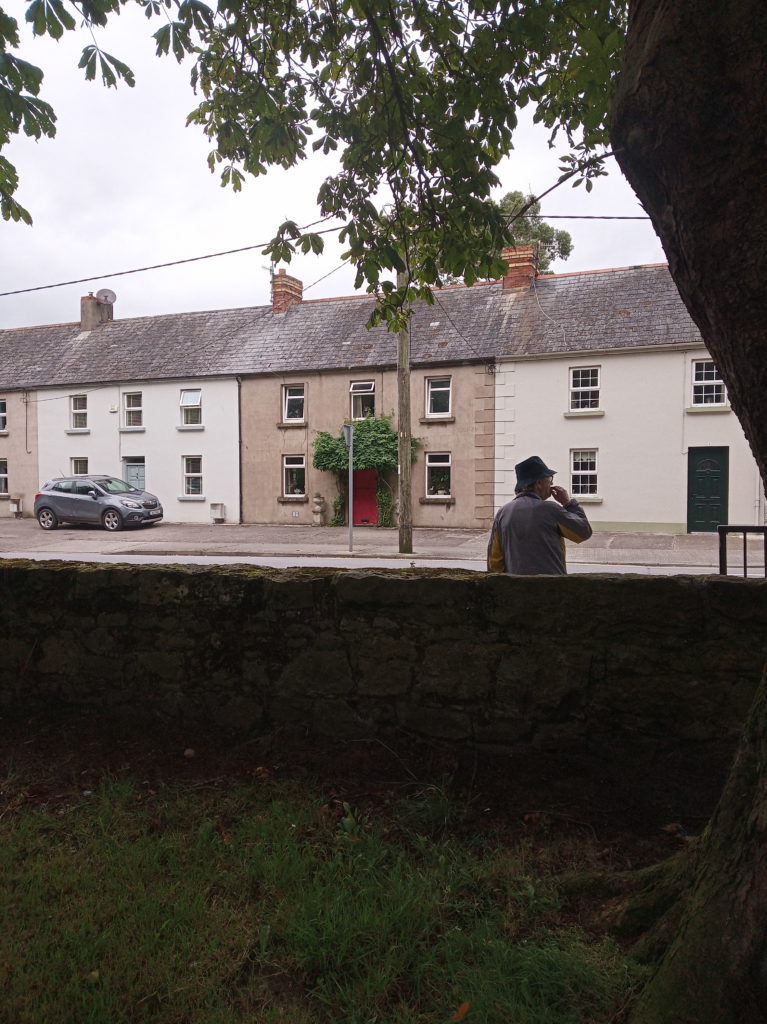 I then saw at a distance three young ladies on a bench having a chat and enjoying their surroundings!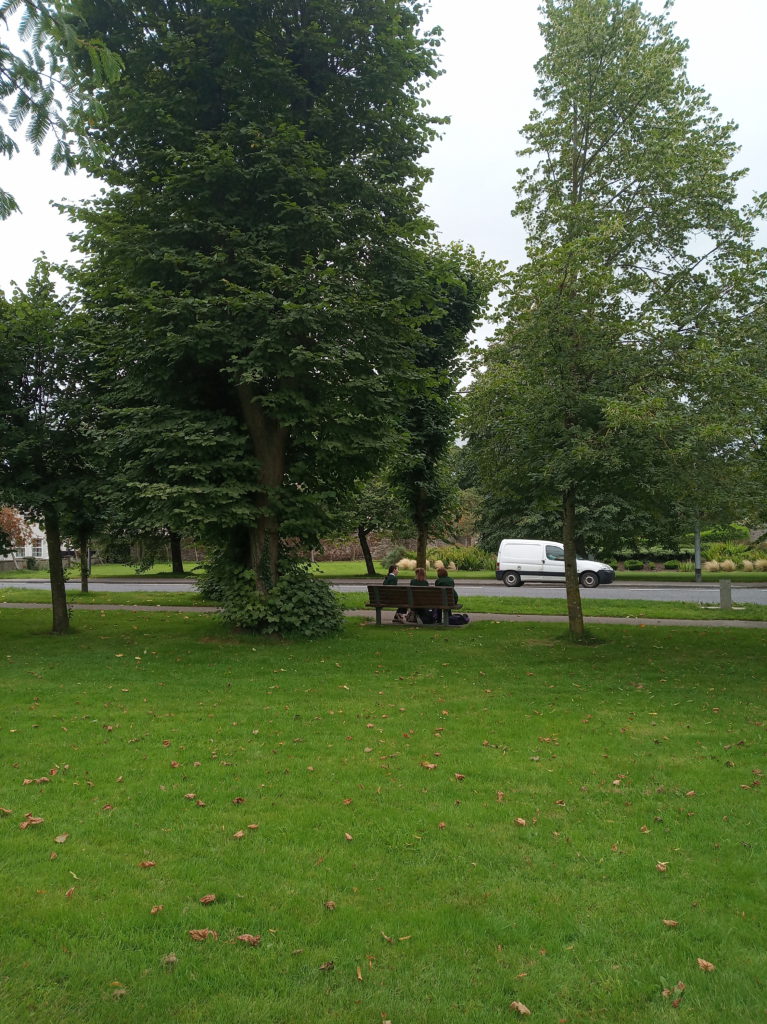 I then decided to exit the park and took two lovely photos of Our Lady!
Then after that I went for some lunch!
I ordered leek and potato soup and a slice of homemade brown bread!
The soup was very nice and I liked the texture and flavour,it also was seasoned with plenty of black pepper which I enjoyed!
I think that soup is much nicer and healthier when it is seasoned with herbs like basil,parsley and watercress,and with spices such as pepper and chilli rather than loaded with salt which is very bad for people as it causes high blood pressure!
I liked the potato and leek in the soup,I thought the colour looked a bit bland though and if they added plenty of carrots it would have a nicer colour and flavour!
I thought the homemade brown bread was really nice,moist and light on the stomach!
After that I came across a lovely hedge and tree area!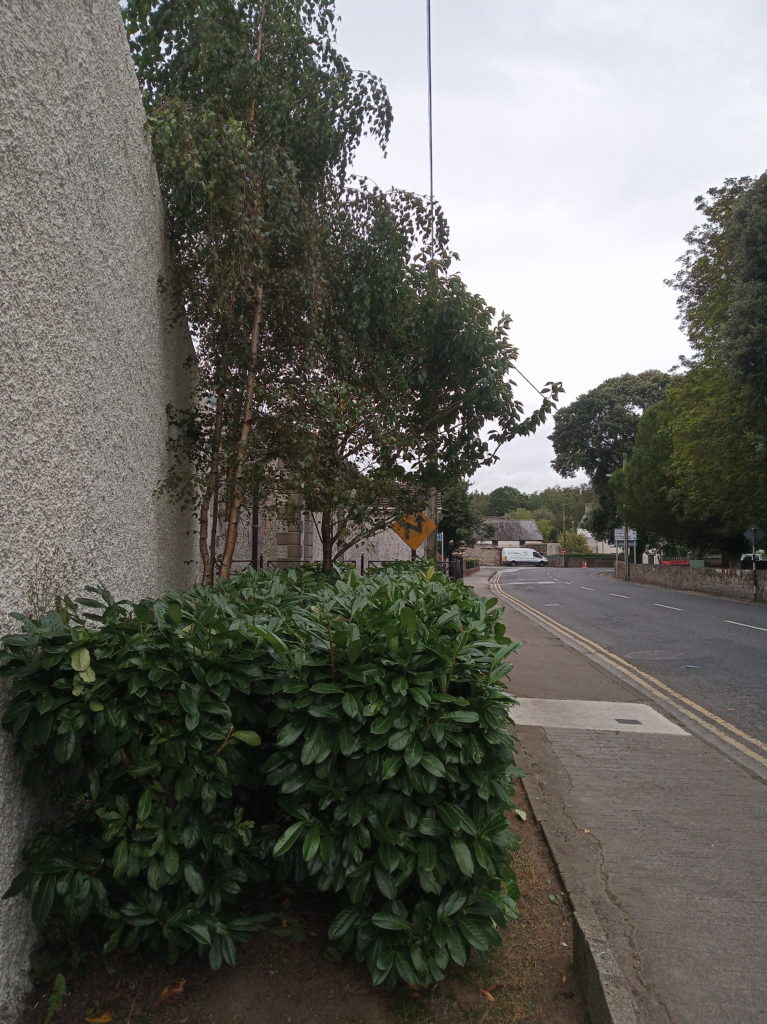 Then I came across Carrick Swan Juvenile GAA Centre!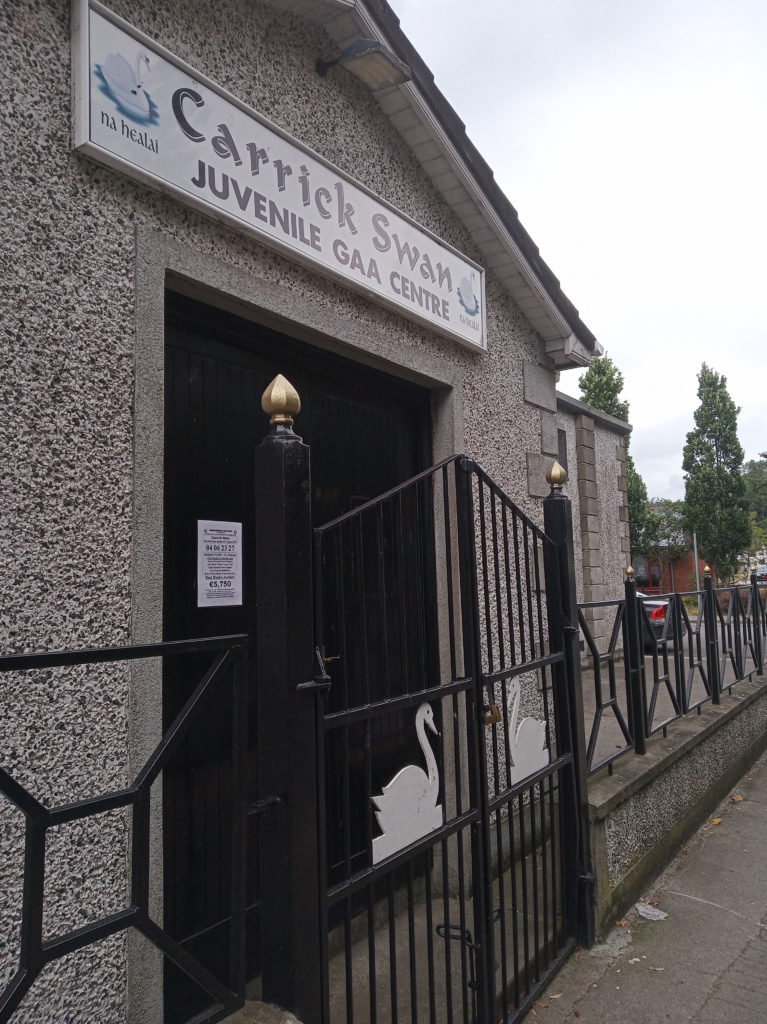 Then I came across a lovely colourful garden area!
I then turned around the corner and came across the Sean Healy Library!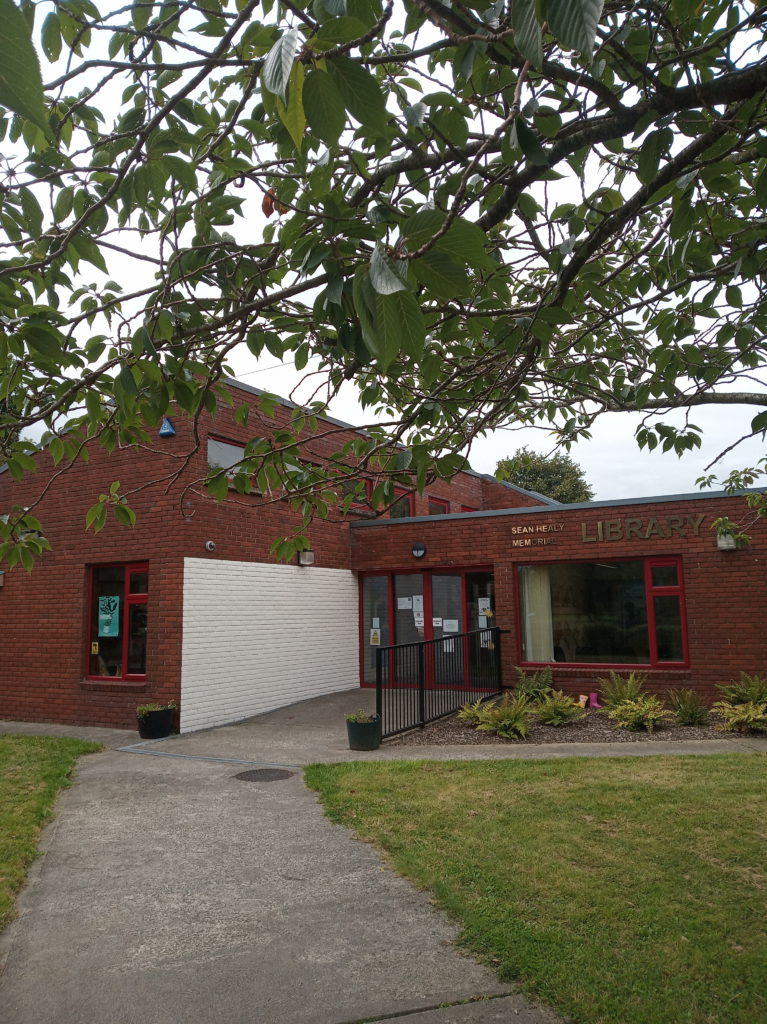 I then entered the library and saw a really great painting of a children's Book!
What do you think I think that it is really colourful and creative!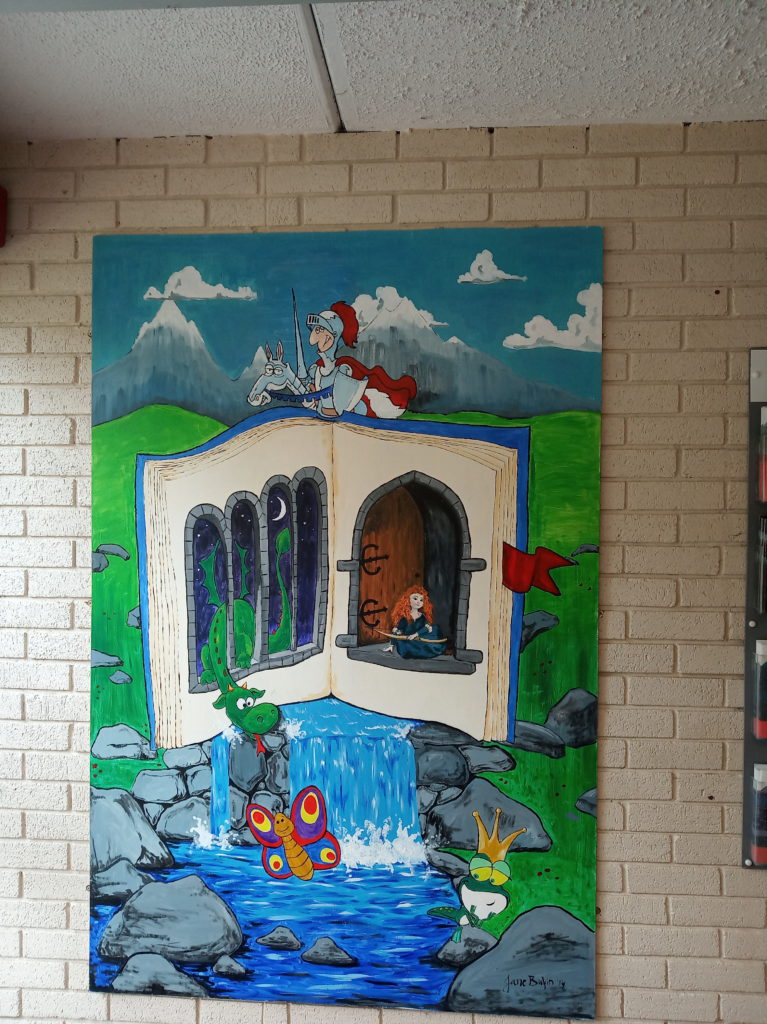 I then saw a selection of pamphlets on the right of the painting called RSA Working To Save Lives!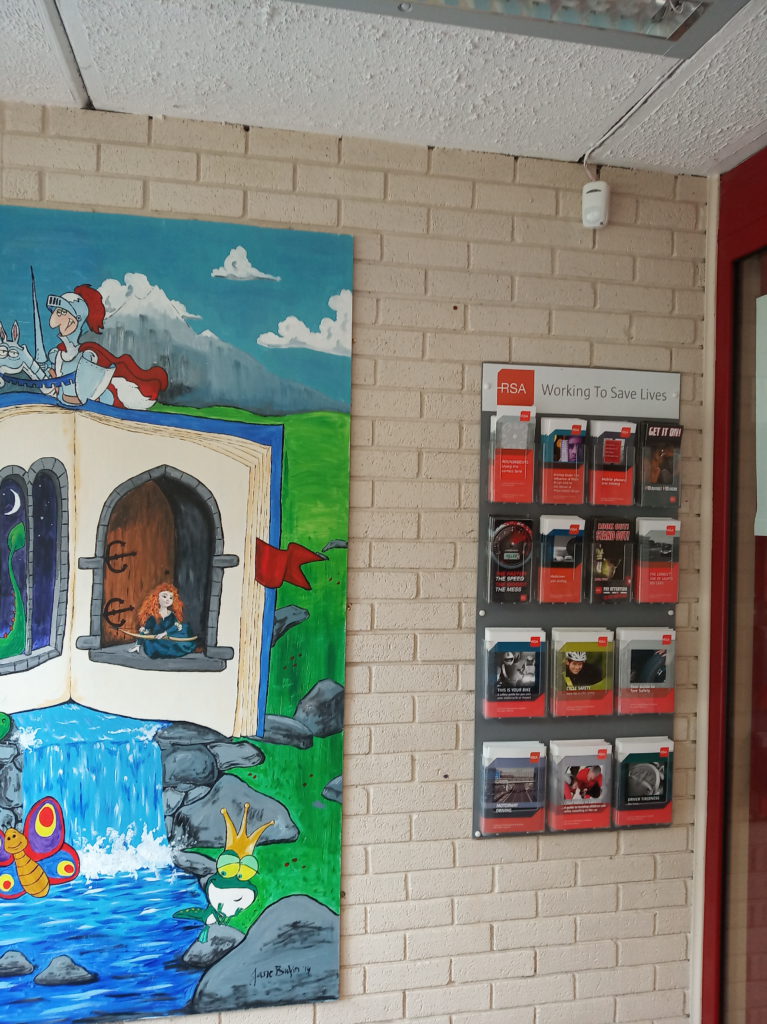 I then entered the library and came across a really nice children's section!
See below a selection of photos of the children's area!
What do you think of the great painting on the right of the photo above?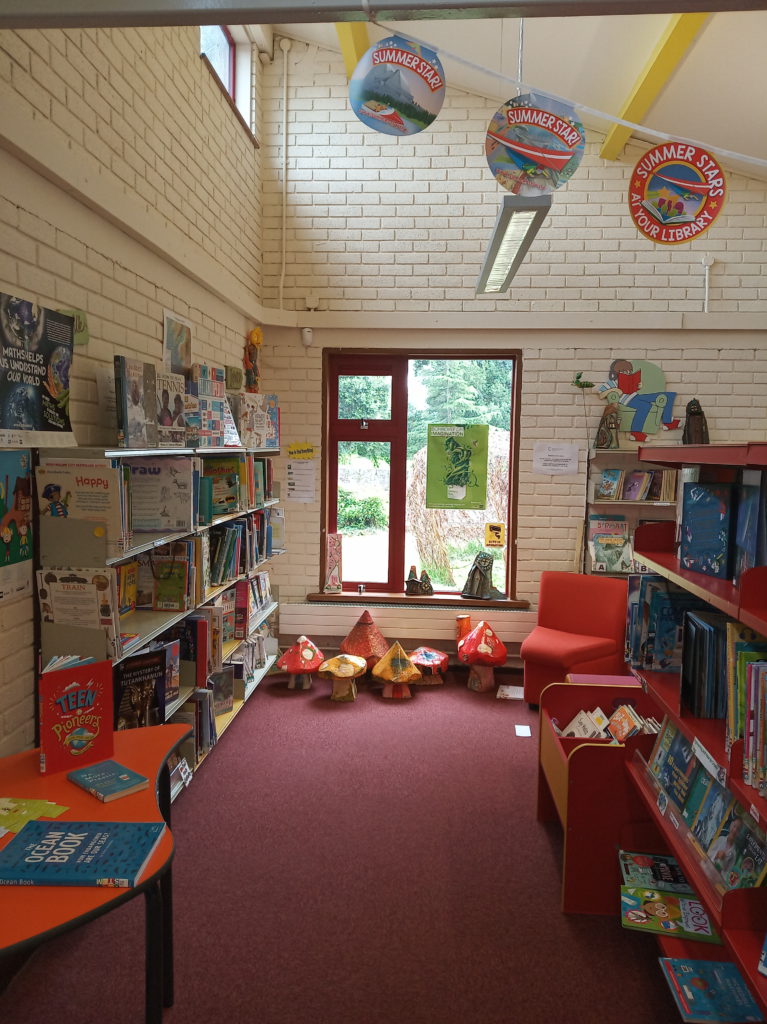 I think that the children's area in Sean Healys Library is very colourful dont you?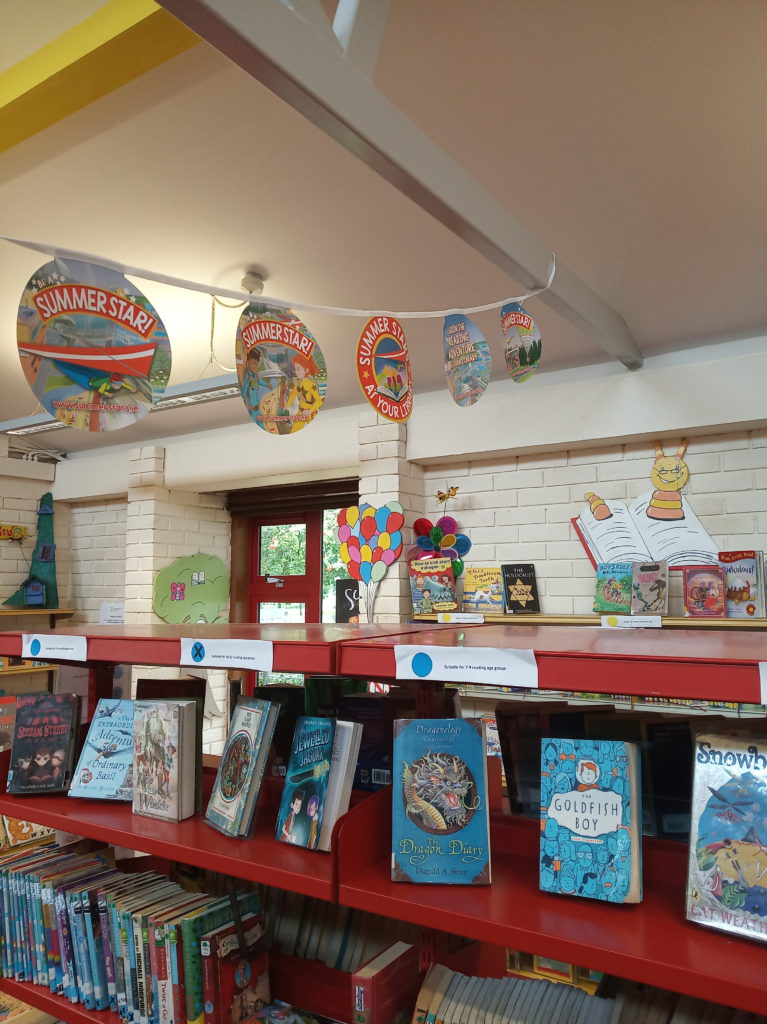 I really like this photo especially the bookworm painted on the right hand side on the wall!
What do you think isnt it great!
I think this is a really great poster as it reminded me when I was a child how I use to get so involved in the book I was reading I would be in my own little world!
My mother Mary use to call me for my dinner and I would be so lost in the book and in my own little bubble that I never heard her!
She use to laugh at me and give me a hug!
I think reading is very important for everyone especially for young children,as it is very important for gaining valuable skills such as literacy,good spelling,learning valuable moral lessons and instilling a sense of adventure!
My favourite books as a child were The Secret Seven,Famous Five,Little House On The Praire and The Naughiest Girl In The School Series!
What is your favourite children books,please let me know what they are by leaving a comment in the section below!
I think it is great that the kind librarian who talked to me supports charities in her library like childrensbooksireland.ie!
Next I moved further down the library and saw a variety of different books!
See below a selection of children's books on a bookstand!
Do you see any that you read yourself as a child?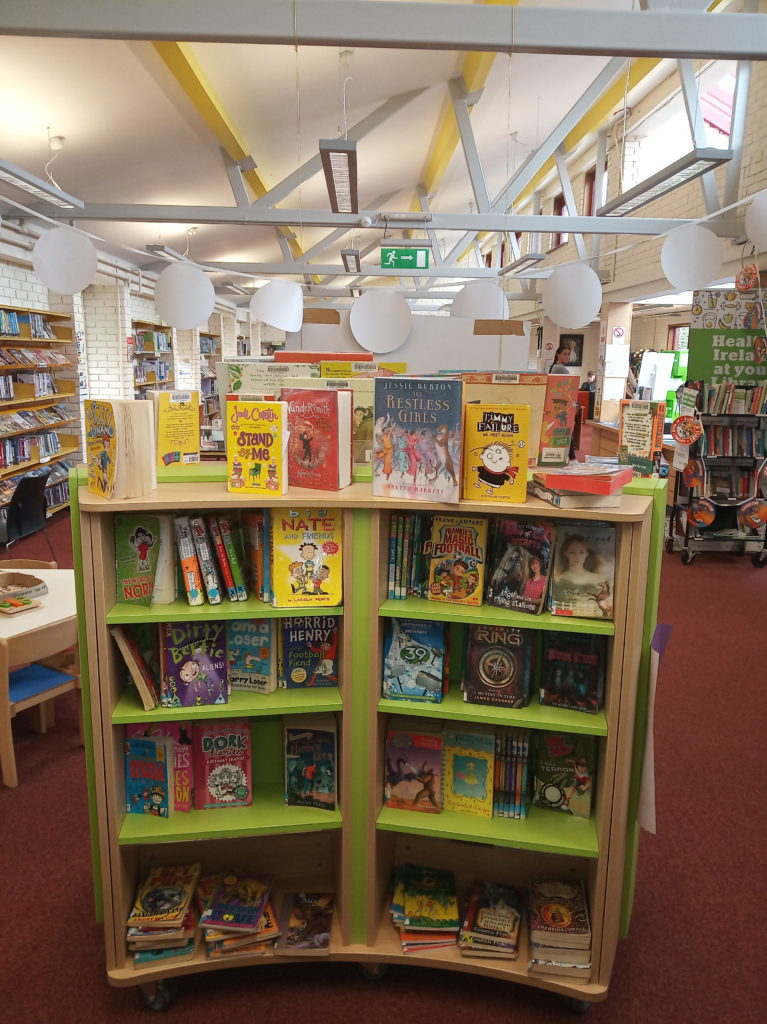 There was also one computer designated for children which is a great idea as computer skills are essential now in this day and age!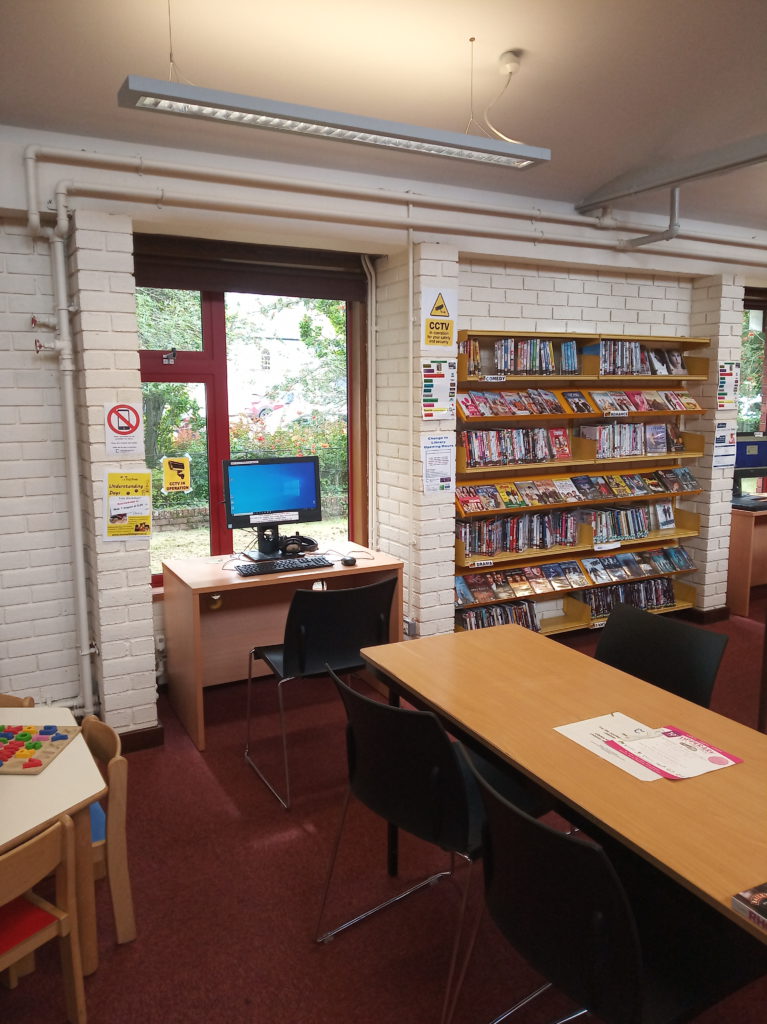 Next I saw a good selection of DVD's,I would like to see Breakfast at Tiffany's again as I think Audrey Hepburn was a very beautiful women!
Next I saw a New Book Section I dont think I have read any of them have you?
If you have please tell me a little about them in the comment section below!
Please also let me know who is your favourite author and why?
My favourite author is Maeve Binchy because her books have lovely stories that are kind and funny with some romance in them!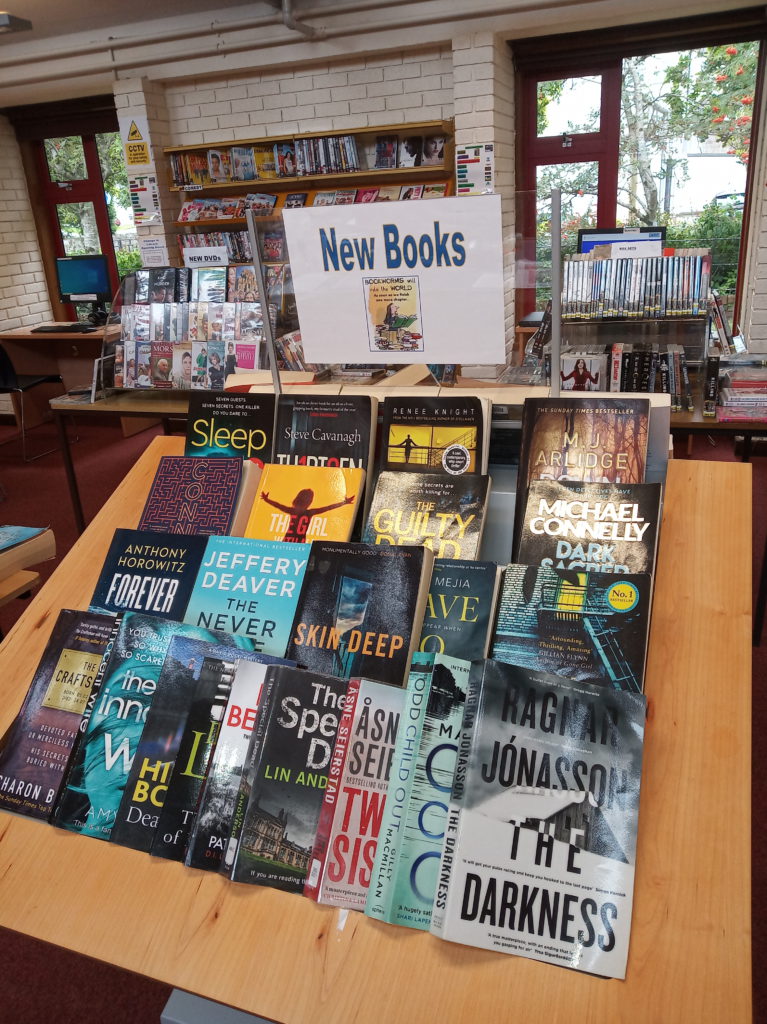 Next I saw more DVD's on a shelf organised into Action and Thriller!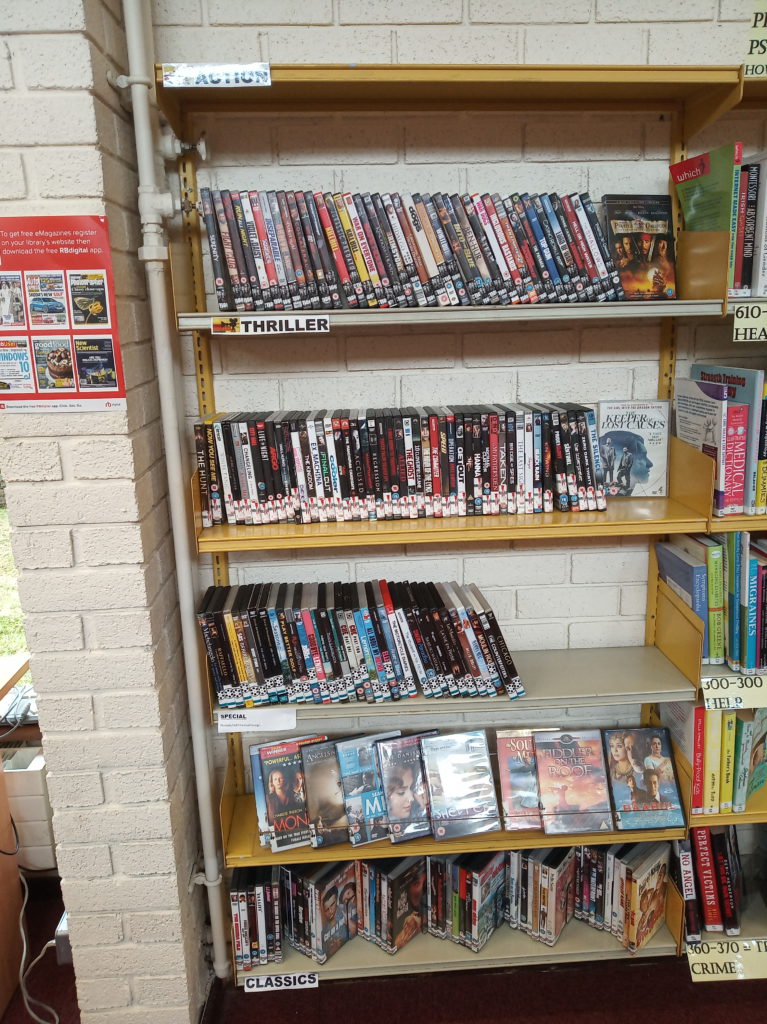 Then next to the DVD shelf I saw Philosphy and Psychology,Religion,Physical Health,Self Help and Home Education!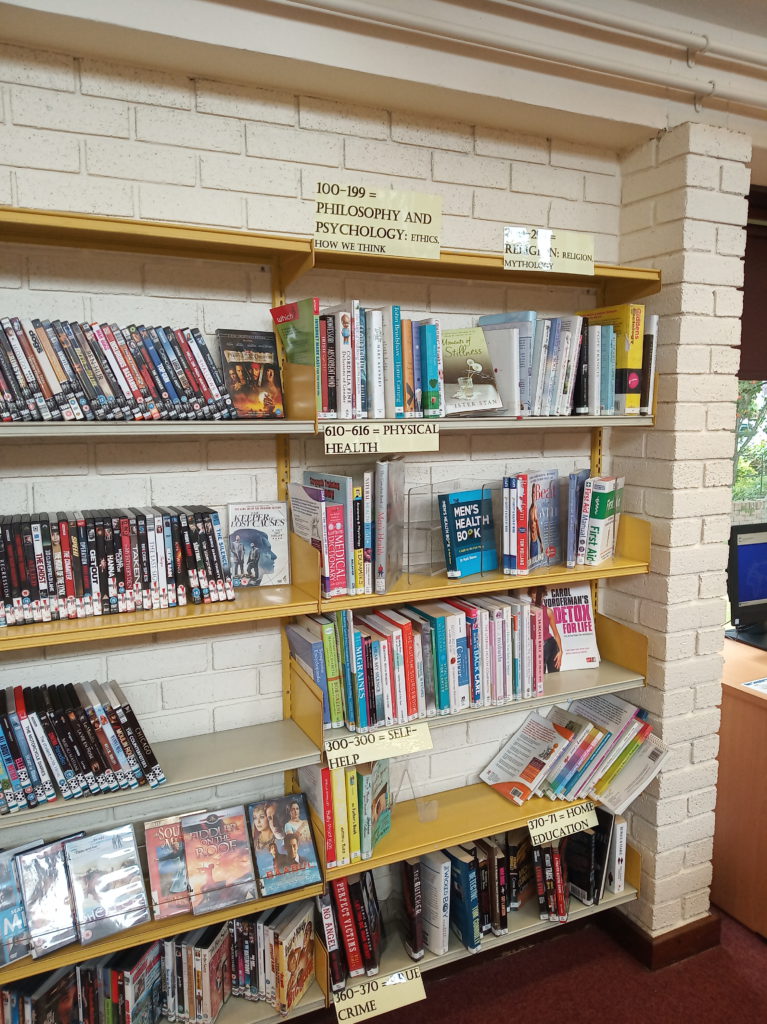 I then viewed more of the adult section!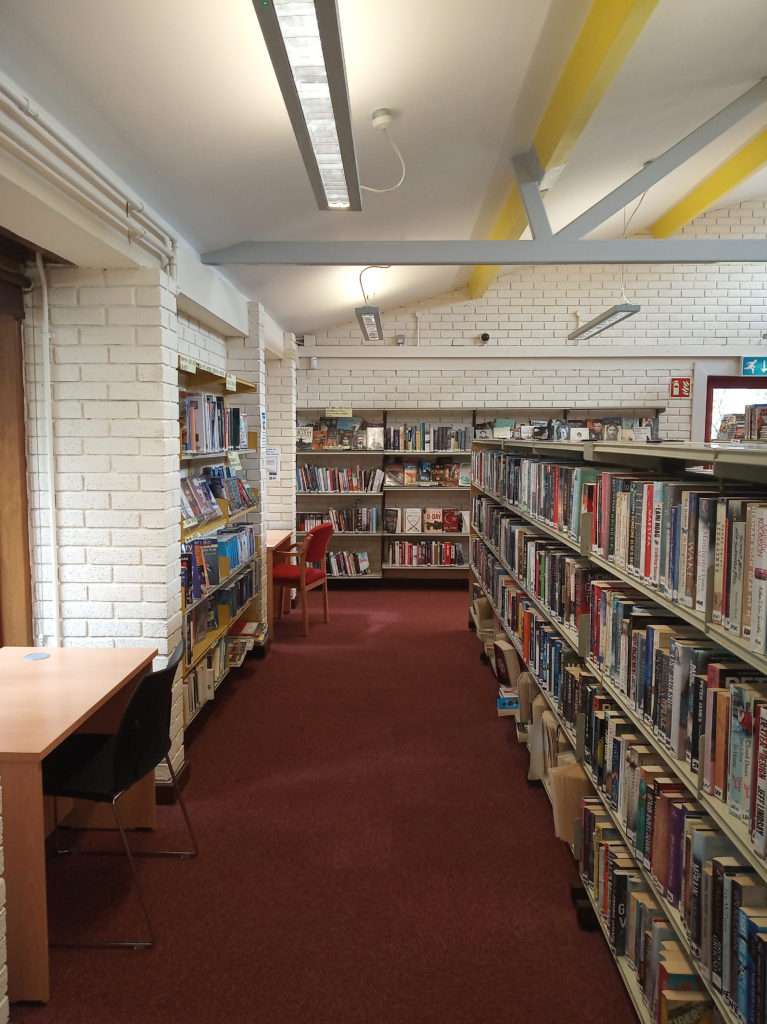 There is going to be a change in opening hours for Carrick library starting on the 27th of September 2019!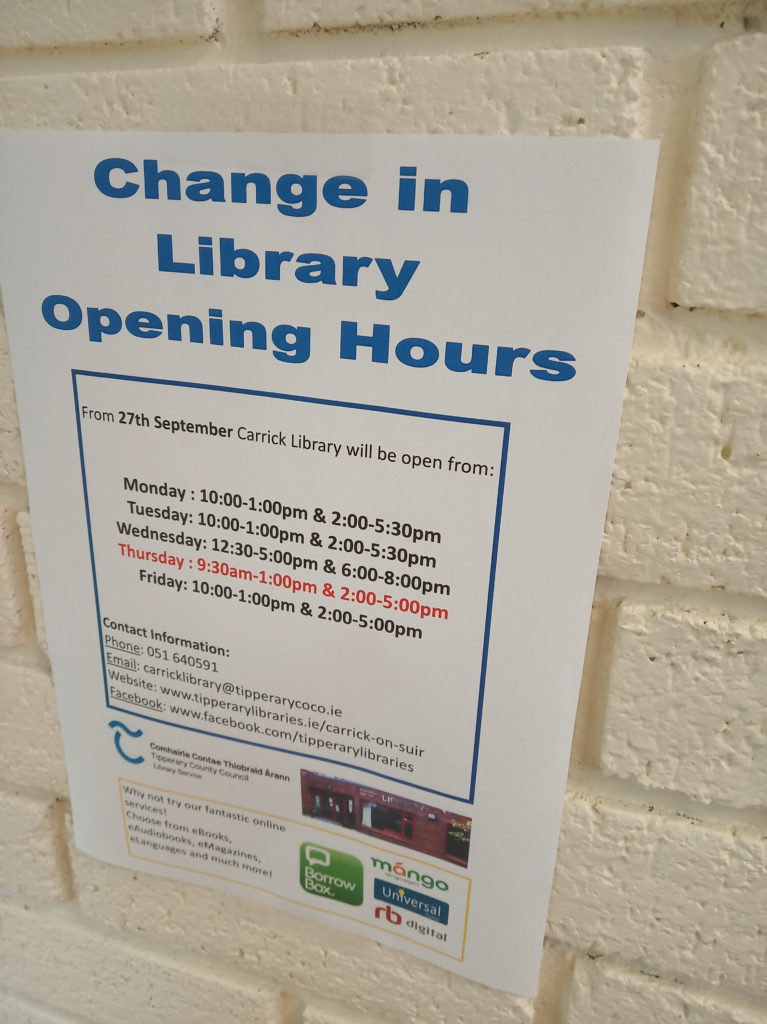 Next I came to the Irish History section,it reminded me of my time in St.Mary's Presentation Convent Rathmore.
I studied Irish History there,it brought back memories of my favourite subject in school!
I remember people like Charles Stewart Parnell,Michael Collins,Eamon de Valera and Tom Clarke!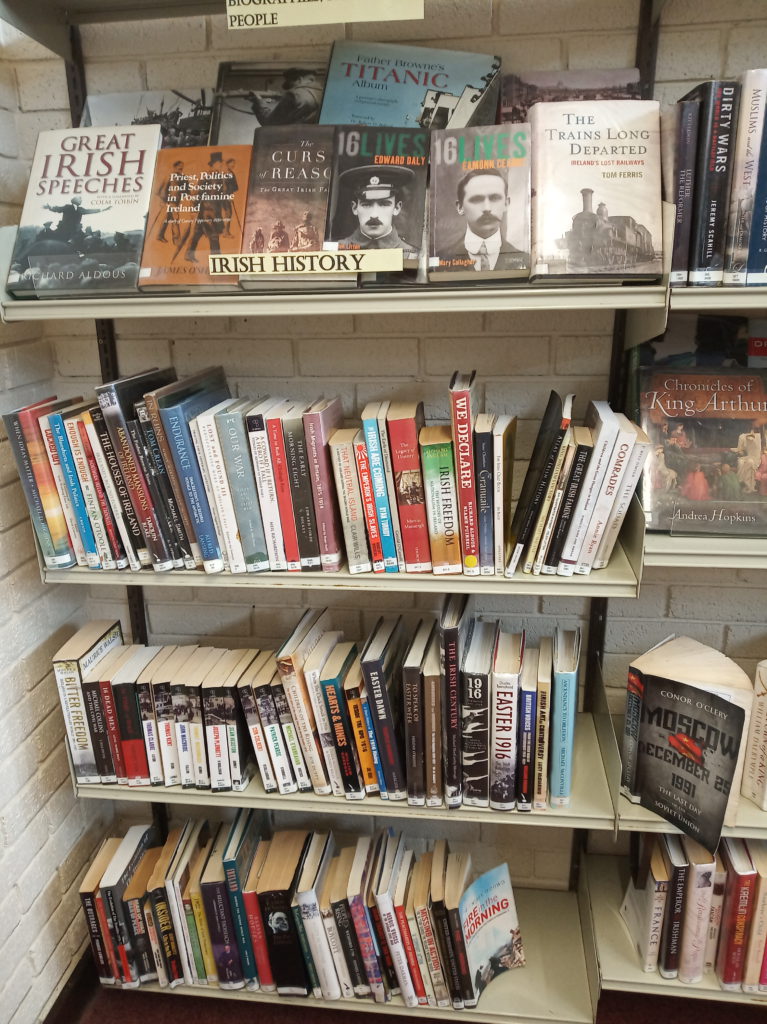 How about you what was your favourite subject in school?
Were you into History if so who was your favourite Revolutionist?
Please leave a comment in the comment section below!
There is also a sitting area in the Sean Healy library,see below a photo of a young lady using her mobile phone!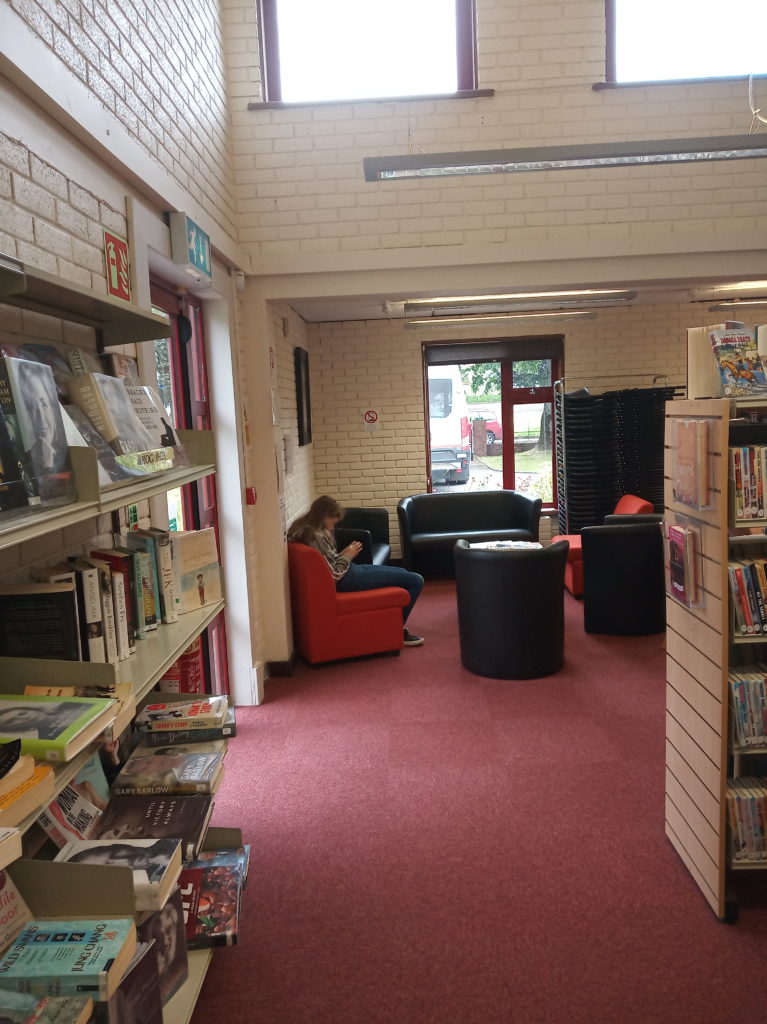 See below another selection of books in the Sean Healy Library!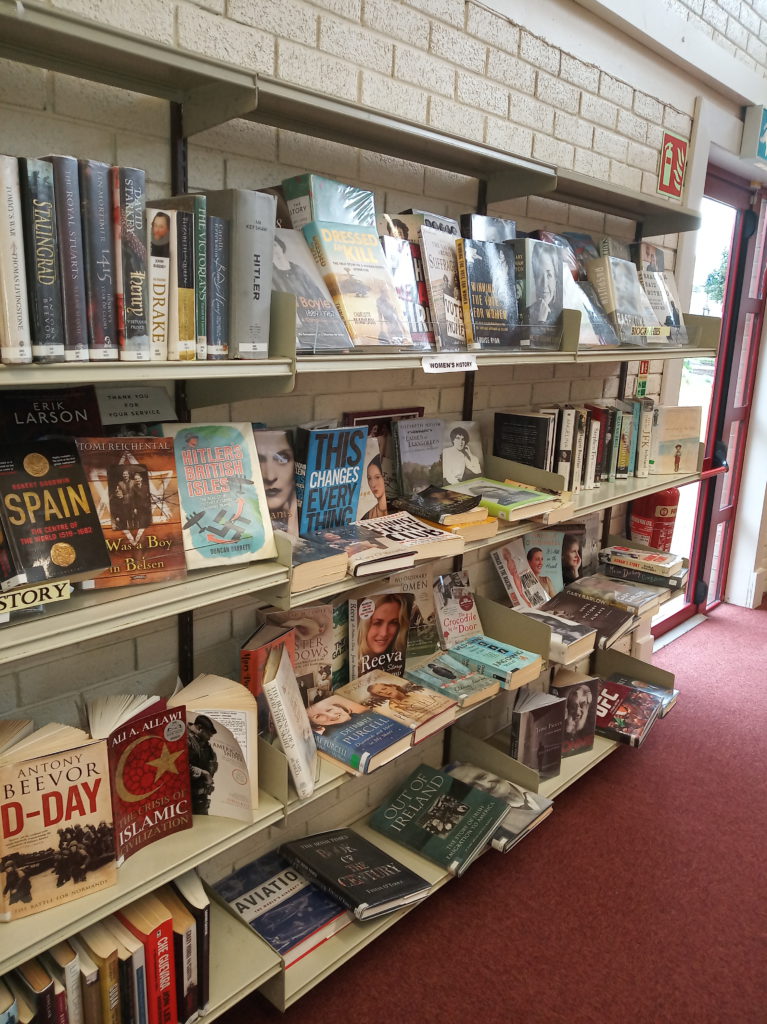 More books in the Sean Healy Library!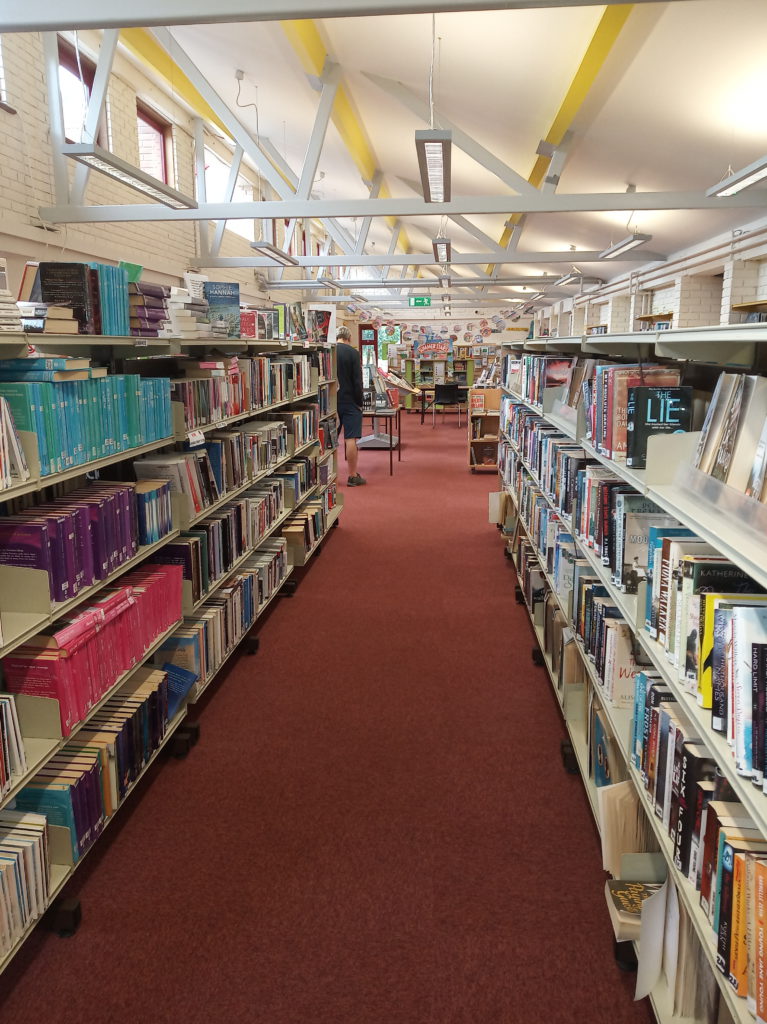 There are seven adult computers available for compiling curriculum vitaes and doing project work for college students!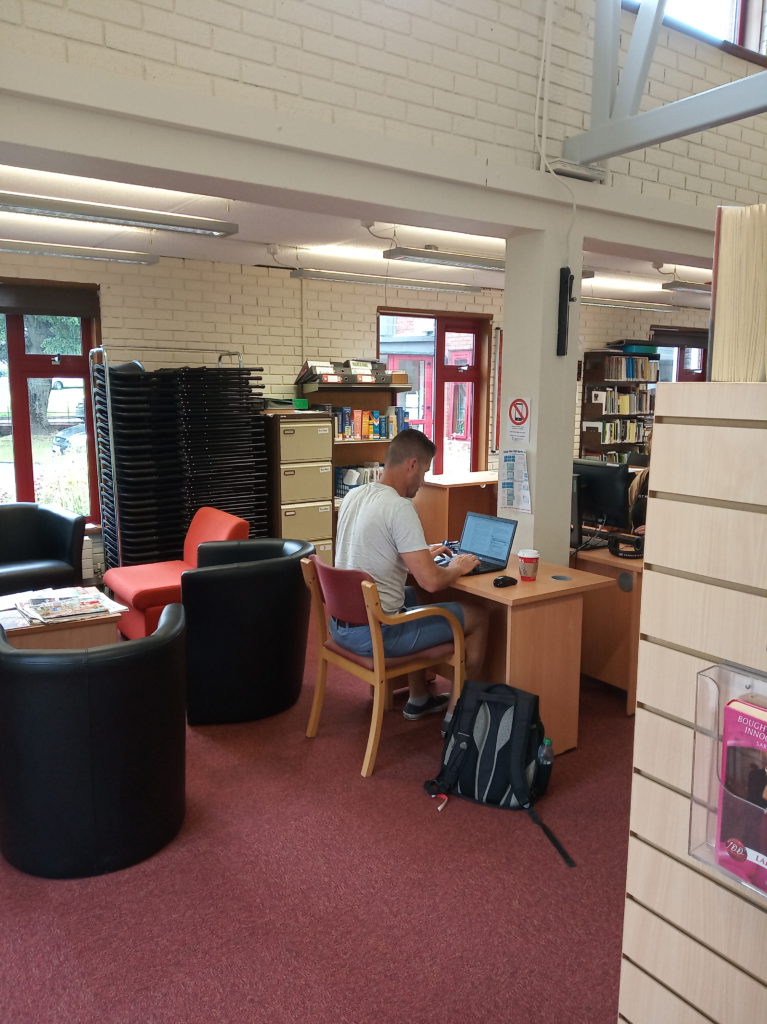 There also was a machine available for book access!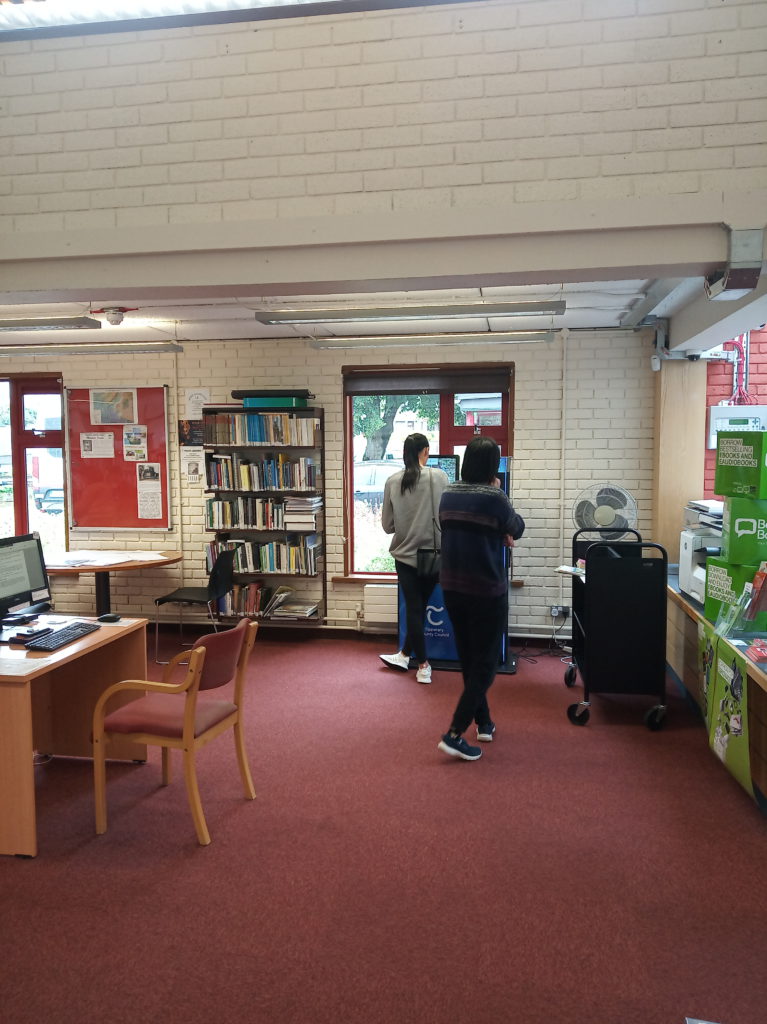 There is a reception desk for logging in and out books!
There also was a noticeboard containing local historic features!
There also were three posters giving you information on French Lessons,Piano Lessons and Guitar Lessons!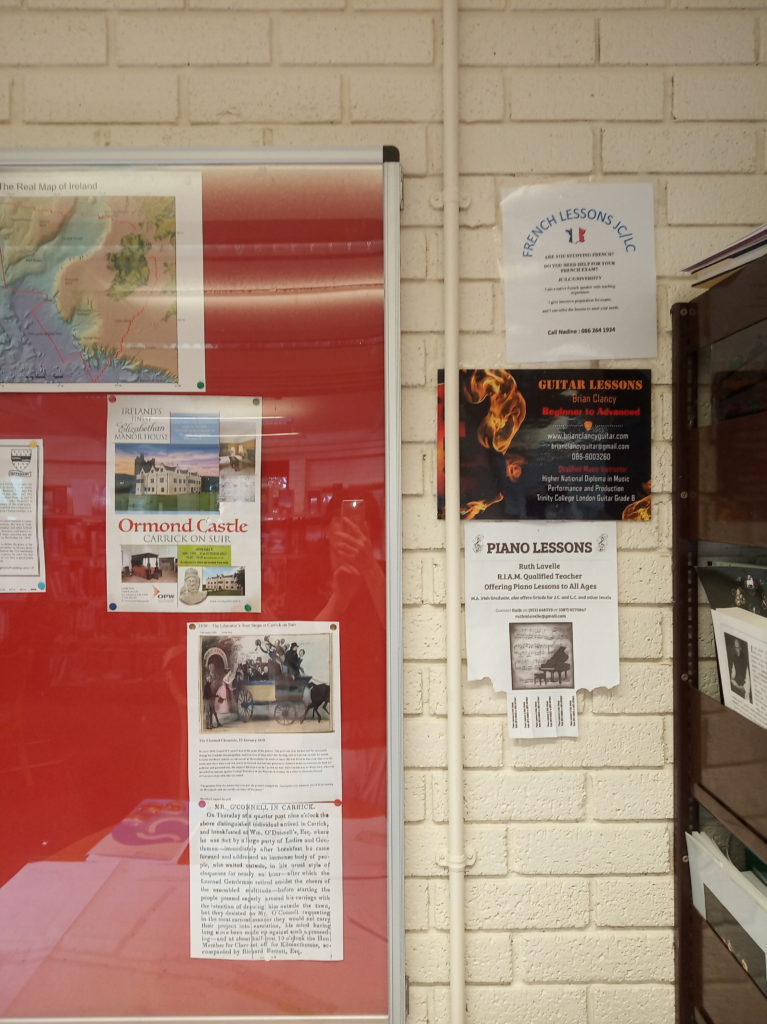 There is also an Encyclopedia and Miscellaneous Section!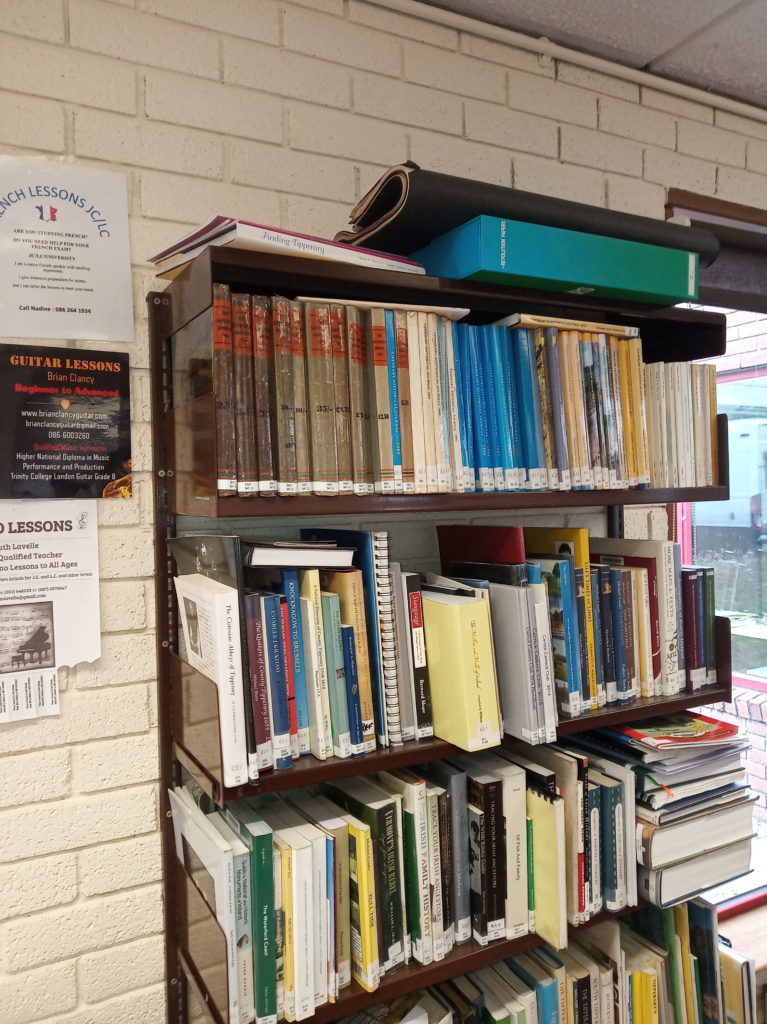 I next came across a Dictionary and local courses section!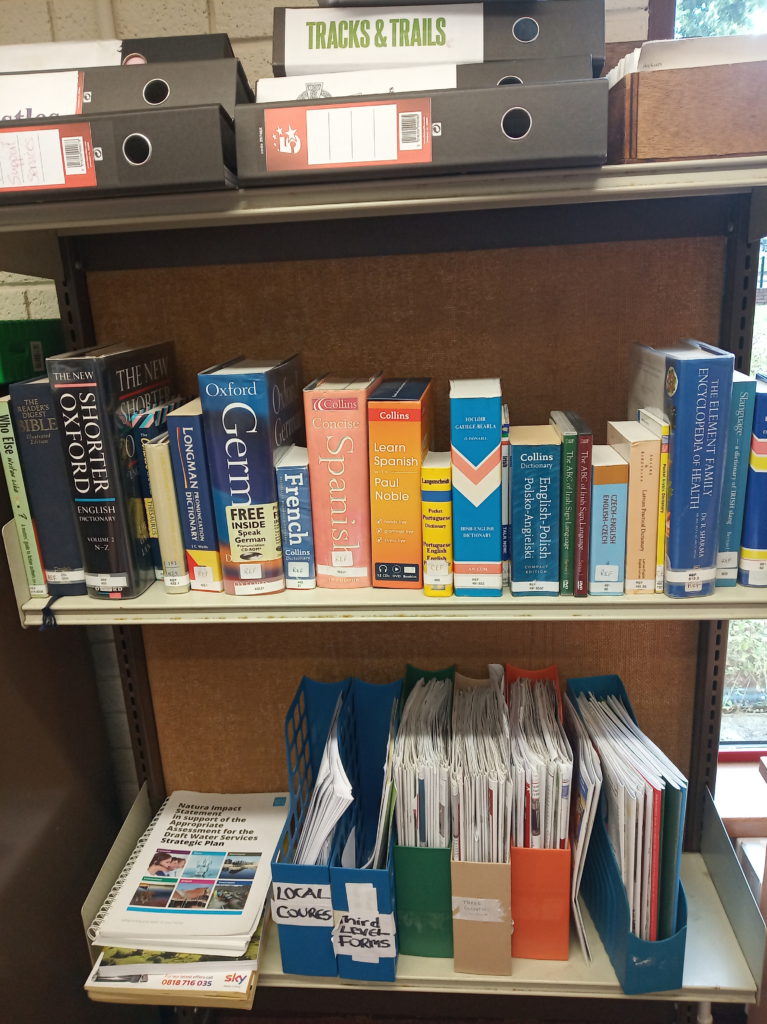 Next I came across a good photo of Michael Coady a local poet born in Carrick-on-Suir County Tipperary!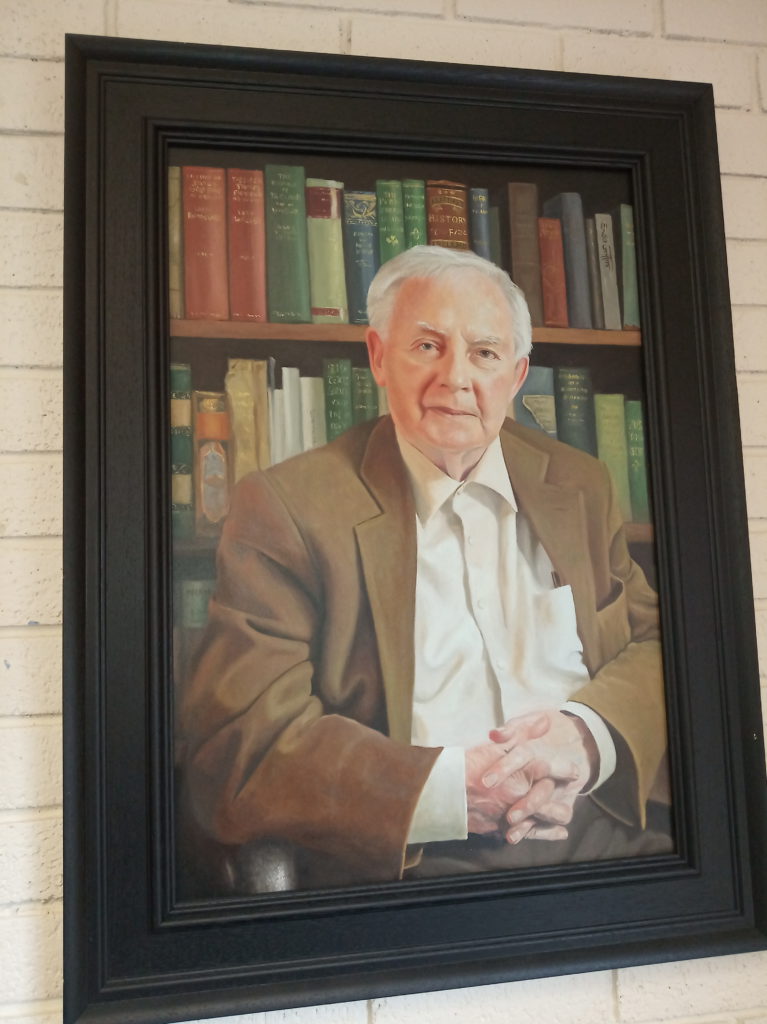 Next a came across a young woman working hard on the computer!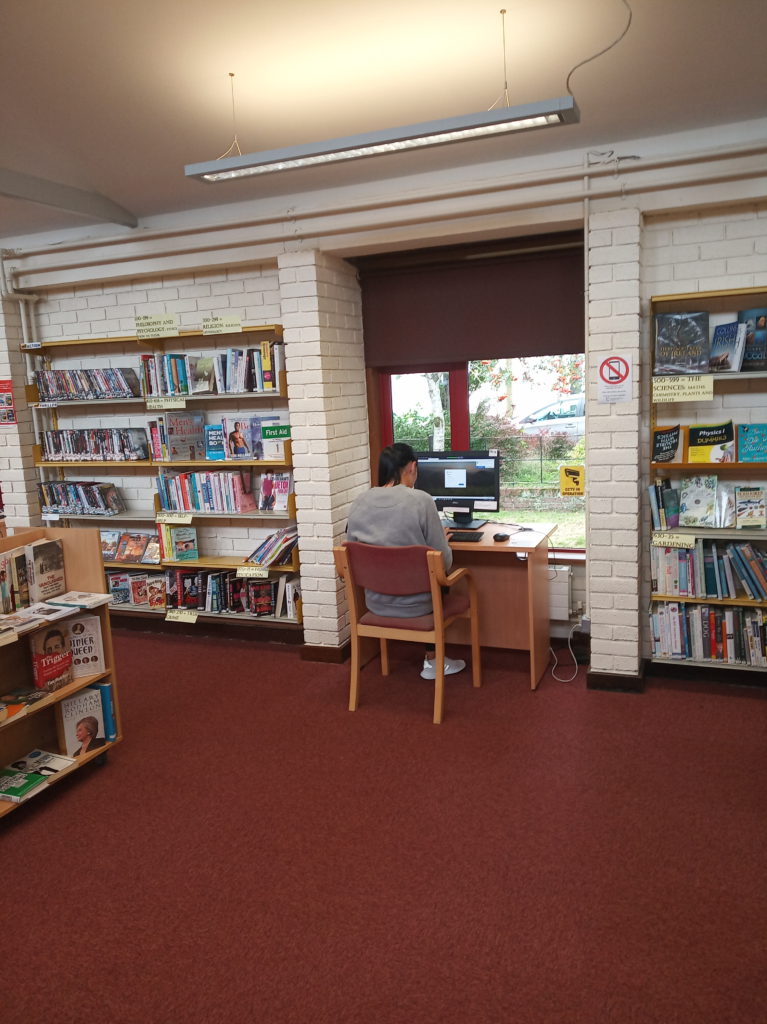 Next I went over to the Book Access machine to get a closer look at how it worked!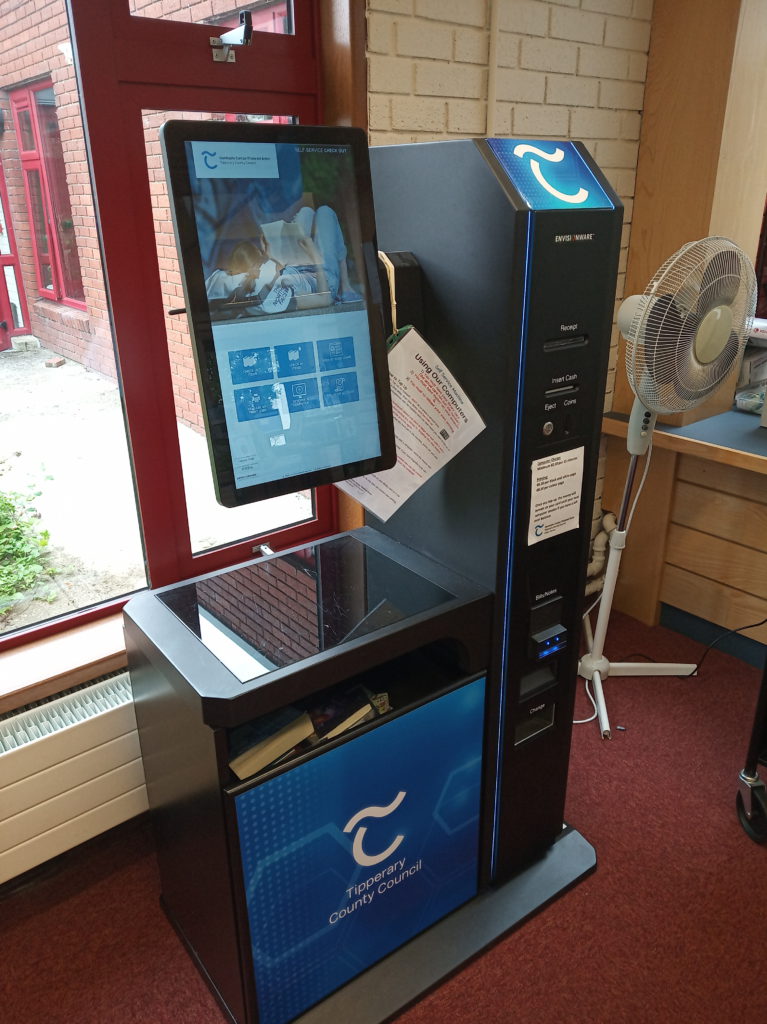 Next I saw a shelf full of information pamphlets!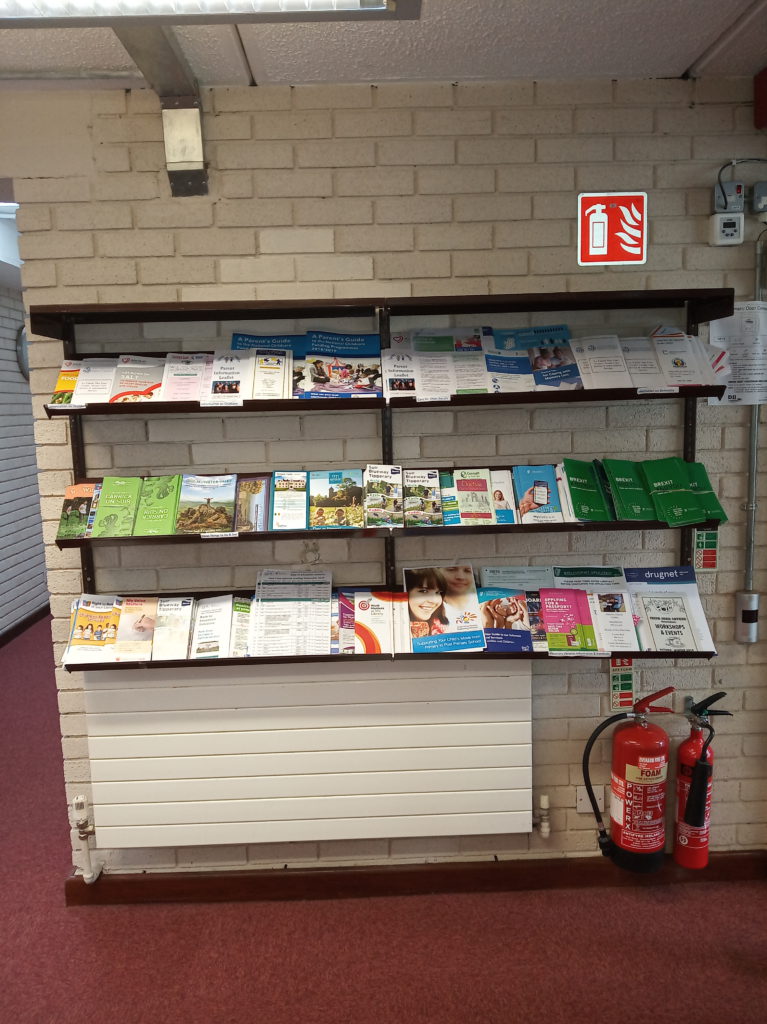 Tipperary Library Council have a logo and motivational slogan see the photo below!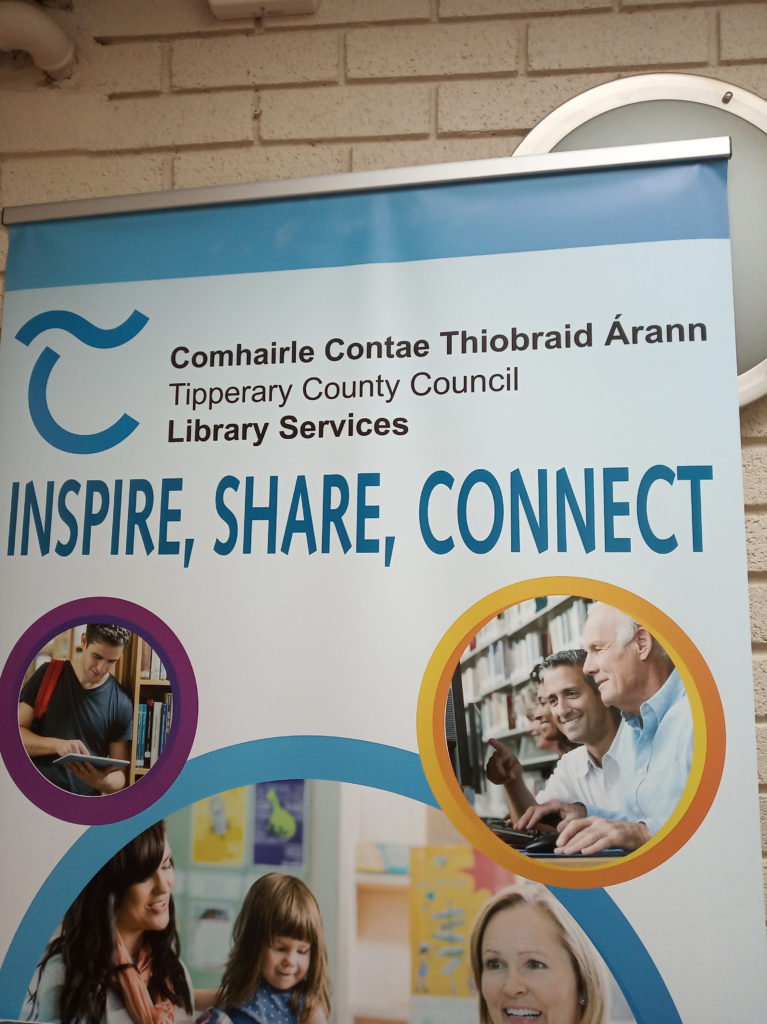 Then I went into a side room where I saw a fairly large selection of paintings on the wall!
A kind women came over to me and asked me if she could help me!
I was looking at one of the paintings of the artist who painted all the lovely paintings on the wall!
The lady then introduced herself as the librarian of Sean Healy Library and she told me that some of the paintings were painted using coffee and some were painted using Guinness!
I told her about this Diabetes Support website and she was very interested and I asked her if it would be alright to promote the Sean Healy Library on this Diabetes website!
I asked her if it would be alright to take some photos of the library and the paintings on the wall and she happily agreed!
See below a selection of photos of the paintings painted by Mike Gale!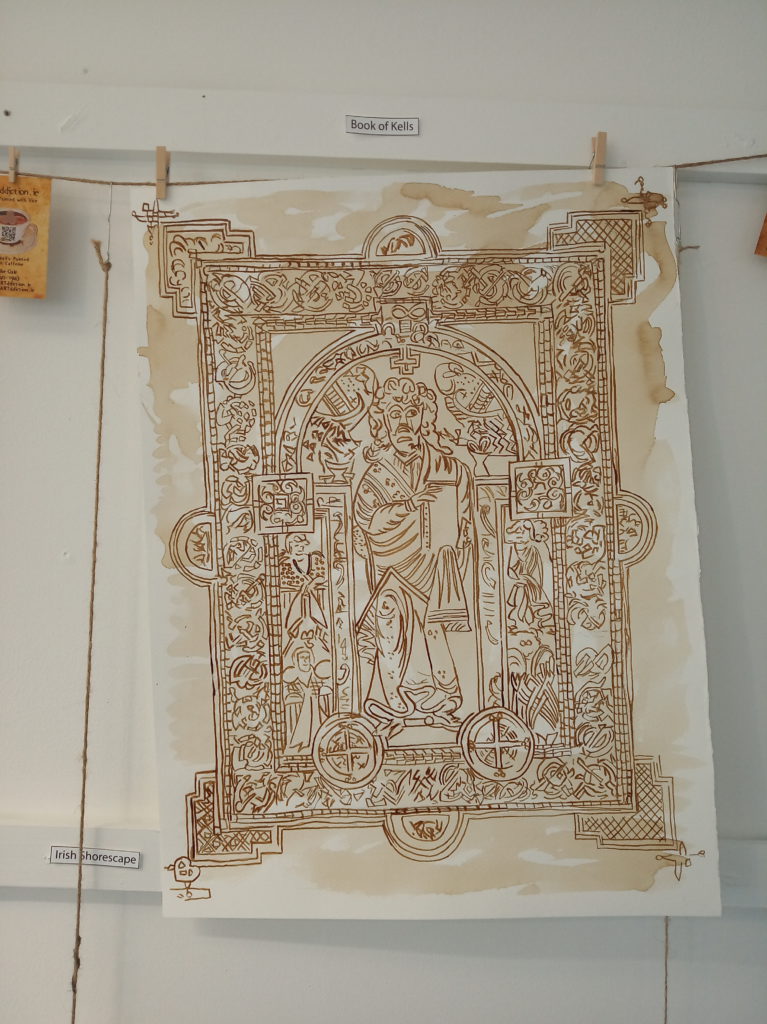 Next I came across an Art Community Drawing lying next to one of the windows!
I was surprised it was not hanging on the wall!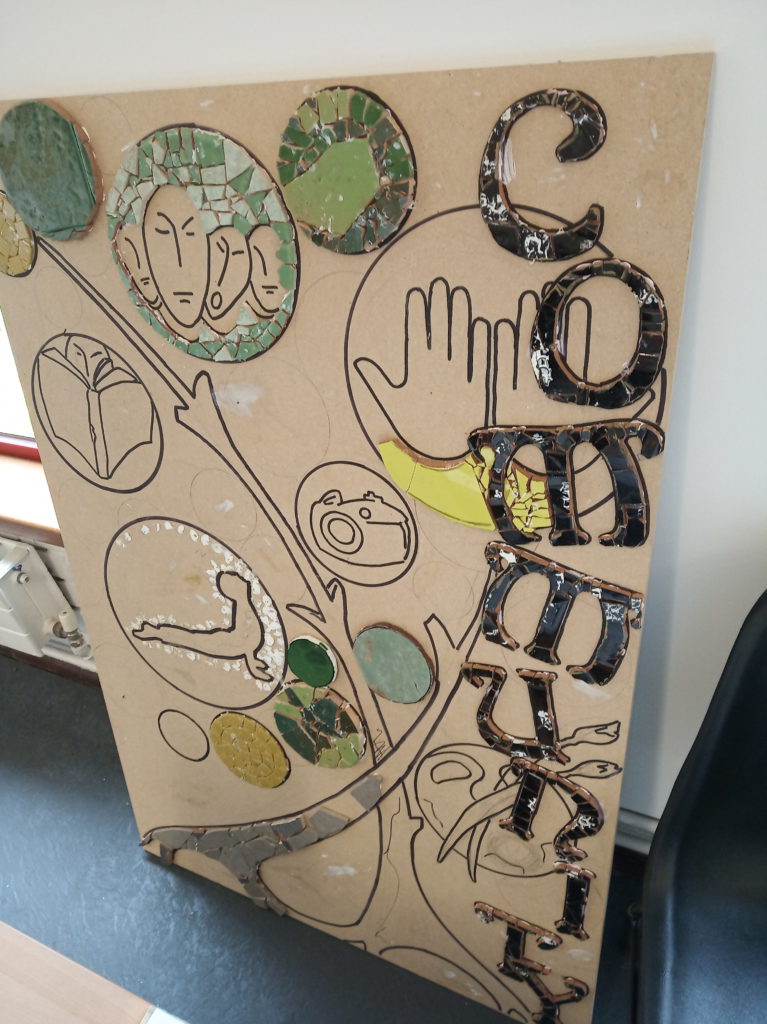 The kind librarian was very friendly and pleasant to me,she also gave me a nice interesting piece of information that not all the paintings were painted using coffee some were painted using Guinness!
See below a selection of pictures of the Guinness Paintings!
I also saw Two flyers and a Framed picture of the artist Mike Gale in the side room of the Sean Healy library!
When I was in the room taking the photos of the lovely pictures painted by the artist Mike Gale,there was a Book Club going on!
Many times I thought of joining a Book Club especially after reading the book The Book Club by the author Kate Mc Cabe!
See below a lovely photo of some of the members of the Book Club!
I noticed that one of the women has the same shoulder bag with printed dogs on it as me I wonder if she got it in Blarney Woolen Mills like my mother in law Mary and I did and do any of you have this shoulder bag or any printed animal bag if so can you please post a photo of it in the comment section below!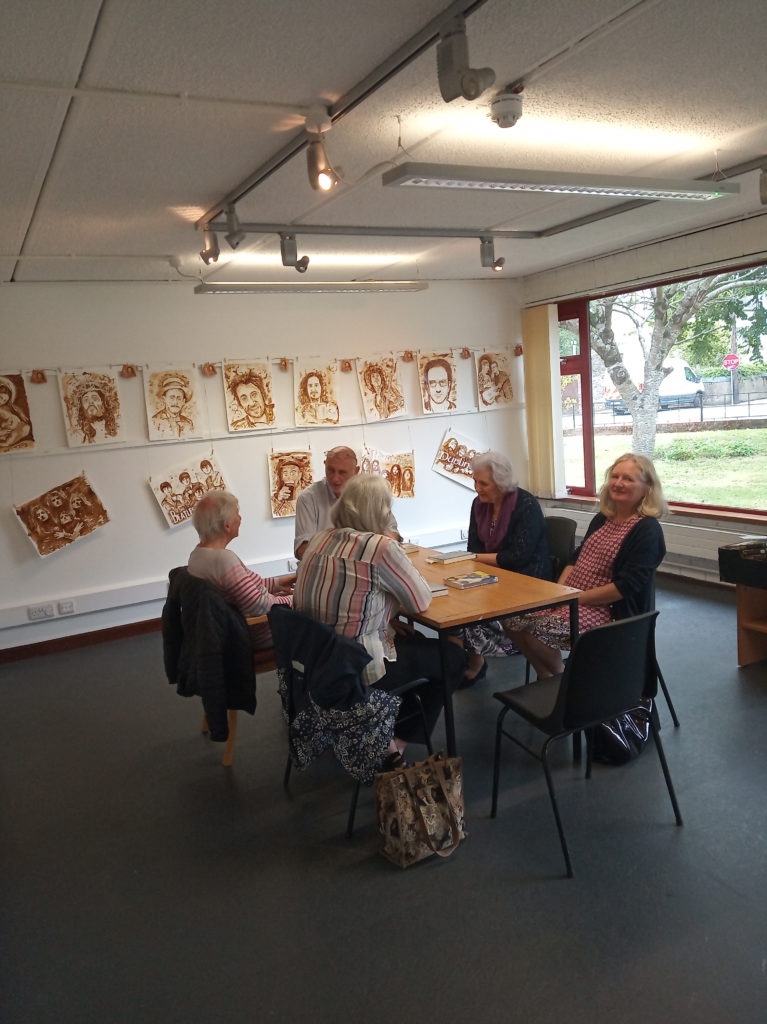 I then looked out of the window as I was going to go back to my car when I saw it was raining outside so I decided to stay in the lovely Sean Healy library until it stopped raining!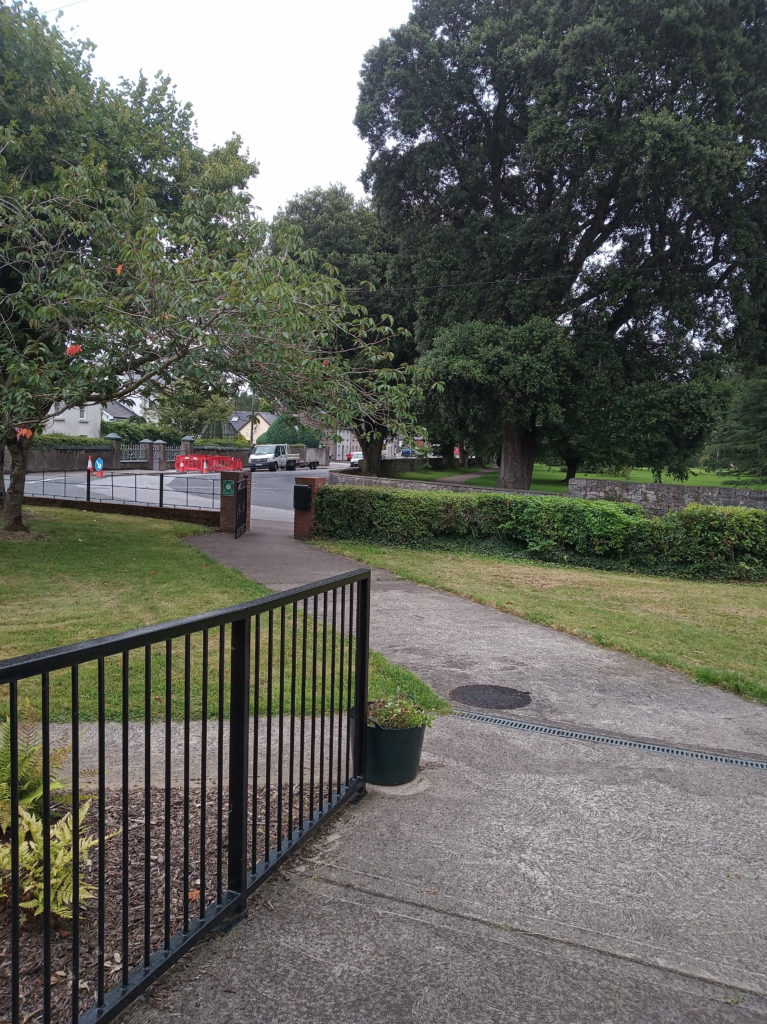 I went back inside the library and I sat down at one of the desks near the children's area and I saw a flyer of a Womens Mini Marathon!
See Below A photo of it!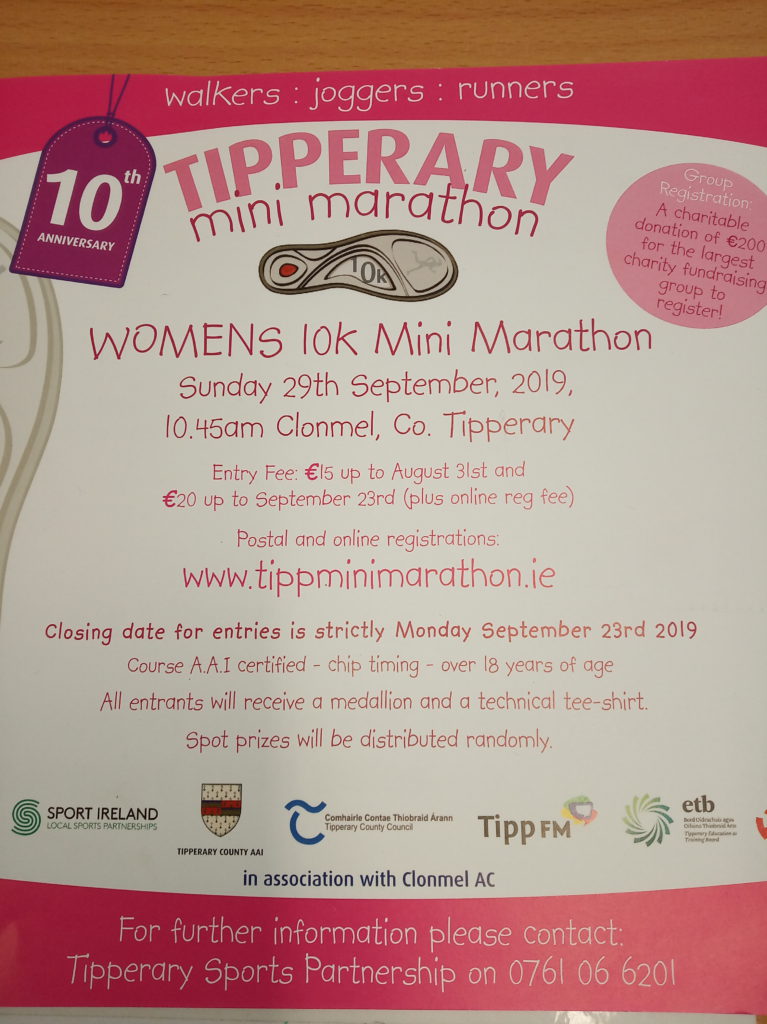 I then noticed three students working hard at the computers!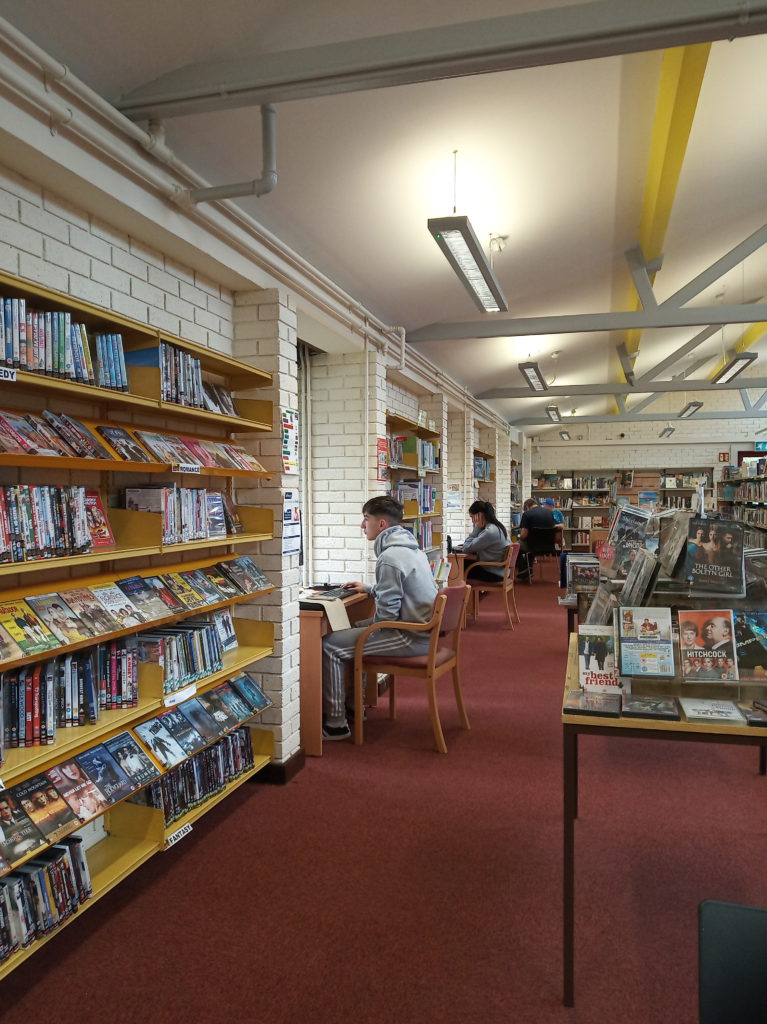 I then noticed a lady and two young girls coming into the library and one of the little girls went up to the reception desk as she was bringing back her library book so I decided to take her photo as I had no photos of children in the library yet.
Then later on I saw the other little girl playing with a puzzle in the Children's Section and I thought it would be a good idea to take her photo too.
I was so caught up in taking photos that would promote the Sean Healy library I never asked the lady with the two children was that alright and I should have!
The kind Librarian then came over to me and explained that you cant take photos of children under eighteen and post them online and she knew that is what I was going to do as I had already told her I wanted to promote the Sean Healy library in this website!
I am concerned that some people maybe annoyed that I have some photos of children in playparks and funfairs but I thought it would look very strange to have no children there!
If you see any photos of your child or are a carer of a child and you dont want their photo in this website,please contact me straight away and I will delete the photo!
I felt very embarassed and upset and I hope I havent worried that lady with the two children,the librarian asked me to delete any photos with children in them,I did this and I asked her to go through the other photos to make sure she was happy with them!
I understand if some people dont like having their photo taken and put up in this website as I explained in another article I dont like being photographed myself!
So if any of you are not happy being in any of these photos on this Diabetes website,Please let me know and I will remove the photo straight away as my intention for this website is to help people and cause no offence!
This website was created by me Maureen Coughlan to portray everything in a positive way and try my best to get rid of negativity in all areas of life!
If you have any information,questions, or feedback you would like to include in this webpage.
Please email momo19@diabetessupportsite.com or leave your comments below.