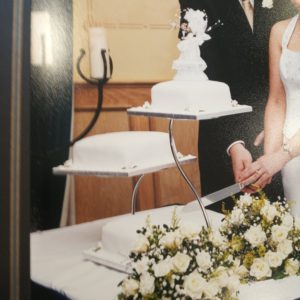 Our Wedding Cake That My Mother-In-Law Mary Coughlan Baked It Was A Beautiful Cake!!! The best part of having family and friends is they help out on social occasions like your wedding day.My mother-in-law Mary saved us a good amount of money by baking our wedding cake herself.
The people at our wedding enjoyed the cake ,it was made from dried fruit rather than cream and loads of sugar so it was a healthy alternative to a lot of today's cakes.
It was a very special day for Brendan and me,Mary helped me organise it too.We had bagpipes at the church as I am Scottish and was born in Lanarkshire near the Clyde.
Mary organised the bagpipes for me and that meant a lot to me!
Family and friends mean a lot to everyone especially people with diabetes like Brendan and myself.
They support and encourage you and keep you on the right track like my sister Joan who is a diabetic nurse she was my only bridesmaid as she is my twin sister and she was fantastic on the day!
She put jelly sweets in my wedding bag in case my blood sugar levels dropped and looked after me all day which helped me a lot.
She is a great sister and I would have been lost without her that day!
My brother Jamieson gave me away.
My father Jed passed away a few years earlier he died of a heart attack and my mother Mary got breast cancer in her early fifties and also passed before my wedding day.
So Jamieson gave me away and he was very supportive especially when I was walking down the aisle I was very nervous and he held my hand and that helped.
He also gave a lovely speech which was funny and kind!
Jamieson is a great man for participitating in sports such as basketball.He coaches a youth team in Rathmore in county Kerry where he lives with his wife Joanne and three children John,Muireann and Ciara.
Joanne my sister-in-law organised the music in the church and she did a great job.She also sang in the church "The Rose"one of my favourite songs which she learned from scratch which I appreciate and I only learned this recently so I want to thank her through this website.
Today is my wedding anniversary the 27th of June and Brendan bought me a lovely bouquet of flowers.It was a very romantic thing to do and we are going out to dinner this Saturday night to celebrate in the hotel where we had our wedding reception the Woodlands Hotel in county Waterford.
See below for a picture of the bouquet of flowers Brendan bought me aren't they lovely!
Sports is a big part of their lives especially Jamieson's life.He is a type one diabetic too and was diagnosed not too long ago.
Sports are an important part of many people's lives. Teamwork, camaraderie, and physical activity are vital parts of a well-rounded life. Diabetes doesn't have to alter that. Exercise is essential in diabetes management, and participation in sports can provide this and other benefits. But it does require some extra effort by the diabetic.
One important component is tracking the effect of exercise on glucose levels, reacting to changes with Insulin or food. The varying lengths and intensity of games and practices will need to be accommodated.
Another important factor is incorporating the team concept. The coach should be educated and prepared, and alert to the diabetics needs.
It's a good idea to set up an advance meeting, rather than try to discuss all the factors at the first practice.
Letting the player's teammates know about the diabetes and the player's needs is a good idea, too.
Nylon bracelets that say "Type 1 diabetes" are available when playing sports.
On the Job
When a person with Type 1 or Type 2 diabetes enters the work force, they could have had their condition for some time and understand their requirements. There are no concrete steps to follow when meshing work and diabetes, because each person's situation is different.
In certain jobs, it may not ever be necessary for the employer or coworkers to know you have diabetes. In other situations, reasonable accommodation may have to be requested .
Here are some factors to consider:
Is the job flexible so you can monitor glucose, eat snacks, and/or take insulin? If the specifics of the job or work environment don't automatically accommodate these needs, talk to your employer about adjusting the requirements of your position or schedule.
Does the job require the employee to do activities that could be dangerous in the occasion of hypoglycemia?· Do certain requirements of the job, such as rotating to a midnight shift, cause disruptions of sleep cycles and meal times to the extent that glucose levels become difficult to manage? In such a case, a doctor's letter may help you get the employer to accommodate this.
The diabetic's planning skills will come in handy as they embark on any new job venture.
Family Impact Due to Diabetes
The family member who prepares the meals may make significant changes to help the diabetic. Fried foods, greasy side dishes and sugary desserts may be replaced with baked foods, raw vegetables and fresh fruit. Servings may be smaller and snacks discouraged.
My mother Mary Hughes(Nee Mc Carthy) was a lovely women with a great sense of style especially when she was young,I have a lovely photo of her and her friend when she was in her twenties and she looked very smart and elegant!
My mother had lovely skin,she did not wear much makeup,only a small bit when she was going to a wedding!
She was a great baker who baked lovely white and brown yeast bread,she baked two white loaves once a week and two brown loaves four times a week!
She also baked lovely wholewheat brown soda bread like my grandmother Hanna used to make!
She baked the brown bread more often because it was healthier for us and for my father who was a Type 1 diabetic!
She also made homemade marmalade and blackberry jam,she made the blackberry jam in the summer and the marmalade all year round!
I loved both of them especially the blackberry jam which had less sugar added!
My father was a Type 1 diabetic at the time so he had very little jam or marmalade as they were high in refined sugar!
I eat very little jam or marmalade now myself ,myself and Brendan buy some diabetic preserves however even the diabetic Jams or Marmalades arent very good for you as they are full of Aspartame!
However there are a selection of Jams and marmalades that you can buy which use Stevia which is a natural sweetener and these are quite good for you !
She also made plum jam once but we didnt like the taste!
She also made lovely rhubarb jam and I really liked it with her homemade brown soda bread!
I also loved her homemade vegetable soup with pearl barley which she made from vegetable stock!
She also made lovely scones, apple tarts and flapjacks that my father used to really like which were good for him because they were made of porridge oats!
Homemade scones are lovely and so are appletarts but they also can be high in refined sugar because of the white flour!
I think that homemade brown scones are really lovely ,they are a healthier alternative to white or fruit scones!
My father Jed Hughes liked his porridge especially after he was diagnosed with Type 1 diabetes,he liked it sprinkled with salt !
Porridge is very good for diabetics as it is a slow acting carbohydrate though I would not recommend adding salt like my father as too much salt can cause high blood pressure!
He loved my mother's brown bread and porridge oat flapjacks!
My mother Mary was a very hard worker,she worked in a nursing home before she met my father,I have a lovely picture of her holding a baby she looked after when she was in the nursing home!
After she married she left her job which was normal in her day,she was a great housewife and mother!
She enjoyed knitting and knitted us a few Aran jumpers and scarves!
I remember red aran jumpers she knitted us which we wore to school in Scotland in the Winter as it was very cold in Stonehouse where we lived!
Also she knitted us scarves and gloves a lot especially in the winter months!
She also knitted my father an aran jumper but it was a bit big on him!
She also was a dinner lady in a Golf Club near us for awhile!
She was a first class wife and mother and my father Jed often praised her for her cooking and homemaking skills!
Then when we moved from Scotland to Ireland when Joan and I were fourteen and Jamieson was just twelve,my mother got a homehelp job near us for an old women called Briddy!
How about your mother's do they have an interesting life story I bet they have!
Please put a comment in the section below about your mother's life as I would love to hear about it!
My mother cycled to Briddy's house five days a week sometimes even six when she was unwell!
She use to clean out the grate,make the turf fire,sweep the kitchen,make a pot of tea and talk to Briddy for awhile!
She often would bring a selection of her homemade jam tarts to eat with Briddy!
My favourite one's had coconut on the top and strawberry jam in the middle!
I would not recommend jam tarts now though as they are very high in refined sugar and I think maybe an alternative healthy option would be organic coconut rice cakes!
I bought them the other day in Lidl with the dark chocolate rice cakes!
I think the dark chocolate ones are nicer and healthier!
See below a picture of these rice cakes!
She enjoyed her time with Briddy but the cycle too and fro was the hardest part but my mother was slim and fit!
She had to cycle up a very steep hill,I cant remember the name of the hill,I must ask my family members,one of them is sure to know!
Do you have any childhood memories you would like to share if so please let me know about them in the comment section below!
My mother use to cycle an old fashioned bike belonging to my Gran Uncle Patrick!
See below a picture of my own bike which also has a basket!
He lived with us for many years so my mother was a very busy women looking after two old people,my father and the three of us!
My Gran Uncle Patrick was a nice man who gave his pension to my parents for looking after him,my mother made all his meals,looked after him when he was sick and my brother Jamieson gave him his bed as he liked my Gran Uncle Patrick very much!
Before Patrick got sick he use to live in Lissy Corner where I remember two girls who use to go to school with us Joan and Mary lived!
They lived in a house around the corner from Patrick!
My Gran Uncle Patrick lived in a white bungalow with green windowsills and he often listened to the wireless which he had on the kitchen table!
His next door neighbour had a donkey and cart which me ,my sister Joan and my brother Jamieson loved!
See below a picture of the Donkeys at the Donkey Sanctuary in Mallow County Cork!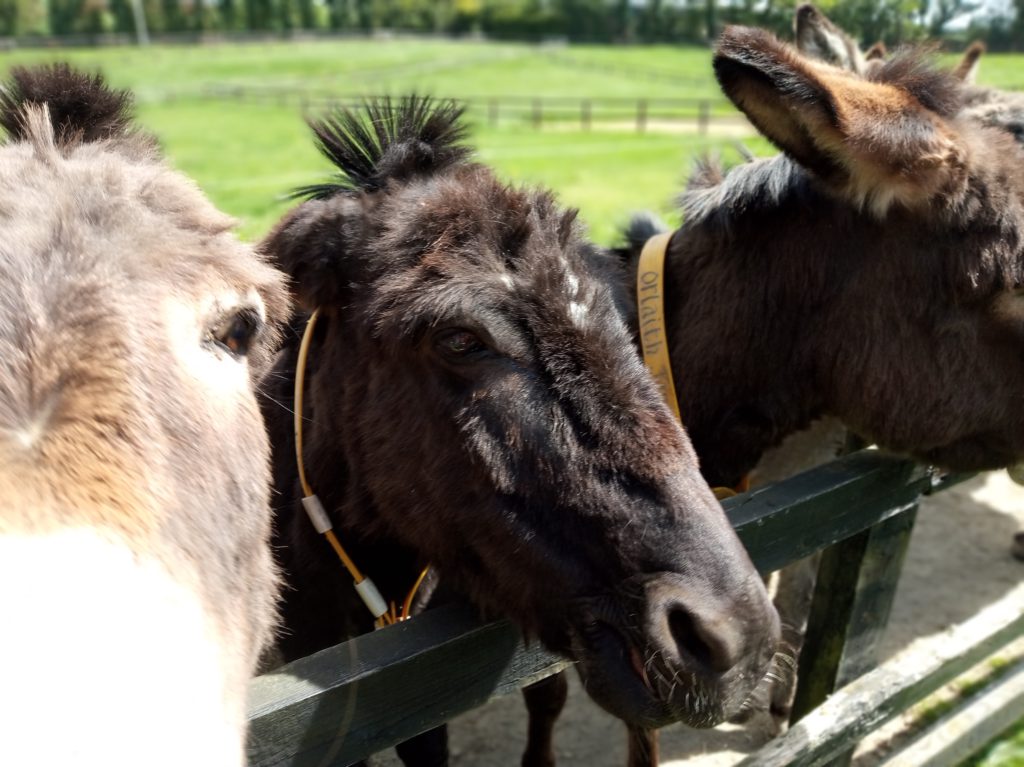 I adopted the donkey in the middle who is called Beauty and she is a gentle,aimable donkey!
She was born in 2014 and her mother was called Amanda and when she came to the Donkey Sanctuary in Mallow which is based at Knockardbane Farm she was in foal with Beauty!
Beauty is a shy young donkey who loves nothing more than a gentle voice and a pat!
Her best friend is Orlaith Jane who is on the left in this picture!
Myself and my husband Brendan enjoyed our day at the Donkey Sanctuary!
It only costs twenty five euros a year to adopt a donkey and you get a lovely adoption pack which includes a lovely photo of your adopted donkey with a biography of the donkey!
See below the beautiful pictures you will get in the adoption pack and also you will get a Thank You note and a About Us Page and a Certificate of Adoption!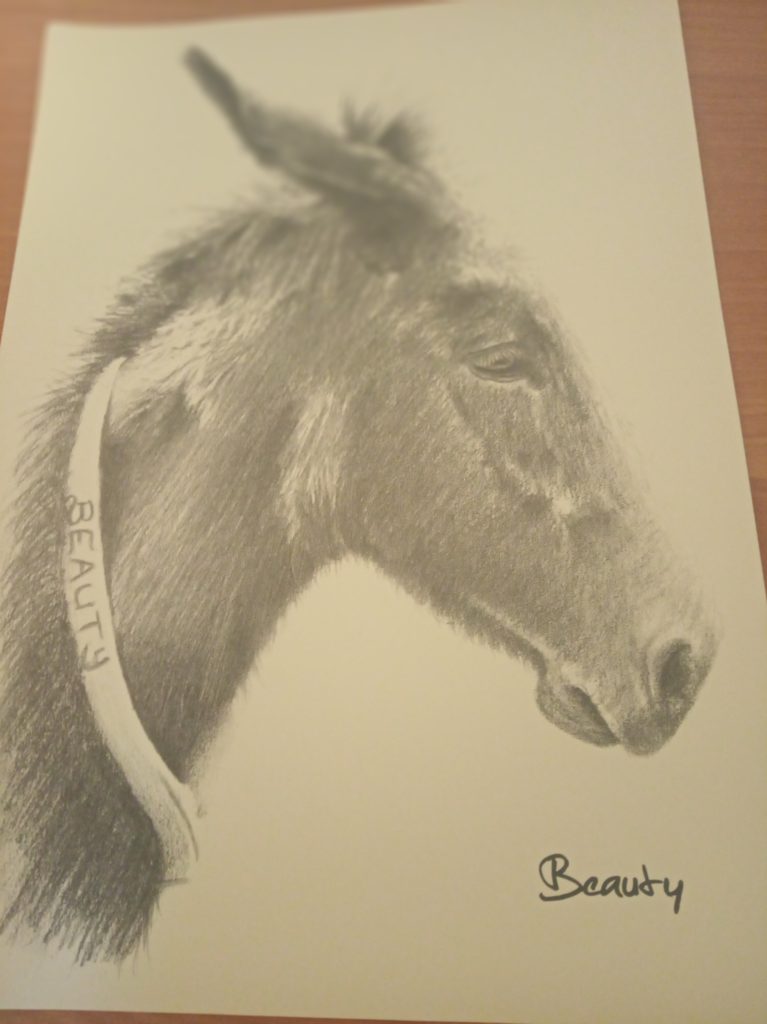 This is a beautiful hand painted picture in charcoal of Beauty my adopted donkey!
I put my picture in a picture frame and have it on the mantlepiece in my sitting room!
This is a lovely Bio and coloured photo of beauty!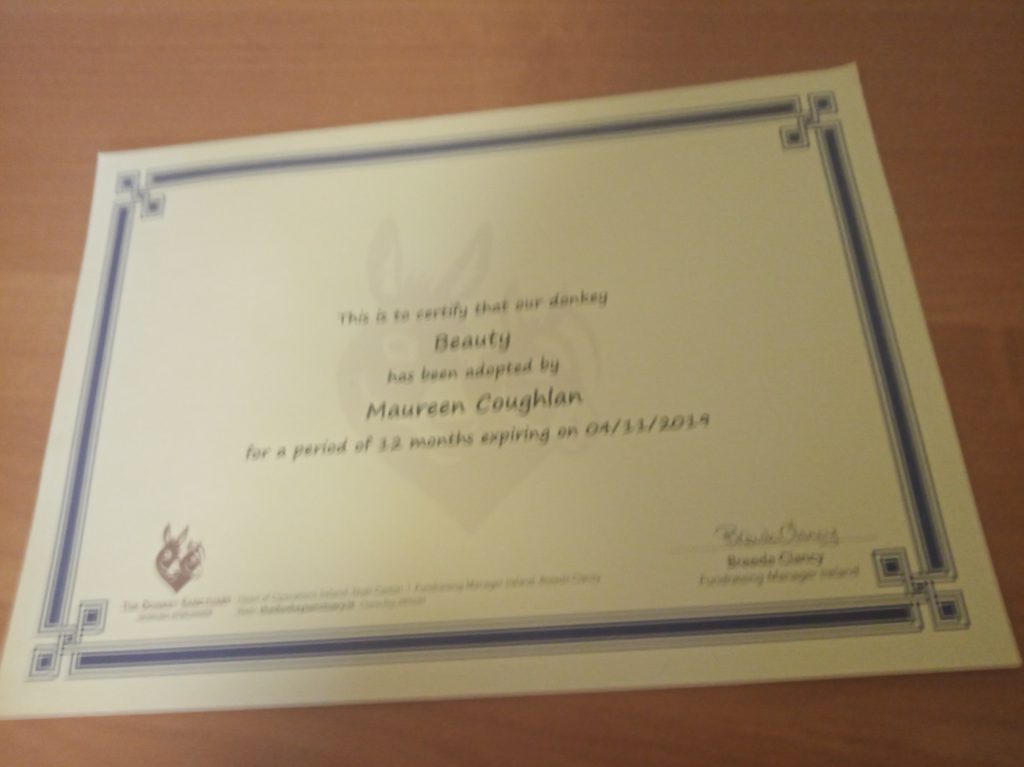 This is to certify that I, Maureen Coughlan adopted Beauty!
I think that adopting a donkey is a great idea especially when it is only 25 euros a year,what do you think?
Is there a donkey sanctuary near you,if so have you been and did you take many pictures,if so can you post the pictures on the comment section below!
My Grand Uncle Patrick was a great man for cycling himself and use to cycle to Rathmore every day for brown soda bread and milk!
He use to cycle nearly every day to my grandmother's house in Knocknaseed to keep her company as my Grandfather whose name was Denny died in World War One!
Patrick use to work in the Creamery in Rathmore which is where Cadbury's factory is now and is situated just as you enter the village.
Cadbury's Dairy milk was my mother Mary's favourite chocolate bar and I always liked the theme tune for Cadbury's Dairy milk but they dont play it anymore in Advertisements on the Telly!
Do you like the theme tune for Cadbury's Dairy Milk please let me know if you do,and what is your favourite Cadbury's bar and why?
My favourite Cadbury's bars are Darkmilk and Bournville ,I would only have a bar once every fortnight for a treat as too much chocolate is bad for diabetics!
The Dairy Milk contains more milk and fat than the dark chocolate so is higher in calories so I recommend the dark chocolate varieties as they contain less fat and less calories!
Also in Rathmore there is a  Hickey's Centra shop like many villages in Ireland,one of my classmates in the school I attended Rathmore Presentation Convent was called Anne Cahill,she was a lovely friendly young lady when I knew her,I dont know if she still works there!
I also had another classmate called Donal Dineen who also did well for himself,he is a well known Radio Presenter,he married a lady called Orla who also was from Rathmore village!
Another one of my classmates was Joan Moynihan she was a very clever girl at school and she went on to become a physiotherapist!
She was quite a good friend of mine and sometimes during the summer months she use to cycle up to our house in Knocknaseed and she always looked fit and healthy!
I went to college in Dublin where Joan went to college too!
Joan went to Trinity College to study Physiotherapy and so did her friend Eileen and they both were lovely girls and I am sure they havent changed much!
My mother Mary liked Joan's mother a lot and Joan's brother Tim took me to the Debs Ball in Rathmore !
We had a lovely night and Tim bought me a box of chocolates and a rose!
What about you what kind of a night did you have for your Deb's ball?
Did you have a good night,have you any funny stories and what hotel did you go to?
As I said before in a previous post I worked in Murphy's Bar for two years after leaving college and I use to get a lift from a lovely girl called Sheila Leary and she had a sister called Bina Leary who also was a very nice girl!
They worked for many years in a factory in Killarney but it closed down and then Sheila got a job in Quills shop in Killarney and Bina worked there also for awhile!
There was another very nice girl me and my sister Joan liked a lot her name was Nora Cassidy,she was the daughter of the only Gardai in Rathmore at the time,she was a really lovely person to have as a friend especially in Rathmore Convent as me and my sister Joan were new to the area!
My mother Mary loved all types of people especially down to earth genuine people like Joan's mother!
Mum also liked funny people like my Uncle Paddy and him and her use to have great fun together!
I always remember how Uncle Paddy use to make my mother laugh!
My mother had a really nice friend called Anna Browning when we lived in Scotland!
Her daughter Maureen was a really good friend of mine and at school when our name was called out by the teacher neither of us knew who she was talking too!
Often on a Friday evening after school I would call to Maureen's house for tea and I use to love her mother's homemade pizza!
I recommend homemade pizza made from wholegrain flour rather than refined white flour and vegetable toppings such as mushrooms,fresh tomatoes,a variety of different peppers,herbs such as basil and watercress!
I was also a member of the Brownies which is a girl guide group for young girls from four to twelve!
Maureen and me with my sister Joan use to go together!
We had great fun at the Brownies especially when we tried to work for our brownie badges!
I got badges for homemaking,camping and learning the girl guide rules!
We played a lot of different games which Brown Owl the Brownie Leader organised with the Guides which were the older girls of twelve and upwards!
We all met up in Stonehouse Community Centre every Wednesday for the Brownies and every Thursdays for the Guides!
Jamieson my brother also went to the Cubs which is the boys version of the Brownies!
He loved the Cubs especially anything to do with sport!
The Rangers were the boys version of the Brownies so Jamieson left Scotland just before his twelve birthday so was too young to join the Rangers!
Are or were any of you part of the Brownies or the Cubs,or are you involved in any youth groups in any way?
If so I would love to hear all about it,please leave a comment in the section below!
My mother Mary was a quiet women but full of fun,she liked a laugh and a joke!
She liked comedy shows such as George and Mildred,Open All Hours,Fawlty Towers and Only Fools And Horses!
She was big into Coronation Street like me however I dont have much time to watch it anymore as I spend a lot of my evenings working on this website!
She took a small painting class and I remember she painted a lovely picture of a red rose which was my mother's favourite flower!
She loved all types of flowers especially daffodils which I really like too!
See below a picture of some daffodils I saw in the Arboretum in Carlow!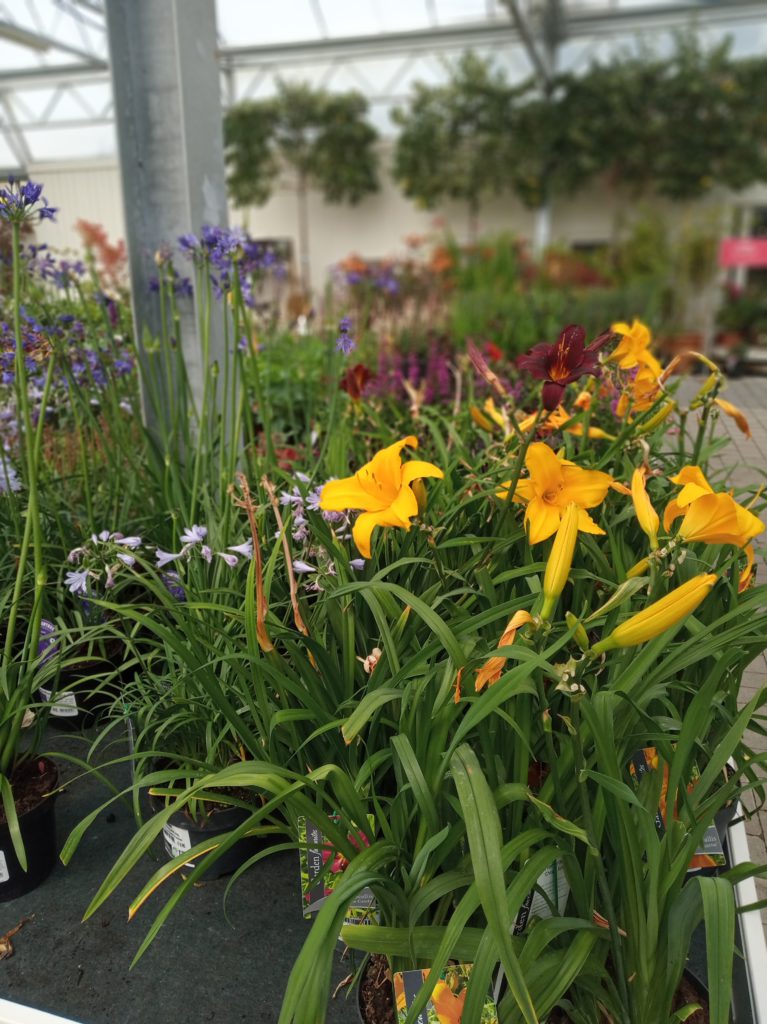 I think that my mother was a very special women and I am sure that some of you feel the same way about your mother's so why dont you write a little story each about your mother wether she is alive or passed way like mine in the comment section below!
Most components of a diabetic diet are healthy for everyone, making the new meals plans a beneficial change for every family member. Open communication about how each person feels about mealtime changes can help everyone adjust.
Support Groups
At any stage of life, knowing others who have been through the same experiences as you have, or that you are about to endure, can help you through.
Socializing with people who understand your needs and responsibilities can be relaxing and fun. And helping others get through things you've already mastered may be most rewarding of all.
Local and online support groups like this website can make a major difference in how you handle your diabetes.
How do you help someone diagnosed with diabetes cope with self-care?
People live their lives and have a certain way of living it and have certain habits and routines. Those things are very hard to break. When you get diagnosed with diabetes, you don't have to totally break them. But now you have to fit in something else throughout the day every day for the rest of your life.
This involves checking your blood sugar, taking your medication, watching what you eat, doing some kind of physical activity, following up with your doctor.
Some people decide their diabetes care either doesn't fit into their routine or it falls short on their priority list. Most people will list their job and their family and other things way above diabetes care on their priority list.
Diabetics must make the connection that if they don't take care of themselves and don't manage the disease properly, then they're not going to be around to have a job or spend time with their family.
Acceptance
Acceptance is often the last emotional phase that is associated with diabetes. The diabetic will eventually come to terms with their disease.
They will realize that they have to make healthy lifestyle changes in order to lead a full and productive life.
Knowing that they can change the way they eat and take care of themselves will help them live longer and be less likely to encounter diabetes-related health problems.
If you have any suggestions on how to improve this post or any information or questions or comments you would like to make on the topics discussed in this post.
Please send an email to momo19@diabetessupportsite.com or leave your comments below.