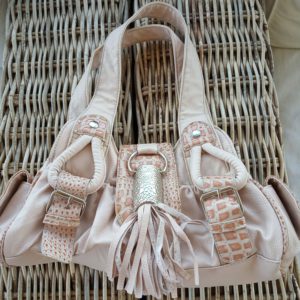 My mother-in-law Mary whom I have mentioned in a number of articles bought me this bag for my birthday many years ago and every time I use it I think of her.
She is a great women for spotting a bargain and has good taste too!I really like the colour and style of this bag what do you think?
Since starting this website I havent had as much money to spend as I did previously when working in Teva Pharmaceuticals so I have learned to spot a bargain myself too!
Myself and Mary were in Arboretum Garden Centre a few years back and we both spotted a bargain,a lovely dog shopping bag which we both bought I still have mine and it is in good condition.See the photo below.
I still enjoy looking for a bargain or two I recently bought a few days ago a lovely green shell plate in Dove Hill which is the new name for Blarney Woollen Mills for only six euros it was reduced by fifty percent.
I am not earning much money from this website yet so I very rarely spend money on myself.Most of my clothes I have had for years,the last time I got a new outfit was from my sister Joan she bought me a lovely dress!What do you think?
The great thing about this dress is it's easy to wear  and it needs no ironing and my twin sister is another women for spotting a bargain!
My favourite morning breakfast TV show is Ireland AM!
I especially enjoy the clothes section as it gives me some great ideas of how to organise my wardrobe and mix and match the clothes I already have without having to buy anymore new items which saves me a lot of money !
I am very lucky that my husband is great at DIY and gardening as he is a fairly thrifty man himself especially when he is haggling over the price of an item!
I use to do my grocery shopping in Tesco when I worked in Teva Pharmaceuticals now I do my food shopping in Lidl and sometimes pick up a few things in Aldi but very rarely.
Brendan my husband enjoys going round Lidl and Aldi looking for bargains especially in DIY and gardening.He also searches online for the cheapest deals especially for holiday deals.
So its great fun looking for bargains and managing healthcare costs on a budget if you have time and energy to do so!
However not everyone has the time so I created the following article to help people!
I hope you all find it helpful!
Diabetes, high blood pressure and high cholesterol can affect both quality and quantity of life, if not treated. These conditions do not discriminate ,they can affect all age groups and all ethnic groups.
If you have diabetes, there is no getting around the fact that taking care of yourself can be expensive.  The cost of medical care, diabetes medications and supplies.
These expenses can be difficult to manage even in the best of times.  In hard times it can seem impossible.
If you start skipping doctor's appointments, medications, or blood sugar monitoring without telling your doctor or pharmacist, the consequences can be downright scary.
Unchecked sky-high blood sugar levels in diabetics with type 1 diabetes can cause diabetic ketoacidosis, a dangerous condition that occurs when your body doesn't have enough insulin and starts breaking down fat for energy. It ultimately makes your blood so acidic it can kill you.
A night in the emergency room or a week in the hospital can rack up a lot of money in health care costs.
If you need to make a change in your diabetes treatment plan because of financial strains, talk to your doctor or pharmacist first—they'll likely find a way to help.
Spiralling Costs of Diabetes to Worldwide Health Services
If you're one of the millions of people suffering from diabetes, you may be looking for ways to save money on health insurance and other diabetes-related health costs. Thankfully, there are steps you can take to keep your diabetes and your health care costs under control.
Even on a limited income, there are many cost-effective ways to control this condition, such as increasing physical activity and making better dietary choices and taking a look at the use of various herbs/spices, instead of salt to flavour food.
Having diabetes mellitus (DM),  means your body is not effectively using the insulin it is producing to metabolize your food, and it is not producing as much as insulin as it should.
Diabetes, if uncontrolled, can affect the heart, kidneys and eyes over time.
There are two main types of diabetes, Type 1 and Type 2.
Type 1 diabetes requires treatment with insulin because the pancreas cannot produce insulin, while Type 2 diabetes can be treated in its early stages by taking pills.
So how does one deal with diabetes on a low budget?
Cost-saving Strategies for Diabetes Medication

Healthy Living Mega Box Set: Follow These 100 and More Lifestyle Tips to Live a Healthy, Happy Life Without Regret (Healthy habits books, Aromatherapy Recipes, Weight loss for women books)
Eating well and exercising more can often reverse Type 2 diabetes, or at least reduce your need for medication
Even small health tweaks can pay huge dividends. In one study, people at high risk of diabetes who lost 7% of their body weight through dietary changes and exercise reduced their Type 2 diabetes risk by 58%.
Under your doctor's advice, you may be able to delay the need for pricey prescriptions and daily home blood sugar testing with smart lifestyle changes.
Losing weight, eating more foods packed with certain nutrients—including fiber and omega-3s—and exercising at least a few times a week can steady blood sugar levels to a point where you may not need medication or can start on a lower dosage which is true for Type 2 diabetes only not for Type 1 diabetes.
Exercise just 30 minutes daily has been shown to maintain weight or even cause weight loss.
And exercise can increase insulin sensitivity, meaning less insulin is needed to control your blood sugar.
How To Eat Healthy On A Budget
Good Food Eat Well: Cheap and Healthy
You can cut food costs by eating more meals at home and by making sure they feature some of the healthiest foods from your supermarket , foods like whole grains, fruits,vegetables and beans.
Packing your lunch, snacks, drinks and other meals is less expensive and way healthier than eating out.
Make it a habit to cook at home, rather than eating out at the last minute.
Generally, you can feed an entire family of four for the same price as buying food for one or two people at a restaurant.
Click here for Free Ebook called "Lower Your Energy Costs".Throughout this e-book you will learn things that you can  do right away to improve the energy efficiency of your home.
By cooking yourself, you also gain the benefit of knowing exactly what is in your food.
Fruits and vegetables are a source of dietary energy (calories), they provide key nutrients at a reasonable cost.
For more great Health and Nutrition Tips refer to the website positivehealthwellness.com.
Don't be afraid to buy frozen vegetables in the freezer section of your local grocery store .
Sure, I love fresh vegetables, but since frozen veggies are picked and then frozen at peak ripeness (and thus most nutritionally dense), they are often a better value while being edible for months longer.
Fresh fruits, berries and vegetables are usually in season only a few months per year, and are sometimes rather expensive.
Supermarket Guide: Food Choices for You and Your Family (The Nutrition Now Series)
Quick-frozen produce is usually just as nutritious. It is cheaper, available all year and is usually sold in large bags.
Frozen produce is great to use when cooking, making smoothies, or as toppings for oatmeal or yogurt.
Furthermore, you gain the advantage of being able to take out only what you're about to use. The rest will be kept safe from spoiling in the freezer.
You will find that if you take advantage of healthy foods on sale (especially buy one get one free deals), many foods that are listed here will suddenly become  great value!
Easy Low Cost Healthy Meals

How to feed your whole family: A healthy, balanced diet with very little money
1.Stir-fry:  Heat a little vegetable oil/olive oil in a frying pan.  Add diced chicken breast or pork loin and brown.
Add chopped vegetables of your choice and sauté until tender-crisp. Season with a splash of low-sodium soy sauce .  Serve over cooked brown rice. Complete the meal with a dish of mandarin oranges and a glass of milk.
2.Casserole:  Place 4 cups cooked brown pasta in a casserole dish.  Add 2 cups of beans.
Add 2 cups green beans (drained) or broccoli (thawed and drained).  Add 1 can diced tomatoes with juice and 1 teaspoon Italian seasoning.  Salt and pepper to taste.  Combine.
Bake for 30-45 minutes in 350 degree oven until hot and bubbly (and reaches an internal temperature of 165 degrees).  Serve with apple slices and a glass of milk.
3.Omelet:  Cook up eggs with your choice of fillings:  veggies and shredded cheese,  .  Serve with orange slices and whole wheat toast.
4.Tuna//Egg Salad:  Mix canned tuna or salmon, or hard cooked eggs with diced veggies of your choice (celery, onion, bell peppers, carrots, etc.) in a medium bowl.
Coat lightly with low fat mayonnaise and mustard or salad dressing.  Add salt and pepper to taste.
Serve on toasted brown bread, in a whole-grain wrap or on top of a leafy green salad.  Complete the meal with  peaches and plums and a glass of milk.
5.Smoothie:  Blend together 1 cup yogurt, 1 banana, 1 cup strawberries, and 1/2 cup milk.
6.Stuffed Potato:  "Bake" a potato in the microwave.  Slit the potato open and top with 1 teaspoon soft light butter.  Add lowfat cheese and a dollop of salsa.  Serve with carrot sticks and grapes.
Managing high blood pressure and control Cholesterol On A Budget
Blood Pressure: Natural Solution To Lower Your Blood Pressure Without Prescription Drugs Using Natural Remedies (Natural Remedies, Blood Pressure, Hypertension)
How To Save Money On Health Insurance And Diabetes Care
Your Best Health Care Now: Get Doctor Discounts, Save with Better Health Insurance, Find Affordable Prescriptions
1.Eli Lilly & Company offers a program called "LillyTruAssist" to provide insulin to those in need. Visit http://lillytruassist.com/.
2.The Charles Ray III Diabetes Association provides meters, strips and pump supplies to those who cannot afford them. To learn more, go to http://www.cr3diabetes.org/.
3.The Foundation for Health Coverage Education helps people without insurance to locate public and private assistance programs. Their website (www.coverageforall.org) has a simple eligibility checklist.
4.Needymeds runs a web site, www.needymeds.com, that provides up-to-date information on nearly 200 patient assistance programs run by drug manufacturers.
5.Novo Nordisk offers a Patient Assistance Program that provides free insulin, pen needles, and glucagon kits for those who fail to qualify for government-sponsored programs, do not have private insurance, and fall below a certain income level. Go to http://novonordisk-us.com/documents/section_frontpage/document/pap_diabetescare.asp to apply.
6.Sanofi has an assistance program for paying for Lantus at http://www.lantus.com/hcp/paying-for-lantus/patient-assistance-programs.
7.Script Relief is a prescription drug savings program that can offer discounts of up to 75% on some prescriptions. You can visit http://scriptrelief.com/ for more information.
There are many ways to stay healthy and maintain good diabetic control even on a very tight budget.
These include planning your meals, cooking at home, and making smart choices at the grocery store and with all diabetes-related health costs.
Keep in mind poor diabetic control comes with more medical costs, drugs and even reduced work capacity.
Even if eating healthy was more expensive (which it doesn't have to be), then it would still be worth it down the line.
You really can't put a price on good health!
Reader Recommended Articles
https://seniornavigator.org/article/12732/25-frequently-asked-questions-about-long-term-care
https://www.seniorliving.org/finance/
https://modernretirement.org/how-much-does-a-senior-home-cost/
https://www.2020spaces.com/blog-aging-in-place-design-checklist/
https://www.homeadvisor.com/r/long-distance-caregiving/
https://www.elderly-homecare.com/signs-senior-needs-help-home/
https://www.mortgagecalculator.org/helpful-advice/aging-with-dignity.php
https://starlightcaregivers.com/resources/common-diagnoses.php
https://quote.com/health-insurance/complete-guide/
https://www.medicalbillingandcoding.org/health-insurance-guide/medicaid/
https://www.tataaig.com/content/tagic/tagicRepositaries/tagicArticles/knowledgearticle/how-much-health-insurance-do-i-need
https://www.daveramsey.com/blog/who-needs-long-term-care-insurance
https://www.heart.org/en/health-topics/cardiac-rehab/managing-your-medicines/medicine-assistance-programs
https://www.mortgagecalculator.org/helpful-advice/keeping-your-home.php
https://www.allconnect.com/blog/
https://www.wizcase.com/blog/best-websites-for-seniors/
https://www.bankrate.com/mortgages/how-to-afford-home-expenses-during-cancer-treatment/
If you have any information,questions, or feedback you would like to include in this post.
Please email momo19@diabetessupportsite.com or leave your comments below.